French foreign minister Laurent Fabius, speaking in Jordan, said France would back moves to place Lebanese Shia militant group on terror list.
Anti-terror judge tells media he is worried about the implication of large numbers of French Muslims heading to Syria to fight a holy war.
Syria and human rights were on the agenda of talks in Moscow between the French and Russian presidents which lasted two hours over schedule.
Olivier Voisin, who was seriously wounded in Syria last week, has died of his wounds after surgery in Turkey, the foreign ministry has confirmed.
French foreign minister calls for more aid for mainstream Syrian opposition warning that Islamist militants could take control of the country.
Disagreements over how to deal with the Syria conflict will top the agenda when Russian Prime Minister Dmitry Medvedev visits Paris this week.
After officially recognising Syria's opposition, France to discuss supplying arms to Syrian opposition forces with EU partners.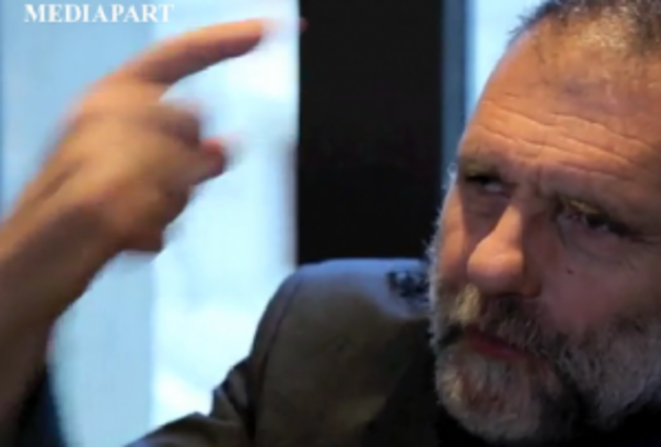 Italian Jesuit priest Paolo Dall'Oglio (pictured) has spent more than 30 years in Syria, where he rehabilitated the abandoned Deir Mar Musa monastery situated 80 kilometres north of Damascus. There he created a pluralist, ecumenical community where he preached tolerance and encouraged inter-faith dialogue. His activities brought him into increasing conflict with the regime of Bashar al-Assad, and he was finally expelled from the country this summer. In this in-depth interview with Caroline Donati, he offers a rare insight into the workings and strategies of both the Assad regime and the forces of the opposition movement, the stance of the Christian community and the hopes for future reconciliation, and denounces what he calls "the outrageous" and "disgusting" distance of the West in face of the escalating slaughter of opponents to the Damascus regime.  
Claims that French spies were able to set a trap for the Libyan dictator after obtaining Gaddafi's satellite telephone number from Syrian government.
Senior diplomat says France is providing funds to rebel-held parts of Syria to help restore water supplies, sanitation, health services and bakeries.
French President Francois Hollande warned that any use of Syria's chemical weapons would be a legitimate justification for military intervention.
France says it is ready to help enforce a partial no-fly zone over Syria, as the Assad regime steps up offensive against rebels in Damascus.
Crew of an Air France Paris-Beirut flight re-routed for security reasons to Damascus sought cash from passengers for refuelling to reach Cyprus.
Former French PM François Fillon joins conservative attacks on President François Hollande's foreign policy, calling Syria approach 'bare minimum'.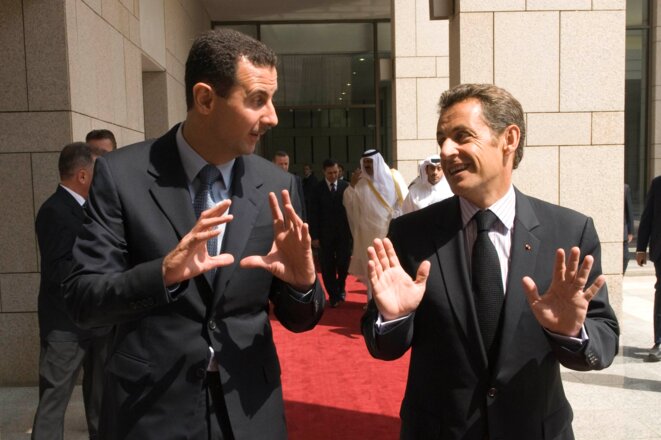 MM. Assad et Sarkozy © Reuters
Former French president Nicolas Sarkozy has finally broken the silence he has kept since failing to be re-elected in May, with a widely-reported call for urgent international intervention against the massacres perpetrated by the regime of Syrian dictator Bashar al-Assad. The appeal was contained in a joint statement signed with Syrian opposition leader Abdulbaset Sieda, president of the Istanbul-based Syrian National Council. Sarkozy's return to the public platform was a thinly-disguised attack on his socialist successor, François Hollande, who the former president's conservative UMP party have criticised as being ineffective and indecisive over the crisis in Syria. But it was also in stark contrast to the extent and nature of Sarkozy's past dealings with Assad and his regime and which mirrored his ties with other Arab dictators. Fabrice Arfi reports.