The stage and television actress, who was active in encouraging a cross-denomination opposition to the Damascus regime of President Bashar al-Assad and who found refuge in France after taking part in the 2011 uprising in Syria, died overnight Thursday from cancer at the age of 44.
A French judicial investigation has been opened into alleged payments made by French-Swiss cement-maker LafargeHolcim to armed groups in war-torn Syria, including the Islamic State group, in order to keep a cement-producing plant operating in the country.
Russia, Armenia and the former West Germany were all major suppliers of technology and raw materials for Syria's programme of chemical weapon production, exiled Syrians who worked on the project have told Mediapart. They also say that, in violation of intentional law, the Damascus regime still has a secret arsenal of up to 35 tonnes of chemical weapons. René Backmann reports.

Sarin production site at Al Dumayr in Syria which was partially destroyed by the United Nations.
Exiled Syrian scientists have told Mediapart that the Damascus regime drew up plans to use chemical weapons against internal opposition two years before the start of the current civil war in 2011. The scientists, who were involved in the making of the weapons but who defected after misgivings about its use inside the country, say the country's president Bashar al-Assad had become unnerved by protests in Iran in 2009 and the regime had ordered seven military basses to be made ready to store chemical weapons – including sarin gas. René Backmann reports.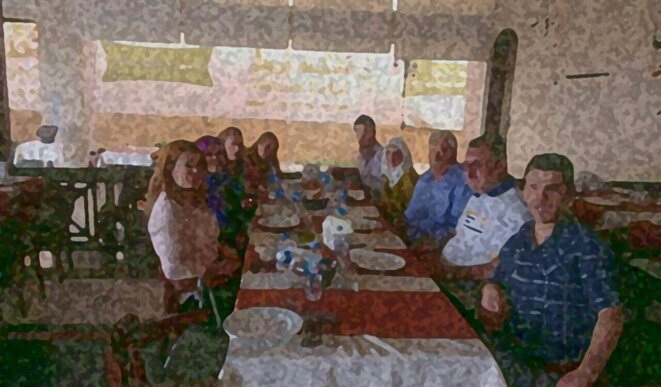 The family at the Grand Station restaurant in Aleppo before the war: the photo has been altered to protect their identity.
Many Syrian refugees living in Turkey have gone to the French Consulate in Istanbul in the hope of obtaining a visa that will allow them to travel to France in safety. But only a small number ever get granted this precious document. Mediapart's Carine Fouteau tells the story of one Kurdish family from Syria who were twice forced to flee the fighting and who are now desperately waiting for a visa from the French authorities that would restore hope to their shattered lives.
French forein minister Jean-Marc Ayrault has said his country's intelligence services will present proof that the Syrian regime launched a chemical weapons attack on the town of Khan Sheikhun on April 4th which claimed 86 lives, which both Damascus and its allies, Russia and Iran, have denied.
Syrian deputy foreign minister Ayman Soussan was invited by a group of French MPs to a meeting on the crisis in Syria, held at a Russian cultural centre in Paris, shortly after he was banned from attending a similar event in Brussels. 
The decision by United States president Donald Trump to launch air strikes against the regime in Syria in response to the use of chemical weapons has created waves in France's election campaign. Most of the presidential candidates have been critical of the unilateral American action. Two notable exceptions are Socialist Party candidate Benoît Hamon and, to a lesser extent, the independent candidate and favourite Emmanuel Macron. Lénaïg Bredoux reports on how the candidates for the Elysée have reacted to the Syrian crisis.
French foreign minister Jean-Marc Ayrault called the escalation of the US military role in Syria a 'warning' to a 'criminal regime'.
French foreign minister Jean-Marc Ayrault said he urged countries and politicians not to 'shirk their responsibilities'.
The end of the battle for Syria's second city and the plight of its civilians have drawn different responses from across France's political spectrum. On the Right the line taken by conservative presidential candidate François Fillon has been close to that of the far-right Front National, with his defence of the Assad regime and Vladimir Putin. The ruling Socialist Party and the Greens have emphasised their support for Syria's opposition, while the radical left presidential candidate Jean-Luc Mélenchon has adopted an anti-imperialist stance, with the United States as his main target. Lénaïg Bredoux, Lucie Delaporte and Christophe Gueugneau report.
Foreign minister Jean-Marc Ayrault called on the United Nations Security Council to vote a resolution that places those who commit chemical attacks in Syria under sanctions, adding that the Syrian army and the Islamic State group had used chemical weapons agaisnt civilians 'on at least three occasions'.
Diplomatic sources said Paris and London have also raised the prospect of sanctions on 12 Russians involved in the Syrian conflict, adding them to the EU's list of some 200 people that also includes three Iranians, with similar sanctions against Syrian individuals.
The three Syrians, who police suspect were a 'sleeper cell', appear to have travelled via the same traffickers as three suicide bombers who blew themselves up near Paris in November 2015.
Paris prosecutor François Molins, who said a terror cell had been dismantled, said it showed Islamic State 'wants to create female fighters'.