Related keywords
Le Néerlandais Jeroen Dijsselbloem (de dos) et le Grec Yanis Varoufakis, en février à Athènes. © Reuters.
In this interview with Mediapart, a senior advisor to the Greek government, who has been at the heart of the past five months of negotiations between Athens and its international creditors, reveals the details of what resembles a game of liar's dice over the fate of a nation that has been brought to its economic and social knees. His account gives a rare and disturbing insight into the process which has led up to this week's make-or-break deadline for reaching a bailout deal between Greece and international lenders, without which the country faces crashing out of the euro and complete bankruptcy. He describes the extraordinary bullying of Greece's radical-left government by the creditors, including Eurogroup president Jeroen Dijsselbloem's direct threat to cause the collapse of the Hellenic banks if it failed to sign-up to a drastic austerity programme. "We went into a war thinking we had the same weapons as them", he says. "We underestimated their power".
But French officials say that new Athens government could be offered more time to pay off its debts if its reforms stay on track.
Sections of the Left in France greeted Syriza's triumph in the Greek elections on Sunday with great enthusiasm, with some hailing it as an "historic moment". But the success of the Greek party, which unites various left-wing groups, has also highlighted the continuing divisions on the Left in France and its own failure to create a lasting electoral coalition. At the same time the challenges facing the new Syriza government, which is seeking to end austerity and renegotiate its debt burden with the EU and international bodies, underline the problems facing any left-wing administration in Europe. A key question is whether France's own socialist president, François Hollande, will now seize the opportunity to change economic direction and push the EU and Germany to back more growth-oriented policies. First, Mediapart's Stéphane Alliès, in Paris, examines how the French Left will react to the Greek results, then Brussels correspondent Ludovic Lamant wonders whether any truly left-wing policies can be carried out by national governments under current eurozone rules.
President Hollande says he wants to continue the 'close' cooperation between France and Greece in favour of 'growth' and euro zone 'stability'.
Greek radical-left leader Alexis Tsipras told a news conference in Paris that Europe must focus on policies based on social cohesion and solidarity.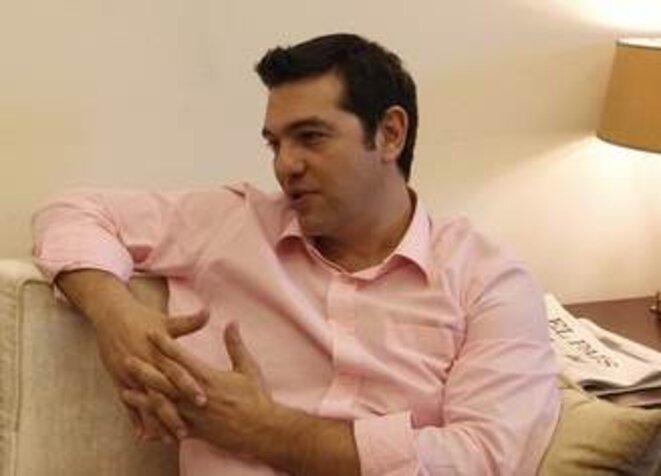 Alexis Tsipras © Reuters
Alexis Tsipras (pictured) is the leader of the Greek parliamentary radical-left coalition group Syriza. Following the collapse in support for the former governing Greek socialist party Pasok, vilified by its electorate for its unpopular austerity measures introduced amid the Greek debt crisis, the coalition is now facing its greatest electoral challenge - and opportunity - since it was founded in 2004. In this interview with Amélie Poinssot, Tsipras details his alternative vision of how Greece can emerge from the crisis, but also the problems posed by a legacy of division among the country's parties of the Left.