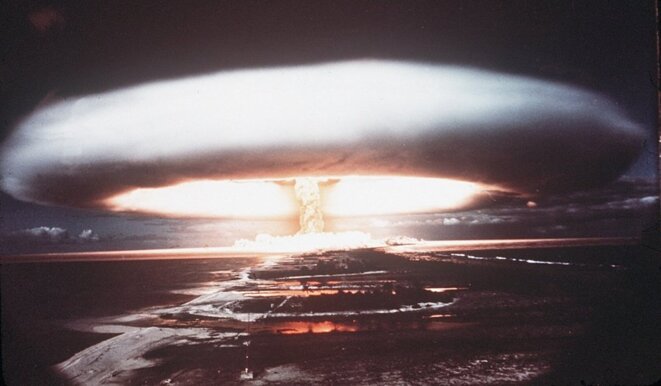 A French atmospheric nuclear bomb test above the Murorura atoll in 1971. © AFP
Beginning in 1966, France carried out close to 200 nuclear tests at its South Pacific territory of French Polynesia, 15,000 kilometres from Paris. The most contaminating were the nuclear bombs exploded in the atmosphere. This report from a series of investigations by Mediapart's editorial partner Disclose presents the extent of the radioactive fallout from one of those bombs in the Polynesian island of Tahiti, a hidden nuclear disaster that is estimated to have exposed 110,000 inhabitants to alarming levels of radioactivity.
One of the overseas titles once owned by the Hersant newspaper empire.
The Hersant newspaper group disintegrated a few years ago, following massive job losses, the closure of titles and insolvencies. However the demise of this once-powerful group which had owned close to 50% of the national and local French press, is still having an impact in French overseas territories where it also had a strong base. Julien Sartre reports on the lingering effects of the fall of a newspaper empire which had influence around the globe.
French head of state starts Pacific tour with visit to Wallis and Futuna, followed by French Polynesia and finally Peru, Argentina and Uruguay.