Related keywords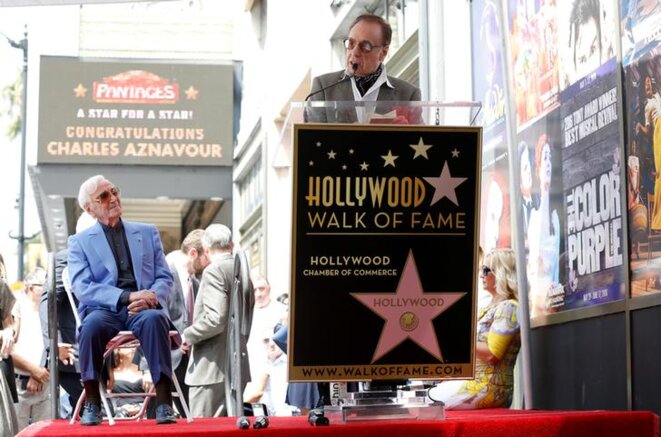 Charles Aznavour in Hollywood on August 24th, 2017, as his star is unveiled on the 'Walk of Fame'. © Reuters
In 2007 the famous French singer Charles Aznavour set up a holding company in Luxembourg to receive the dividends he gets from French companies that handle his royalties. More recently members of his family also became involved in this perfectly legal set-up. The result is that this veteran French entertainer, who is resident in Switzerland, and some of his family now pay little tax in France on the proceeds from his music. Romaric Godin reports.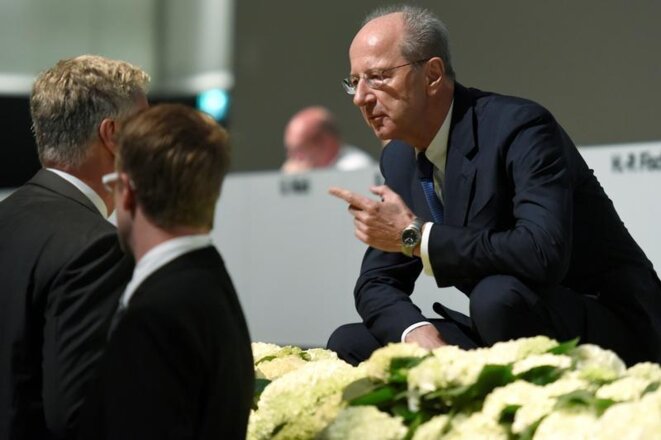 Volkswagen supervisory board chairman Hans Dieter Pötsch. © Reuters
Between 2014 and 2016, German carmaker Volkswagen placed 5.8 billion euros into a financial structure, run by a staff of five, it registered in Luxembourg, and which paid just 1.7 million euros in taxes on the sum. It is one example of an elaborate system of 'tax optimisation' created by the giant group in 2012, despite assurances by its supervisory board chairman, Hans Dieter Pötsch, when he was financial director, that "we have never played such games". Yann Philippin, Martin Hesse, Simon Hage and Blaz Zgaga report.
A Paris administrative court has ruled against the French tax administration claim for back-payments on taxes it claimed were due for the period 2005-2010 when Google and its subsidiary in Ireland were selling a service for inserting online ads to clients in France for years through the California tech giant's search engine.
French minister said it was time for Europe to defend its own interests and make Google, Amazon and Facebook pay 'taxes they owe in Europe'.
The measure was thrown out as French government seeks to make country more attractive for foreign businesses looking to relocate after Brexit.
Serge Dassault, the head of the aviation and defence group that bears his name, a right-wing senator and France's sixth richest person, is accused of laundering the proceeds of tax fraud and of hiding part of his wealth from Parliamentary authorities. The trial, which started on Monday July 4th, focuses on cash hidden in offshore accounts which was allegedly later used to buy votes in the town near Paris where Dassault was mayor. As Yann Philippin reports, the origins of some of these accounts goes back to the days of Serge Dassault's father Marcel, who founded the aviation group.
About 100 officers swooped on US firm's offices in Paris to investigate charges of aggravated tax fraud and money-laundering.
Magazine L'Expansion says French demand is for unpaid taxes on profits believed to have been funnelled through Luxembourg and Switzerland.
A bill of law proposing a punitive 300-euro-per tonne tax on palm oil has been amended to 90 euros per tonne after protests from producer countries.
Michel Sapin said UK's settlement with internet giant 'seems more the product of a negotiation', and pledged France would apply 'the law'.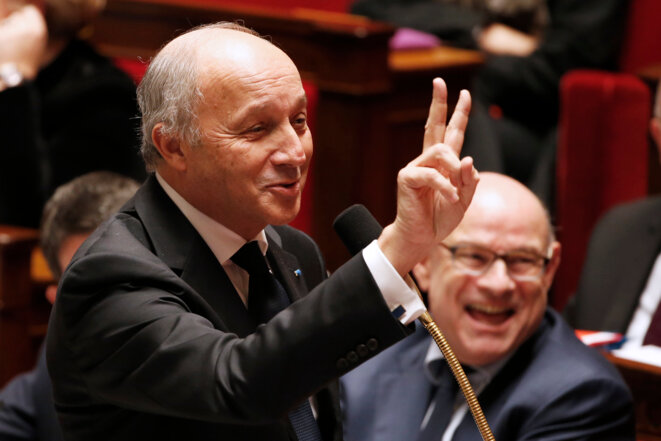 French foreign affairs minister Laurent Fabius. © Reuters
An unauthorised biography of Luc Besson to be published in France on Wednesday recounts that the renowned French film director and producer was granted an extraordinary exemption from a multi-million-euro wealth tax payment when current French foreign minister Laurent Fabius was finance minister. The exemption, claims the book, was agreed after the intervention of Fabius, whose sister and nephew were employed by Besson. Fabrice Arfi reports.
A shake-up of local government, including the creation of Greater Paris, and a simplified tax system are on the agenda for the year.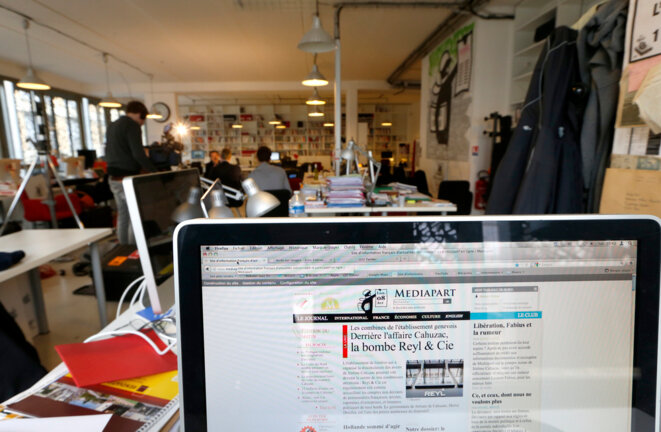 La rédaction de Mediapart en 2013. © Reuters
Mediapart has been notified by the French tax administration that it must pay a total of 4.1 million euros in an adjustment of its VAT payments over a six-year period between 2008 and 2014. The adjustment comes after Mediapart's long campaign, finally vindicated by a law introduced in 2014, calling for the discriminatory 20% VAT rate for the online press to be removed and aligned to the 2.1% VAT rate applied to the print-based press. Mediapart, which openly applied the lower VAT rate amid years of discussions over the issue with the administration and government, must now meet the demand for the backpayments immediately, despite an appeal procedure. Mediapart editor-in-chief Edwy Plenel explains the background to what appears to be a move of vengeance, and appeals here for your support in face of the severe threat now hanging over this independent online journal.
Finance minister Michel Sapin said that promise by President Hollande to cut taxes in 2016 will be met through extra savings.