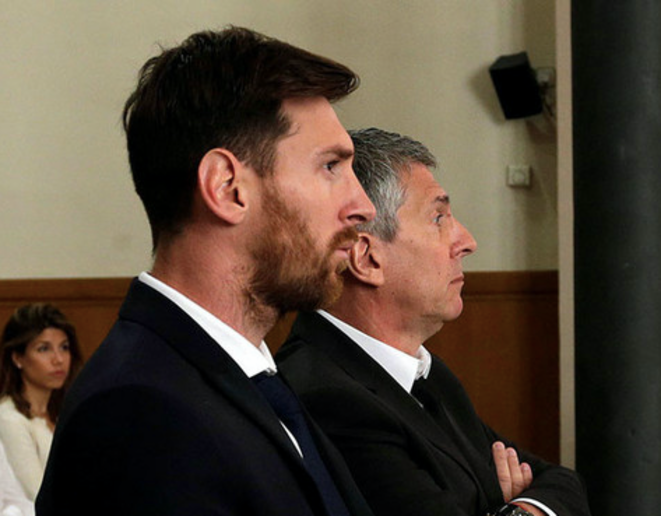 Lionel Messi beside his father Jorge during their trial on tax fraud charges in Barcelona in June 2016. © Reuters
Documents obtained from the whistleblowing platform Football Leaks reveal a financial structure that Spanish tax authorities suspect was used to hide part of the remunerations paid to FC Barcelona star player Lionel Messi, already convicted of tax fraud in 2016 along with his father Jorge Messi. The documents detail how the latter received 6.7 million euros from the Catalan club via a Luxembourg bank account belonging to a shell company registered in London.
Patrick Balkany, a veteran figure of the French conservative movement, mayor of Paris suburb Levallois-Perret, whose more than 40-year political career has been largely tainted by corruption and political scandal, was on Friday jailed after magistrates convicted him of a multi-million-euro tax evasion scam.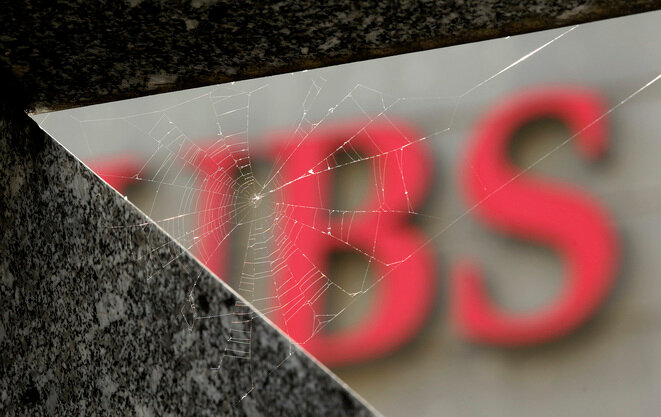 In a landmark decision for the Swiss banking sector, Switzerland's highest court on Friday ruled in favour of a request from the French tax authorities to gain access to the personal records of around 40,000 accounts held with Swiss bank UBS by French residents, and which are estimated to total assets of up to 11 billion euros.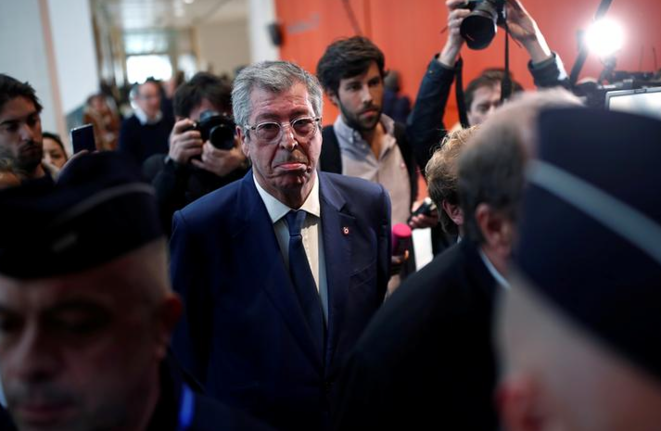 Patrick Balkany at the Paris courthouse on May 14th. © Reuters
Public prosecutors have ended their summing up in the trial on corruption, tax evasion and money laundering charges of Patrick Balkany, a veteran figure of the French conservative movement, mayor of Paris suburb Levallois-Perret, whose more than 40-year political career has been largely tainted by scandal. Unlike the leniency often displayed in political corruption cases in France, the prosecutors called for the 70-year-old to be sentenced to seven years in jail and barred from holding public office for ten years, prompting outrage from Balkany and his lawyer. Mediapart's legal affairs correspondent Michel Deléan reports on the hearing at the central Paris law courts.
While wealth-managing firms in the Swiss city close to the French border say that it is to support the local economy that they encourage employees to live locally instead of in cheaper France, banking secrecy concerns are also behind the policy.
The written judgment of the Paris court which on Thursday ruled that swiss bank UBS must pay a penalty of 4.5 billion euros for its practices of seeking out wealthy clients in France and helping them evade taxes through money laundering says that the bank refused to heed warnings by its staff over the illegal system. 
A Paris court has ordered Swiss bank UBS to pay a record fine of 3.7 billion euros and another 800 million euros in compensation to the French government after it was found guilty of laundering money for its wealthy clients in France in order for them to evade due tax payments.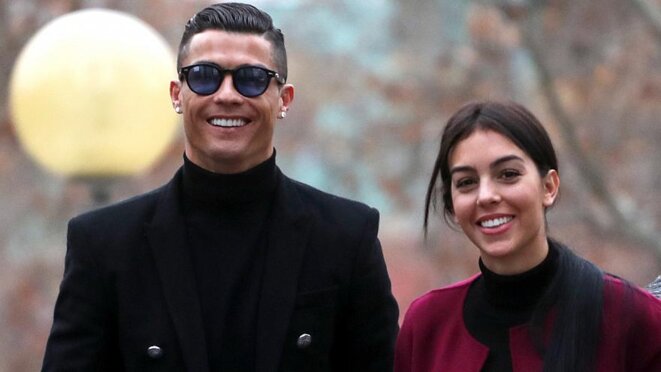 Cristiano Ronaldo arriving at court in Madrid, January22nd, with his fiancee Georgina Rodriguez. © Reuters
Portuguese football star Cristiano Ronaldo was on Tuesday ordered to pay an 18.8 million-euro fine by a Madrid court and was handed a 23-month suspended jail sentence after admitting tax fraud amounting to almost 15 million euros between 2011 and 2014. The case followed the Football Leaks revelations published in December 2016 by Mediapart and its partners in the European Investigative Collaborations (EIC) media consortium. But the former Real Madrid striker, whose wealth is estimated at more than 200 million euros, in fact escaped a far heavier sentence with the falsification of a document concerning his offshore payments on image rights, which Mediapart reveals here.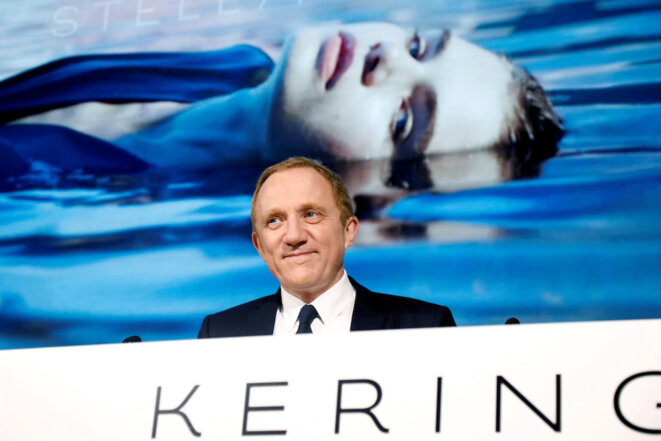 Kering group chairman and CEO François-Henri Pinault. © Reuters
Since 2002, French luxury goods and clothing group Kering, whose brands include Gucci, Yves Saint Laurent, Bottega Veneta, Stella McCartney and Balenciaga, has avoided paying a total of about 2.5 billion euros in tax payments on earnings, mostly to the detriment of the Italian public purse but also that in France and in Britain, according to confidential documents obtained by Mediapart and analysed together with its media partners in the European Investigative Collaborations (EIC) journalistic consortium. Yann Philippin (Mediapart), Vittorio Malagutti (L'Espresso) et Esther Rosenberg (NRC Handelsblad) report.
At the end of a legal case brought by tech giant Apple against alter-globalisation organisation ATTAC, in which the tech giant sought a three-year ban on activists demonstrating in and outside its stores in France to highlight the firm's tax-avoidance schemes, a Paris court has ruled in favour of ATTAC, describing its campaign as being in the "general interest". Martine Orange reports.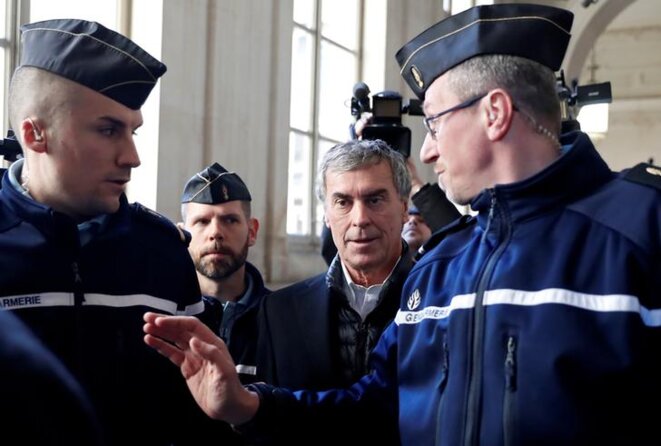 Jérôme Cahuzac (centre) arriving in court on February 12th. © Reuters
At the end of two weeks of hearings, a Paris court on Thursday deferred until May its verdict on the appeal by disgraced former French budget minister Jérôme Cahuzac against a three-year prison sentence handed to him in 2016 for tax fraud and money laundering. Cahuzac, 65, who Mediapart revealed in 2012 held a secret tax-haven bank account while leading a crackdown on tax fraud, did not contest his conviction, but sought a reduced sentence which would allow him to escape prison. While his lawyers argued that Cahuzac was a "broken" and "finished" man who risked taking his own life if sent behind bars, the prosecution has reiterated its demand for a three-year sentence. Mediapart legal affairs correspondent Michel Deléan was in court to follow the proceedings.   
In an extraordinary move, American tech giant Apple this week applied before a Paris court for a three-year ban to be imposed on alter-globalisation group ATTAC from continuing with its recent demonstrations at the company's stores in France in a campaign to denounce its tax-dodging practices. Mediapart economics and business correspondent Martine Orange was in court to follow the hearing which, she reports here, has above all served to further tarnish the iPhone maker's image.
A Kremlin spokesman said Russia would 'do everything in our power' to protect the lawful interests of billionaire Suleiman Kerimov, a Member of Parliament in Russia and head of the country's biggest gold producer, Polyus, who has been detained in France on suspicion of tax evasion.
The 91-year-old billionaire and right-wing senator was also banned from public office for five years but was not sent to jail because of his age.