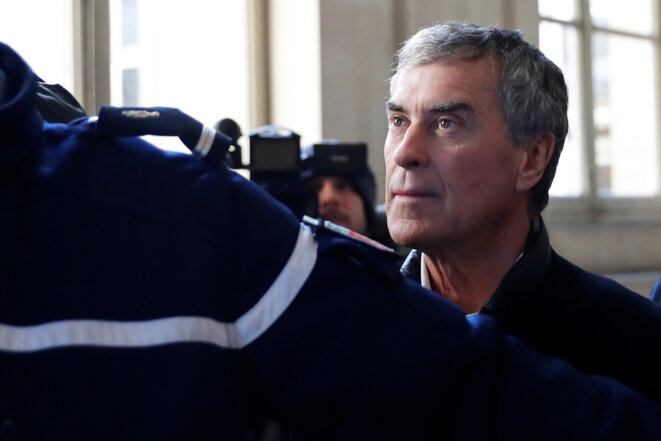 Escaping jail time? Jérôme Cahuzac at the Court of Appeal in Paris on February 12th, 2018. © Reuters
After an appeal, former budget minister Jérôme Cahuzac has received a reduced sentence for tax fraud, making it now highly unlikely he will serve any time in prison. It was an unexpected and happy outcome for the former minister whose tax dodge was first exposed by Mediapart in 2012. But, as Fabrice Arfi argues, it sends out an unfortunate message in a country which is already reluctant to imprison white collar criminals – especially those in public life.
Judges cut Jérôme Cahuzac's sentence from three years to two, and such jail time is usually reduced in France to community service.
Real Madrid star Cristiano Ronaldo scoring a decisive goal on April 11th that sent his club into the semi-finals of the European Chamions League. © Reuters
Portuguese football star Cristiano Ronaldo, currently under investigation in Spain, where he resides, over his alleged wilful evasion of 14.7 million euros in tax payments between 2011 and 2014, created a trust in Jersey in 2015 from which millions of euros were transferred to a subsidiary in Luxembourg and which did not appear in his 2015 tax declaration, according to confidential documents analysed by Mediapart and its partners in the journalistic consortium European Investigative Collaborations (EIC). The trust was abruptly wound down last week, just 24 hours after the EIC contacted the footballer and his agent for comment on the documents.
Suleiman Kerimov, a Russian senator whose family Russia's biggest gold producer, Polyus, has been released on bail of 5 million euros and had his passport confiscated by magistrates in Nice who have placed him under investigation for suspected money laundering and tax fraud in connection with property deals on the French Riviera.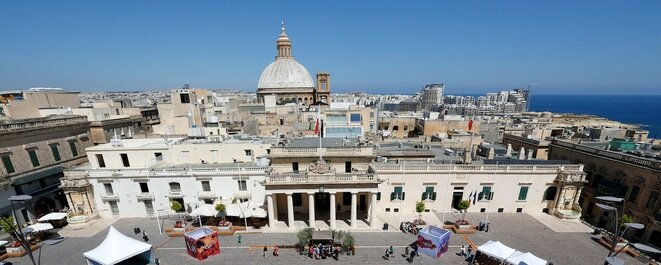 St.George's Square in the Maltese capital Valletta. © Reuters
Malta, which currently heads the European Union's rotating presidency, relies on more than tourism as a source of revenue. Its secretive financial structures and generous tax schemes serve to make it one of the EUs most attractive havens for tax avoidance and money laundering by individuals and corporations and which cost other countries billions of euros in lost revenues, reveals a four-month investigation by Mediapart and its partners in the European Investigative Collaborations journalistic collective (EIC).
The Swiss banking group could avoid trial over the alleged massive tax evasion it is accused of having helped among its French customers if it agrees to a settlement, but said it could never agree to a write-off of the 1.1 billion-euros it handed over three years ago as a bail bond, which its legal counsel claimed was "not at all the market price".
Conservative MP Thierry Solère, spokesman for his Les Républicains party's presidential candidate François Fillon - who himself is engulfed in a scandal over allegedly organising fake jobs for his family paid out of public funds - is under investigation for suspected income tax fraud, weekly Le Canard Enchaîné has disclosed, in a report expanding on Mediapart's initial revelations about the case last September.

Guy Wildenstein at court in Paris, September 2016. © Reuters
The delayed trial of the renowned art dealer Guy Wildenstein on tax fraud and money laundering charges has finally begun in Paris. Wildenstein and two other members of the Franco-American dynasty are accused of hiding from the tax authorities vast assets they inherited from the estate of Daniel Wildenstein senior, who died in 2001. The French authorities are claiming a total of 566 million euros in back taxes. Mediapart's legal affairs correspondent Michel Deléan has been in court to hear some of the extraordinary details in a trial that is expected to last for a month.
Guy Wildenstein, a 70-year-old Franco-American, faces up to 10 years in prison if convicted of the alleged offences over hiding his inherited fortune in offshore accounts, for which the tax authorities are demanding an adjustment of 553 million euros. 
The trial of the former budget minister Jérôme Cahuzac for tax fraud and money laundering opened in Paris on Monday, the same day that it was revealed that French prosecutors want former president Nicolas Sarkozy to stand trial for "illegal financing" of his 2012 election campaign. Mediapart investigative reporter Fabrice Arfi says that such high-profile cases give us an insight into the ethics of public life in France. He argues that rather than simply looking the other way, the country needs to own up to the shameful nature of the situation.
Ex-minister on trial in Paris on charges of tax fraud and money laundering that saw him forced to quit in 2013 in major political scandal.
The trial of Jérôme Cahuzac, who Mediapart exposed for tax evasion and money laundering, is adjourned until September on a legal technicality.
Budget minister was forced to resign in 2013 after Mediapart revealed that he held a secret Swiss bank account.
Bank faces huge penalty if convicted of encouraging wealthy French citizens to set up dual accounts to hide cash in Switzerland.