Related keywords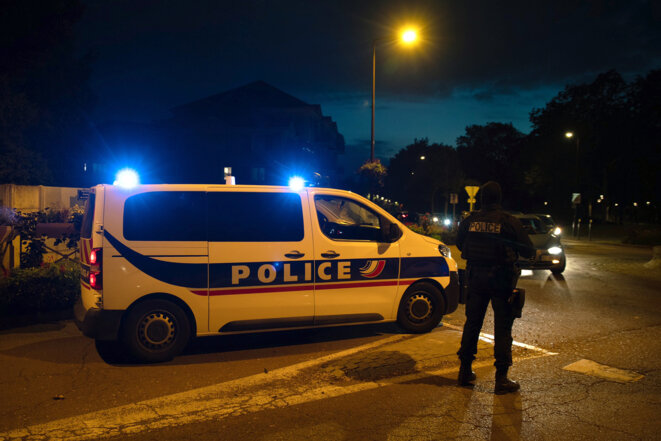 Police at the scene where the suepcted was shot and killed at Eragny near Paris. © AFP
The murder of 47-year-old history teacher Samuel Paty from near Paris who had shown his class caricatures of the prophet Muhammad as part of a lesson on freedom of expression has been greeted with shock and anger in France. The 18-year-old suspect, believed to be a Russian of Chechen origin, and named later as Abdoullakh Abouyezidovitch A., was later shot dead by police. Eleven people have also been questioned by police as part of an anti-terrorist investigation. President Emmanuel Macron, who visited the scene of the murder at Conflans-Sainte-Honorine, a suburb north-west of Paris, on Friday October 16th said: "One of our compatriots was murdered today because he taught ... his students about freedom of expression, freedom to believe or not believe."
The victim in Conflans-Sainte-Honorine was a teacher who is said to have shown caricatures of the Prophet Muhammad to his students.
Interior minister Gerald Darmanin, speaking during a visit to the headquarters of French domestic intelligence agency on Monday, declared the the risk of terrorist attacks in France 'remains extremely high' and especially from 'terror of Sunni origin', just two days before the trial opens in Paris of 14 people accused of helping the January 15th 2015 terror attacks carried out in the name of the so-called Islamic State group.
A total of 14 defendents are to stand trial in Paris beginning next Wednesday on charges related to the murderous January 2015 terrorist shooting attacks in and around the offices of Charlie Hebdo magazine, at a kosher supermarket and upon a police officer which together claimed the lives of 17 victims.
In a definitive ruling, France's Constitutional Council has thrown out legislation adopted by parliament late last month which imposed restrictions on the movement of prisoners released after serving sentences for terrorism-related offences. The ruling by the Council, which found the law to be unconstitutional for its infringement of fundamental freedoms, represents a significant blow for both President Emmanuel Macron's governing LREM party, and in particular for justice minister Éric Dupond-Moretti, a high-profile defence lawyer until his appointment in early July.
Probe into attacks which killed 130 in one day has led to 14 individuals being placed under formal investigation and who could now face trial.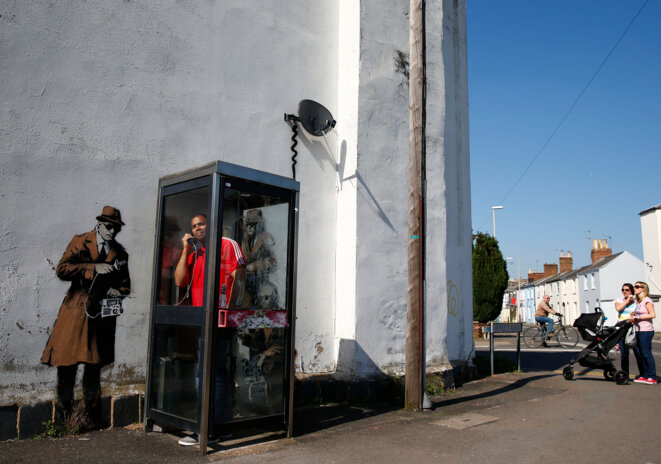 A mural by street artist Banksy close to Britain's signals intelligence agency GCHQ,in Cheltenham, England. © Reuters/Eddie Keogh
The British and French intelligence agencies are deeply concerned that their close bilateral cooperation, notably on counter-terrorism activity, remains intact after the UK leaves the European Union. But they are fearful of the consequences, especially in the case of a hard Brexit, when, the EU warns, "The UK will be disconnected from all EU networks, information systems and databases" concerned with police and judicial cooperation. Matthieu Suc reports.
French interior minister Christophe Castaner said an individual 'inspired by the events of September 11th and the planes which destroyed the World Trade Center towers' had recently been arrested by intelligence services for planning a similar attack in France.
French media reports citing official sources said five people, including an imam, have been detained in connection with the murders of four staff at Paris police headquarters on October 3rd during a stabbing rampage by an IT worker at the site, Mickaël Harpon, which is being investigated by anti-terrorism police.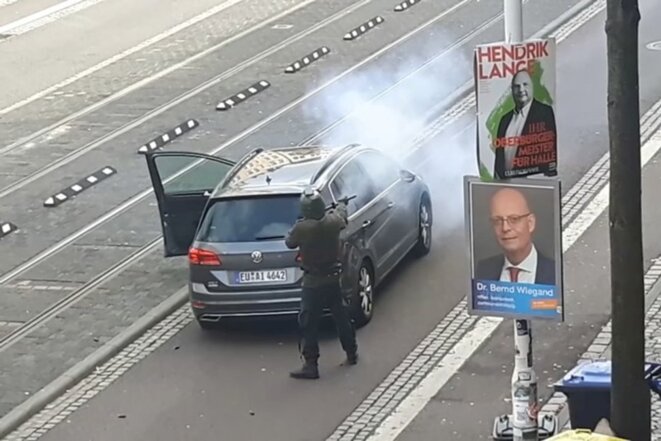 The gunman in Halle, filmed here by a witness, recorded his rampage on video. © ATV STUDIO HALLE/REUTERS TV via REUTERS
The suspect arrested for the deadly attacks last Wednesday on a synagogue and Turkish restaurant in the German city of Halle has said his acts were driven by far-right ideology and a hatred of Jews. The shooting and bombing rampage followed a series of attacks around Europe by ultra-right groups, prompting the EU police agency Europol, in a recent confidential report, to urge increased cooperation to contain the problem. But Europol also gave a chilling warning that the extremists "are attempting to win over members from the military and security services" in order to build "combat skills".
Calling on France to mobilise against 'underground Islamism', President Emmanuel Macron led a ceremony on Tuesday in homage to four staff who were stabbed to death at Paris police headquarters last Thursday by one of their colleagues in an attack which investigators believe was motivated by his allegiance with Islamist extremists.
A gunman identified on CCTV footage, and reportedly known to French internal intelligence services as a supporter of radical Islamic movements, has evaded arrest after three people were shot dead and at least 12 others wounded on the streets of the city of Strasbourg in eastern France, when an army security patrol wounded the 29-year-old before his escape.
Speaking at a yearly gathering in tribute to victims of terrorism in France and French victims in other countries, President Emmanuel Macron announced the future creation of a memorial in their honour, together with a dedicated public body of support for all those affected by attacks, and promised increased financial support for relatives of victims of terrorism abroad.  
Exceptional security measures are in place around the French capital to deal with a potential terrorism threat as vast crowds are expected to turn out for Bastille Day celebrations on Saturday and at fan zone sites for watching the football World Cup final between France and Croatia on Sunday.