Keyword: terrorist attack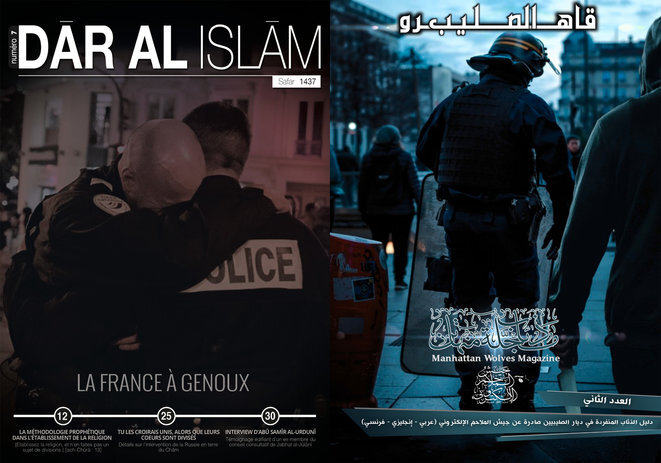 Jihadist propaganda publications often target the French police. © DR
The murder of a policewoman at Rambouillet, south west of Paris, on Friday April 23rd brought to 12 the number of members of the police and security forces who have been killed in terrorist attacks in France since 2015. Overall, attacks targeting police officers have grown in number over that period. This "French exception"  is a phenomenon which has become more prevalent since the collapse of Islamic State's self-styled 'Caliphate' in the Middle East. Matthieu Suc reports.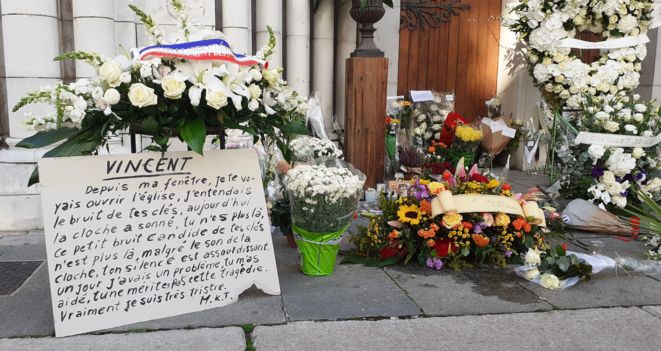 A message in tribute to murdered church warden Vincent Loquès. © Sana Sbouai
The terrorist knife attack last Thursday against a church in the Riviera city of Nice, when a 21-year-old Tunisian murdered two women and the basilica's warden, has deeply shocked the local population. For many, the traumatic events brought back the horror of one of France's worst terrorist attacks, on July 14th 2016, when a truck was driven into Bastille Day crowds on the city's seafront boulevard, the Promenade des Anglais, killing 86 people. Sana Sbouai reports from Nice where locals tell her of their mixed feelings of anger, fear and despondency.
French satirical magazine Charlie Hebdo, whose staff were targeted in a January 2015 shooting massacre which left 12 dead, has announced its edition to be published Wednesday, when 14 people accused of being accomplices to the attack are to stand trial in Paris, will contain a reprint of the cartoons of Prophet Mohammed that were cited as the motive for the terrorists.
French police source said four suspects had been arrested on suspicion of acquiring weapons 'with a view to committing a terrorist act'.
The knifeman who killed one man and wounded four other people in a rampage in a central Paris street on Saturday evening, and who was subsequently shot dead by police, has been named as Khamzat Azimov, born in Chechnya in 1997 and given French nationality in 2010.
Stéphane Poussier, a parliamentary candidate in elections in 2017 for the radical-left France Insoumise (France Unbowed) party, has been arrested after sending a message via Twitter rejoicing over the death of gendarmerie officer Arnaud Beltrame, who voluntarily took the place of a hostage during Friday's terrorist shootings in south-west France and who subsequently died from gunshot and stab wounds.
Eight members of the armed forces were killed, and 80 people were wounded, while security minister said eight attackers had been shot dead.
France's foreign affairs minister Jean-Yves Le Drian has confirmed that 28 French nationals were injured in the terrorist attacks in Spain on Thursday, with eight of them in a serious condition on Friday, including four children.
The attack by gunmen on diners sitting at a restaurant terrace in the Burkina Faso capital Ouagadougou on Sunday left 20 dead, according to local officials, including at least one French national, 18 months after 30 people died in a jihadist attack on a nearby café. 
A Paris court has refused a public prosecutor's demand that the latest issue of French weekly Paris Match be withdrawn from sale over its publication of gruesome CCTV images of the 2016 Bastille Day terrorist attack in Nice when a truck ploughed into seafront crowds, killing 86 and injuring hundreds more, but has ordered the magazine not to republish the photos.
President Emmanuel Macron, joined by his predecessors François Hollande and Nicolas Sarkozy, travelled to the Riviera city of Nice on Friday to take part in commemorations of the terrorist attack committed last year by a Tunisian national, and claimedt in the name of the Islamic State group, who drove a heavy truck into seafront crowds celebrating Bastille Day, killing 86 people and injuring more than 450 others.
The Paris public prosecutor's office has asked for a court order to remove the weekly magazine from sales points in France on Thursday over its publication of gruesome images from CCTV footage of the terrorist attack in the Rivierra city in July last year when a man acting in the name of Islamic State drove a truck into seafront crowds killing 86 people and injuring more than 450 others. 
Cannes Film Festival Director Thierry Frémaux joined staff on the red carpet of one of the world's most high-profile cinema festivals to say that the victims of the Manchester Arena attack were 'doing exactly what we are doing here at Cannes ... being together, rejoicing in the freedom to love and sharing their passion'.
The illumination of the Eiffel Tower in Paris was switched off on Tuesday evening in a tribute, alongside landmarks around the globe, to the victims of the terrorist attack in Manchester late Monday which killed 22 people and wounded 59 others.