Related keywords
Car used in Cambrils attack caught on camera in Paris area, as investigators seek to find out what the alleged terror plotters were doing in France.
All 1,000 tickets for the November 12th concert by the British singer at the Bataclan, which reopens this Saturday for the first time since 90 people died when jihadist gunmen stormed a concert there last November, sold out within 30 minutes.
Some French broadcasters and newspapers announce they will refrain from naming, or publishing photos of, terrorists so as not to contribute to  their 'glorification'.
French TV channel Canal Plus broadcasts secretly recorded film shot over six months within group in France planning suicide attack.
The French president announced his decision after the two houses of the French Parliament failed to agree on the nature of the reforms.
French lower house approves by a margin of 14 votes the measure to be written into the constitution and which has divided ruling socialist camp.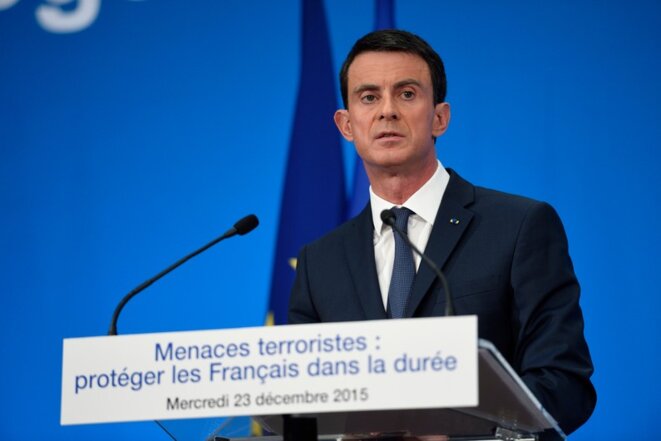 Prime minister Manuel Valls presented the reform on December 23rd, 2015. © Reuters
President François Hollande and Prime Minister Manuel Valls are forging ahead with plans to strip French nationality from anyone with dual nationality who commits terrorist acts against the country. This is despite strong opposition from many on the Left, including senior figures in the ruling Socialist Party. Here Mediapart's editor-in-chief Edwy Plenel argues that in following this path the socialist government is removing traditional political and historical reference points from its supporters. In particular, he says, the authorities have forgotten the warnings set out in philosopher Hannah Arendt's masterpiece 'The Origins of Totalitarianism'.
Government wants new measures to give anti-money laundering unit Tracfin access to finances of those listed on a database of wanted people.
Manuel Valls said the EU needed to 'take responsibility' over border controls or cherished passport-free Schengen zone would be in danger.
Warning from Manuel Valls came as French MPs debated extending the state of emergency after the Paris attacks.
Addressing French parliament on Tuesday, Manuel Valls warned 'very serious risks remain', as hunt for accomplices to terror attacks continued.
French defence minister Jean-Yves Le Drian says some important leaders are among those killed or captured, mostly in Mali and Niger.
The two French citizens killed in attack on Nairobi shopping mall were a mother and daughter who were 'executed' in the parking lot.
Convoy of about 30 armoured vehicles has set out from capital Bamako for Diabaly, 350km to the north, a town captured by the rebels.