Beginning on April 4th, Mediapart has published a series of investigations into the circumstances of the 7.8-billion-euro sale by France to India of 36 Rafale fighter jets, which is clouded by suspicions of corruption on a large scale. In this short video with English subtitles, Yann Philippin explains the key results of Mediapart's investigations into this most complex story.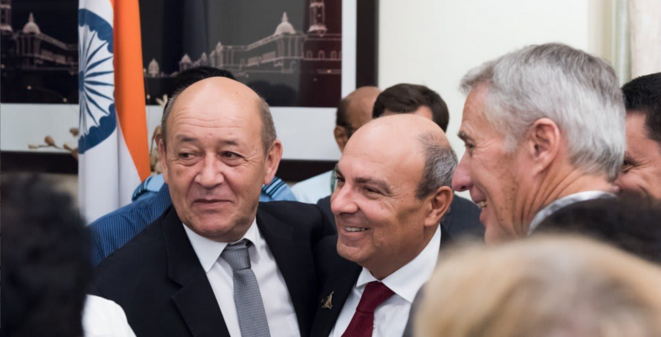 Then French defence minister Jean-Yves Le Drian (l) celebrates with Dassault CEO Dassault Aviation CEO Éric Trappier (c) the signing of the Rafale deal in September 2016. © Dassault Aviation
In this final report in a three-part investigation into the controversial sale by France to India of 36 Rafale fighter aircraft, Mediapart reveals, with hitherto unpublished documents, how an influential Indian business intermediary was secretly paid millions of euros by Rafale manufacturer Dassault Aviation and French defence electronics firm Thales. They succeeded in removing anti-corruption clauses from the fighter contract which was subsequently signed by then French defence minister, now foreign minister, Jean-Yves Le Drian. Yann Philippin reports.

A Mediapart investigation can reveal the extent to which the  publicly-owned French defence contractor Naval Group has been overseeing the renovation and modernisation of Saudi warships. This vital maintenance work has been taking place as the Saudi navy enforces a punishing blockade on Yemen as part of the ongoing conflict there. Meanwhile lawyers warn that any company that helps or supports the Arab coalition military effort in Yemen could potentially be seen as being complicit in possible war crimes. Eva Thiébaud and Thomas Clerget report.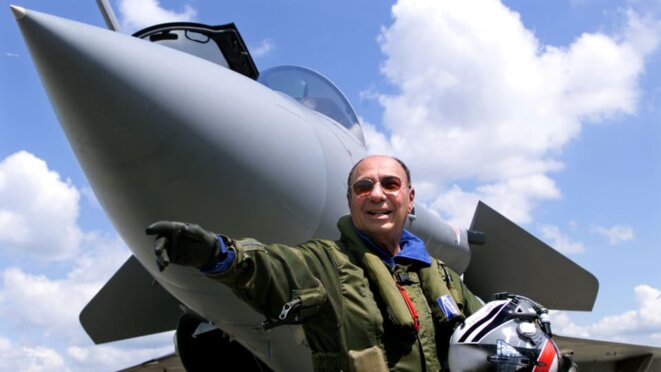 Serge Dassault in 1999 posing next to a Rafale jet at the Le Bourget air show north of Paris. © Reuters
Serge Dassault, who died on May 28th, 2018, at the age of 93, was a billionaire industrialist in the aviation sector, a former Senator and mayor, and the owner of the conservative daily newspaper Le Figaro. Prevented from having a major role the family business empire until the death of his father, Serge Dassault was driven by ambition and the desire to surpass what Marcel Dassault achieved. But despite his undoubted business successes, Serge Dassault's own legacy was tarnished by corruption affairs and allegations of buying votes, and he was convicted of tax fraud in 2017. Mediapart's Yann Philippin, who has spent many years reporting on the 'Dassault method', reports.
Thales, which manufactures electrical systems for the aerospace and security markets and in which the French state owns a 25% stake, offered 4.76 billion euros for Dutch cybersecurity firm Gemalto and announced that no jobs are expected to be lost in the takeover.
The former EDF chief, now advisor to Russian national nuclear corporation Rosatom, was pushed to withdraw bid by French economy minister.
Proglio, an opponent of French government plans to reduce nuclear energy dependence, is to be replaced by Thales boss Jean-Bernard Lévy.
France and Germany are reportedly planning a shipbuilding merger, their biggest industrial partnership since the creation of aerospace group EADS.