European politicians have begun poking fun at the UK's troubled Brexit dealings, with French European affairs minister Nathalie Loiseau saying she has nicknamed her cat 'Brexit' because when she opens the door he is 'unsure whether he wants to go out or not', while Dutch Prime Minister Mark Rutte compared his British counterpart Theresa May to the knight in Monty Python and the Holy Grail who loses both arms and legs in a duel and then argues for a draw.
Private dinner took place between France's president and his wife, Brigitte, and May and her husband, Philip, at the 13th-century Fort Brégançon.
British Prime Minister Theresa May will end her holiday in Italy with a visit to French President Emmanuel Macron on Friday at the latter's official holiday home at the fort of Brigançon in southern France, when the two are expected to discuss increasing tensions over the stalemate in negotiations to reach a deal before Britain's exit from the European Union next March.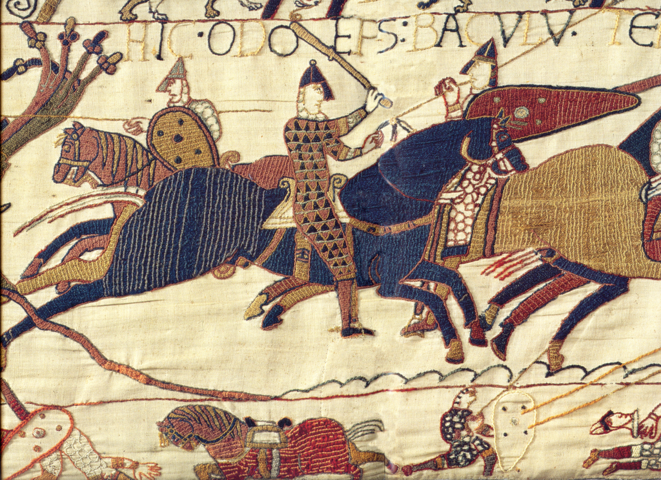 A section of the Bayeux Tapestry depicting Odo, Bishop of Bayeux, wielding a club and encouraging the troops of William, Duke of Normandy during the Battle of Hastings.
During Emmanuel Macron's first official visit to Britain last Thursday, when Brexit, defence cooperation and immigration policies topped the agenda, the French president also announced the loan to Britain of the famous Bayeux Tapestry, the nearly 70-metre long, 11th-century embroidered cloth of images and commentary that recounts the 1066 Norman invasion of England by William the Conqueror. Amid the many interpretations of Macron's move, from simple goodwill gesture to tongue-in-cheek reminder of Britain's continental roots, Joseph Confavreux turned to French university lecturer in mediaeval history Julien Théry for his analysis.
French President Emmanuel Macron met with British Prime Minister Theresa May at the Sandhurst military academy on Thursday on his first official visit to the UK, when the two agreed increased British funding of border security measures at Calais, and increased security and defence cooperation, including British helicopter missions in Mali and French participation in reinforcing Estonia's frontier with Russia.
British prime Minister Theresa May meets with French President Emmanuel Macron in their first joint summit meeting at the Royal Military Academy of Sandhurst in Berkshire on Thursday, when continuing Brexit negotiations, defence cooperation and the migrant crisis in Calais will top the agenda.
French presidency says that 'ways to improve the handling of migrants on the common border in Calais' will be discussed at the bilateral in UK.
At a press conference following the meeting in Paris on Tuesday evening between French President Emmanuel Macron and UK Prime Minister Theresa May, the French head of state, who has previously warned May that a tough deal awaits Britain's referendum decision to leave the EU, said of the so-called Brexit negotiations that until they come to an end 'there is always a chance to reopen the door'.
British Prime Minister Theresa May met with French President Emmanuel Macron in Paris on Tuesday, with Brexit preparations and the introduction of stronger policing of extremist propaganda on social media high on the agenda, after which the two leaders are due to attend a France-England football friendly match, when French fans will be encouraged to sing the UK national anthem as a mark of respect after recent terrorist attacks in Manchester and London.
British Prime Minister Theresa May held talks with French Presisdent Emmanuel Macron on the sidelines of the G7 summit in Sicily when, a spokesperson said, she underlined that she wanted the reciprocal arrangements for British and EU expatriate nationals to be decided early on in the discussions over Britain's exit from the EU.
British Prime Minister Theresa May met with her French counterpart, Bernard Cazeneuve, in London on Friday, pledging that Britain will not seek to 'cherry-pick' in negotiations over leaving the European Union, and reiterated her her aim to guarantee rights of EU nationals already in the UK and said she hoped France will do the same for Britons living there.
French President François Hollande, reacting after British Prime Minister Theresa May's speech on Tuesday setting out London's intention to seek a clear split from the European single market, said he wanted negotiations on the conditions of Britain's departure from the EU to begin as soon as it invokes the process, due at the end of March.
President François Hollande's ruling party says the Hinkley Point nuclear project in Britain is risk to survival of France's state-owned utility EDF.
French President François Hollande said British people living and working in France can stay 'as long as they like', adding he expected a reciprocal deal.