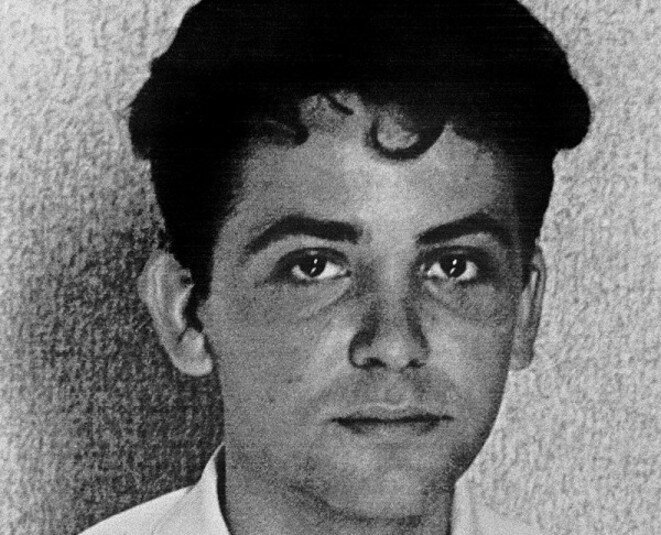 Maurice Audin, tortured and murdered by the French military. © DR
French President Emmanuel Macron on Thursday issued a landmark statement officially recognising for the first time the systematic use of torture by French forces during the 1954-1962 Algerian war of independence. The admission was made alongside a letter presented to the widow of Maurice Audin, a 25-year-old mathematician and militant for Algerian independence who disappeared after his arrest by the French military in 1957, and who Macron acknowledged had died after he was tortured in detention. Mediapart publishing editor Edwy Plenel sets out here why the move is as historically significant as the recognition in 1995 by then president Jacques Chirac of the responsibility of France in the deportation of Jews to German death camps during WWII, and why it may herald a reconciliation of sorts after six decades of denial.               
In a highly symbolic ceremony, French President Emmanuel Macron on Thursday met the 87-year-old widow of Maurice Audin, a communist mathematician who disappeared in 1957 after being arrested by the French military during the seven-year Algerian war of independence, when he apologised to Josette Audin on behalf of the French state and, in the first official admission of its kind, acknowledged the army's systematic use of torture during the conflict.
Poll for human rights group shows that after terror attacks in France, 36% of people would now support use of torture, up from 25% in 2000.
Rights groups are concerned over earlier French announcement that Moroccan spy chief accused of torture will be given the Légion d'honneur.

François Hollande reçoit Mohammed VI à l'Elysée, le 9 février 2015. © Reuters
Last week French Members of Parliament took the first step towards approving a brief accord on judicial cooperation between France and Morocco. On the face of it, this seems a routine agreement; but behind this protocol lies more than a year of bitter discord between the two countries over attempts by a French judge to question the head of the Moroccan internal intelligence agency over allegations of complicity in torture. After lengthy and sometimes fruitless attempts to broker an end to the dispute, led by French president François Hollande in person, Paris hopes that the deal on judicial cooperation will put the seal on recently-improved bilateral relations. But the wording of the new text has been bitterly opposed by human rights groups who say it is deeply damaging to the independence of France's judges and courts, and who claim that the French authorities have capitulated to the demands of their Moroccan counterparts. Lénaïg Bredoux reports.
The leader of France's far-right Front National said it was 'malicious' to interpret her comments in a TV interview that way.
General Paul Aussaresses was convicted in 2003 for defending torture after admitting his role at the head of "death squad" during the Algerian War.
© Ernest Pignon Ernest
Michèle Audin was just three years old when her mathematician father Maurice was tortured and killed by the French army in Algiers in 1957. Today Michèle, herself a celebrated mathematician, has published a book which does not recount the tragic circumstances of her father's death, but instead celebrates his life in a style that is both concise and deeply moving. Dominique Conil reviews A brief life.