French Prime Minister Édouard Philippe on Thursday announced a 50-million-euro contingency plan in the case that Britain would leave the European Union on March 29th without a trade agreement, which he described as 'less and less unlikely', which includes the building of infrastructures around transport hubs to deal with delays in commercial traffic and the recruitment of around 600 extra staff in customs and veterinary services.
France and Germany have reacted strongly at a decision by US President Donald Trump to withdraw his support for the concluding joint statement issued by the Group of Seven summit in Canada of leading world economic powers, with a French presidential source calling it an act of 'incoherence and inconsistency' and the German foreign minister saying trust had been 'lost'. 
Two presidents agreed to promote bilateral relations and cooperation during the meeting on the sidelines of the G20 summit in Hamburg.
French economy minister Emmanuel Macron warned that if Britain leaves the European Union it would have no clout with countries like China.
Team of more than 100 businessmen and politicians hopes to rebuild industrial and agricultural trade after recent nuclear programme agreement.
Observers say historic visit to island by President François Hollande in May is as much about shoring up trade ties as politics and culture.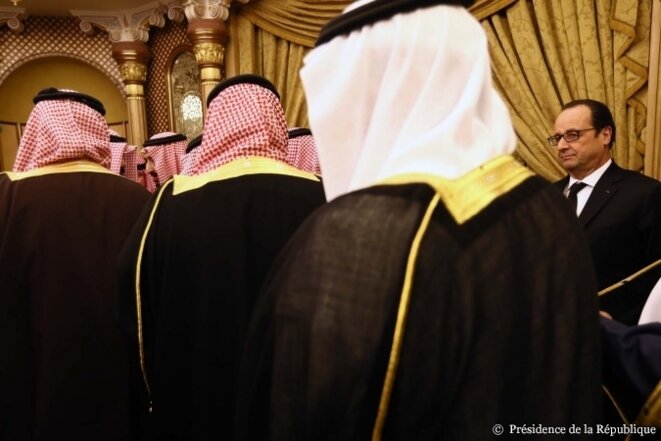 President Hollande at Riyadh in January 2015.
Both French president François Hollande and American head of state Barack Obama flew to Riyadh to pay their respects after the death of King Abdullah of Saudi Arabia on January 23rd. For the French leader it was yet another journey to the Arabian kingdom that he has already twice honoured with state visits. France and the United States - and other Western countries – have stayed close diplomatically to Saudi Arabia, seeing it as a source of oil, a massive market to buy their weapons and a pivotal place to exchange key intelligence. But the flipside of this approach, write Thomas Cantaloube and Pierre Puchot, is that these countries have been trapped into supporting Saudi's own regional political games, while also backing one of the most repressive regimes on earth. Moreover, at a time when France and other nations have made fighting terrorism their international priority, elements in the Saudi kingdom are still suspected of financial links with prominent terror groups.
Thomas Thévenoud, sacked for not declaring earnings for three years, is under pressure from all directions to stand down as MP.
Around 150 Spanish fruit-laden trucks stopped by officials as French growers complain of unfair 'dumping' of produce in their home market.
A state visit to France by Chinese President Xi Jinping has rubber-stamped some 18 billion euros-worth of industrial and energy deals.
US Secretary of State fears that visit by French executives to Tehran will send 'wrong message' over easing of sanctions against Iran.
Finance minister holds out prospect of renewing old economic ties as French business delegation travels to Iranian capital for meetings.
President François Hollande travels to Algeria to seek greater access to former colony's oil wealth in bid to lift France's own flagging economy.