Related keywords
Some 30,000 people, including many Yellow Vest protesters, demonstrated in Paris on Tuesday, according to the CGT union.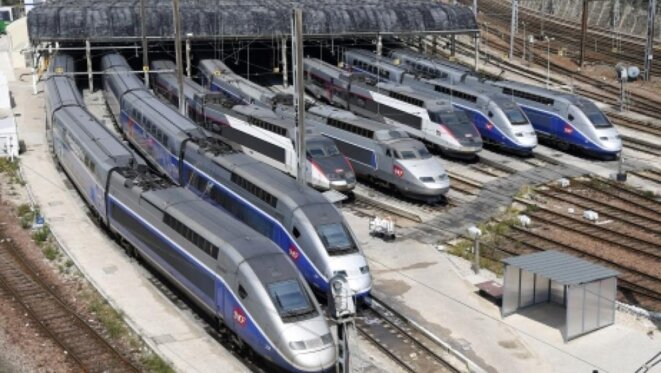 Trains at the gare du Nord in Paris. © Reuters/Charles Platiau
On April 17th this year, with the rail strike in full swing, a manager at the busiest railway station in Paris, the Gare du Nord, asked colleagues to create a database on workers who were most active on Facebook, Twitter and other social media. Unions have condemned the action, saying they fear the firm wants to muzzle staff involved in the industrial action, while lawyers say the move is completely illegal. The state rail company SNCF, meanwhile, dismisses it simply as a "clumsy" local initiative not connected with the strike. Dan Israel reports.
Unions are replenishing their financial resources to try and make industrial action last as long as possible as both SNCF and workers lose money.
French Labour Ministry will this week unveil outcome of months of talks with unions and bosses as part of a plan to reinvigorate the economy.
In 2012 the French post office La Poste agreed to set up a commission to find ways to reduce work-related stress, illness and suicides following its abrupt change of status from state-run enterprise to a limited company funded by the public purse. But today unions and workplace health experts say that many of the group's 260,000 staff are still suffering from the pace of change caused by endless reorganisation. As Rachida El Azzouzi reports, management are now in talks with unions in a bid to solve the problem.
Last week the French authorities banned a planned march in Paris by trade unions opposed to labour law reforms, before eventually backing down partially and allowing a more limited demonstration. Here Mediapart's editor-in-chief Edwy Plenel argues that demonstrating is a constitutional right and that, by banning the march that the trade unions wanted, the government violated the fundamental law that guarantees all our freedoms. It is, he writes, our duty to resist this unlawful act in order to defend our common ideal: democracy.

Police move in to clear a blockade at the Fos-sur-Mer oil refinery in southern France on Tuesday May 24th, 2016. © Reuters
Many oil refinery workers, rail workers and aviation staff are on strike or set to go out on strike as France suffers fuel shortages and a power struggle between the government and those opposed to controversial labour law reforms. Union activists have criticised the "extremely violent" actions of the state in removing the blockade at the Fos-sur-Mer oil refinery in the south of France. But despite the growing impact of their industrial action, union militants admit that they will not continue the action on their own indefinitely without the help of workers in other sectors. Mathilde Goanec reports.