The CFDT union is opposed to transport strikes over Christmas period but will call for new actions in January if the government does not drop a key pension reform proposal.
Transport chaos continues as French government stands firm in face of nationwide protests over planned reforms.
The Paris transport network was severely disrupted on Friday as staff unions led a one-day strike over proposed government reforms to their pension benefits as part of a plan to merge France's 42 different pension schemes into a single points-based system.
Rail unions' strike, upping pressure on negotiations over future working conditions, comes as France faces severe disruption because of flooding.
Trades union protests against labour law reforms, along with separate pay demands, will this week see widespread rail and air transport strikes.
The fate of Alstom, one of France's largest private-sector employees, now hangs on frantic negotiations over two rival bids for the cash-strapped French engineering group's energy division, which represents 70% of its activities. After weeks of secret negotiations between Alstom and US conglomerate General Electric, their German competitor Siemens stepped in with its own offer at the weekend. Siemens' bid, offering a swap of energy and transport arms, has been welcomed by the French government, with its economy minister talking up the creation of "two European and global champions in the energy and transport domains" as it faces major political embarrassment over the amputation of a giant of French industry. Mediapart's business and financial affairs correspondent Martine Orange charts the background to Alstom's decline, and details why the social and industrial consequences for France will be serious whichever deal is accepted.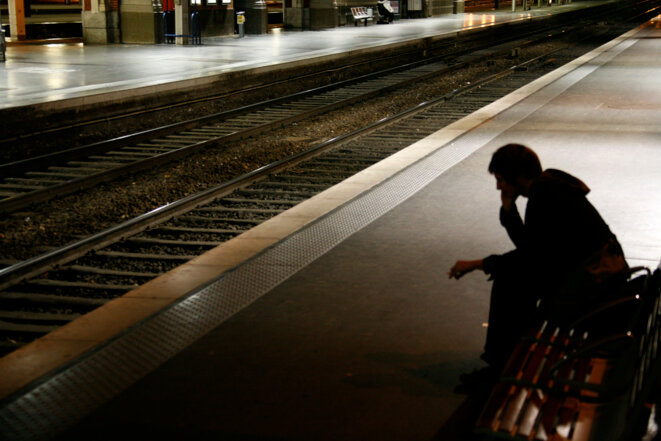 © Reuters
The internal police force run by state-owned railway company SNCF is supposed to protect both passengers and other rail staff from attack or abuse. But officers in one section of the force in the south of the France have been accused of sending a racist text message, playing neo-Nazi songs and mistreating passengers of North African origin. According to documents seen by Mediapart, senior management at SNCF is fully aware of the claims, yet has failed to take any action. Meanwhile one of the officers who was a victim of the taunts has been ostracised by colleagues. Michaël Hajdenberg reports.
On the face of it, the incident looked like yet another regrettable but sadly all-too common attack on a bus company employee. But in the middle of the assault on the 35-year-old in central Paris, one of the two assailants pulled out his warrant card and told onlookers he was a police officer. The police complaints authority is now investigating. However, as Louise Fessard reports, despite the attack being captured on video surveillance cameras and the fact that the attackers are readily identifiable, no arrests have yet been made.
A major urban renovation project called 'le Grand Paris' was launched in 2007 to modernise the Greater Paris Region with the development of new centres for economic activity, the construction of more than a million new homes and a major new inter-linking transport system. Amid soaring costs and fierce criticism from environmentalists, the plan, now estimated at 30 billion euros, is under government review. In this interview with Mediapart, Jean-Pierre Orfeuil, a specialist in mobility issues and professor at the Paris Institute of Urbanism, says the project is yet another example of how the elite ignore the real social and economic needs of the public, and argues why only a radical and visionary new approach to the transport infrastructure in and around the capital will solve its current problems.