Related keywords
A Paris court has ordered Swiss bank UBS to pay a record fine of 3.7 billion euros and another 800 million euros in compensation to the French government after it was found guilty of laundering money for its wealthy clients in France in order for them to evade due tax payments.
The trial has opened in Aix-en-Provence of nine people, including two former French military pilots, a customs officer and a celebrity bodyguard, accused of running a trans-Atlantic cocaine smuggling scam between the Dominican Republic and France using a Dassault executive jet, in a case marked by intrigue and derring-do escapes.
Two police officers from the Paris 'anti-gang' squad went on trial on Monday accused of raping a Canadian tourist at their headquarters in the French capital in 2014, after they met her in a nearby Irish pub.
A 50-year-old woman is on trial in central France for having caused harm and permanent disability to her infant girl, now aged seven, who she allegedly hid from her husband and kept in the boot of a car, leaving the child with possibly irreversible autism, in a complex case in which the mother was apparently in denial of her pregnancy.
In a dramatic turnaround at his trial in Aix-en-Provence in southern France, Wojciech Janowski, Poland's former honorary consul to Monaco and son-in-law of billionaire heiress Hélène Pastor, 77, has confessed to organising her murder by hitmen in 2014 but denies ordering the killing of her chauffeur.
Popular French rappers Booba and Kaaris were each handed 18-month suspended prison sentences and a fine of 30,000 euros by a Paris court for their part in a fight, together with their respective entourages, at Paris Orly airport in August when they exchanged punches and kicks and threw perfume bottles at each other amid panicking passengers.
The first of two appeals lodged by Former French President Nicolas Sarkozy against a decision to send him for trial for influence peddling and corruption was thrown out by a Paris court on Monday.
The trial has opened in the southern French town of Aix-en-Provence of ten people accused of taking part in the killings in the Rivierra city of Nice four years ago of Monaco multi-billionaire Hélène Pastor and her chauffeur, including Pastor's son-in-law who is alleged to have hired two hitmen with the aim of inheriting the property owner's huge fortune.
A Paris court handed two men jail sentences for their part in the killing of student Clément Méric, 18, during a brawl between far-right skinheads and anti-fascist militants in Paris in 2013, and which led to the banning of a number of far-right groups.
Didier Lombard, the former CEO of France Telecom (now Orange) and six other company executives are to stand trial on charges of engaging in or assisting psychological harassment of their staff, which allegedly led to the suicides of more than 30 employees in the space of two years.
Ramona Hernandez-Canete, 37, was arrested after one of her teenage children found the corpse of a newborn baby in a laundry basket, before four more bodies of babies were discovered in a freezer at her home in south-west France.
French nationals Sabrina Kouider, 35, and her partner Ouissem Medouni, are accused of murdering their 21-year-old nanny, also from France, and trying to dispose of her body by setting fire to it in their garden in Wimbledon, south-west London.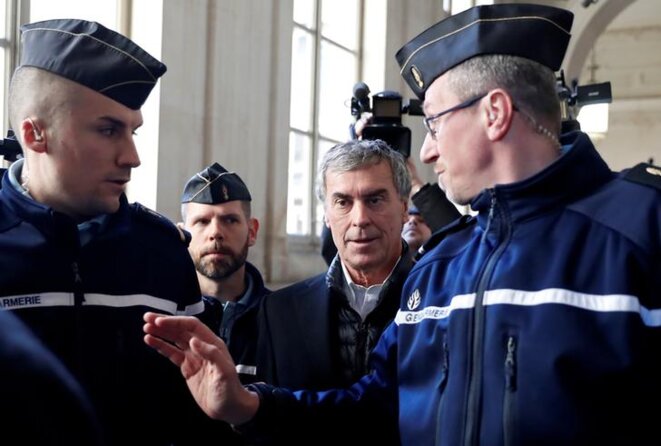 Jérôme Cahuzac (centre) arriving in court on February 12th. © Reuters
At the end of two weeks of hearings, a Paris court on Thursday deferred until May its verdict on the appeal by disgraced former French budget minister Jérôme Cahuzac against a three-year prison sentence handed to him in 2016 for tax fraud and money laundering. Cahuzac, 65, who Mediapart revealed in 2012 held a secret tax-haven bank account while leading a crackdown on tax fraud, did not contest his conviction, but sought a reduced sentence which would allow him to escape prison. While his lawyers argued that Cahuzac was a "broken" and "finished" man who risked taking his own life if sent behind bars, the prosecution has reiterated its demand for a three-year sentence. Mediapart legal affairs correspondent Michel Deléan was in court to follow the proceedings.   
At the end of a three-week trial in Paris, Jawad Bendaoud, 31, was on Wednesday acquitted of charges of knowingly sheltering members of the Islamic State gang which carried out the November 13th 2015 terrorist attacks in and around the French capital which left 130 people dead, while Bendaoud's two co-defendants were given jail sentences.