Related keywords
A Paris court handed two men jail sentences for their part in the killing of student Clément Méric, 18, during a brawl between far-right skinheads and anti-fascist militants in Paris in 2013, and which led to the banning of a number of far-right groups.
Didier Lombard, the former CEO of France Telecom (now Orange) and six other company executives are to stand trial on charges of engaging in or assisting psychological harassment of their staff, which allegedly led to the suicides of more than 30 employees in the space of two years.
Ramona Hernandez-Canete, 37, was arrested after one of her teenage children found the corpse of a newborn baby in a laundry basket, before four more bodies of babies were discovered in a freezer at her home in south-west France.
French nationals Sabrina Kouider, 35, and her partner Ouissem Medouni, are accused of murdering their 21-year-old nanny, also from France, and trying to dispose of her body by setting fire to it in their garden in Wimbledon, south-west London.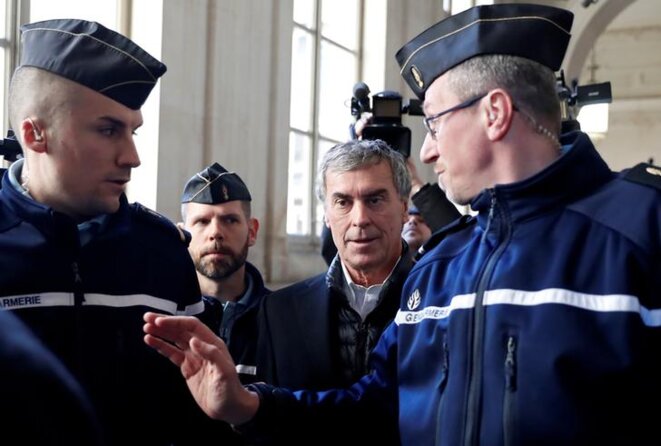 Jérôme Cahuzac (centre) arriving in court on February 12th. © Reuters
At the end of two weeks of hearings, a Paris court on Thursday deferred until May its verdict on the appeal by disgraced former French budget minister Jérôme Cahuzac against a three-year prison sentence handed to him in 2016 for tax fraud and money laundering. Cahuzac, 65, who Mediapart revealed in 2012 held a secret tax-haven bank account while leading a crackdown on tax fraud, did not contest his conviction, but sought a reduced sentence which would allow him to escape prison. While his lawyers argued that Cahuzac was a "broken" and "finished" man who risked taking his own life if sent behind bars, the prosecution has reiterated its demand for a three-year sentence. Mediapart legal affairs correspondent Michel Deléan was in court to follow the proceedings.   
At the end of a three-week trial in Paris, Jawad Bendaoud, 31, was on Wednesday acquitted of charges of knowingly sheltering members of the Islamic State gang which carried out the November 13th 2015 terrorist attacks in and around the French capital which left 130 people dead, while Bendaoud's two co-defendants were given jail sentences.
Jacques Cassandri, 74, used a pseudonym in a book published in 2010 in which he declared himself to be the organiser of an elaborate robbery in the Rivierra city 42 years ago when a gang tunnelled their way into a bank's vault of safeboxes and escaped by boats through sewers to the open sea with loot worth almost 30 million euros. 
Mohamed Bakkali, 30, who is accused of knowingly offering his Brussels apartment to attackers who took part in the November 13th 2015 terrorist attacks in and around Paris which left 130 people dead, has been extradited to France, just as the Paris trial of Jawad Bendaoud, 31, continues into his alleged conspiracy with the Islamic State group cell which were housed in a property belonging to him in a suburb close to the French capital.
A court in Nice found Patricia Dagorn, 57, guilty of killing two elderly men found dead on the Cote d'Azur in 2011 and of drugging two others, crimes which prosecutors said the 'psycopathic' divorcee carried out for enrichment.
Divorcee and law graduate Patricia Dagorn, 57, is accused of murdering two elderly men and the poisoning of two others on the French Riviera in order to gain access to their wealth.
Salah Abdeslam, detained in France for his suspected role in the November 13th 2015 Paris terrorist attacks which left 130 people dead and hundreds more wounded, was due to stand trial this week in Brussels in a separate case in whicjh he is charged with the attempted murder of Belgian police officers.
A 31-year-old maths teacher who had a sexual relationship with a pupil aged 14 has been handed a suspended jail sentence and ordered to undergo counselling, just days after President Emmanuel Macron declared he was in favour of classifying an adult's sexual intercourse with a minor below the age of 15 as rape.
Belgian prosecutors said Friday they have asked France to hand over Salah Abdeslam, a suspect in the November 2015 terrorist attacks in and around Paris, so that he can stand trial in Brussels in December over his alleged involvement in a March 2016 shooting attack on police in the Belgian capital. 
A French court on Friday handed Teodorin Obiang, vice-president of Equatorial Guinea and son of the country's president, a three-year suspended prison sentence and a suspended fine of 30 million euros after he was found guilty in absentia of money laundering wealth embezzled from the African state's public funds. The presiding magistrates, who in their ruling underlined the initial reticence of French prosecutors to bring Obiang to trial,  also ordered the confiscation of his assets in France, estimated to be worth 150 million euros, including a vast Paris townhouse and a fleet of luxurious cars. Michel Deléan reports.