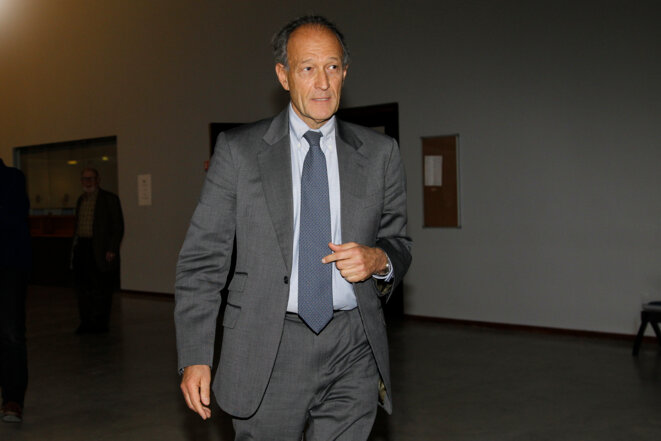 Thierry Gaubert at the court in Nanterre, west of Paris, in 2012 in an unrelated case. © Reuters
In January 2020 Thierry Gaubert, a former close aide to Nicolas Sarkozy, was arrested and then placed under formal investigation for "criminal conspiracy" in relation to claims that the former president's 2007 election campaign was funded with Libyan money. Gaubert is now free on bail, but banned from meeting with either Sarkozy or the ex-head of state's long-standing friend and ally Brice Hortefeux. As Fabrice Arfi and Karl Laske report, this move marks a major turning point in the long-running judge-led investigation.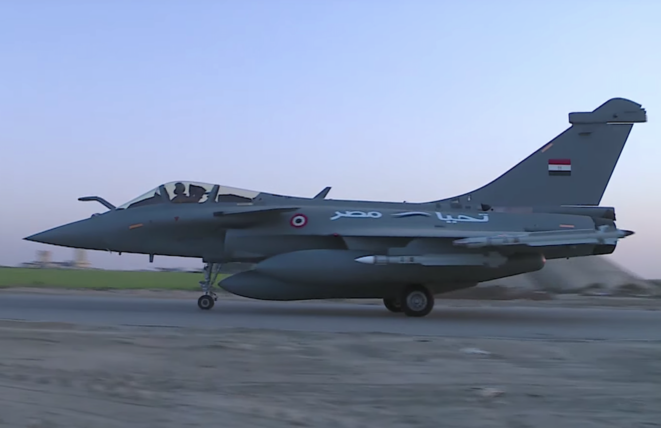 A French-made Egyptian air force Rafale fighter plane taking off as part of an air raid in Libya in 2017.
In April 2019 the self-styled 'Field Marshal' Khalifa Haftar launched an offensive against the regime in Tripoli which is acknowledged by the international community as Libya's legitimate government. Yet during his recent military campaign to control the east of the country, the warlord has had the discreet help of several important allies, including France. And as Yann Philippin, René Backmann and Antton Rouget report, Haftar also received air support from French-made Rafale jets which had been sold to Egypt.
A statement from the Government of National Accord (GNA), the Tripoli-based authorities recognised by the UN as Libya's governement, said its interior ministry had suspended 'all relations' with France because 'support of the criminal Haftar', a reference to rebel commander Khalifa Haftar, based in the east of the country, whose forces have launched an ongoing military offensive to overthrow the GNA.
A planned European Union statement calling on military strongman Khalifa Haftar to halt his Libyan National Army's offensive against the UN-backed Government of National Accord in Tripoli was vetoed by France, which has provided military assistance in past years to Haftar in his eastern stronghold.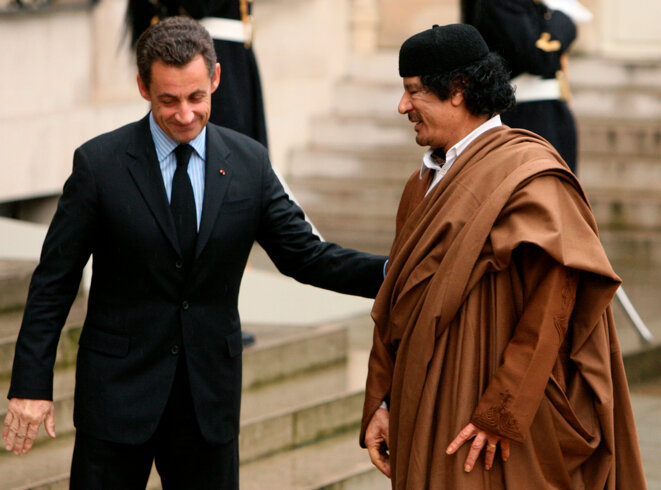 Nicolas Sarkozy et Mouammar Kadhafi sur le perron de l'Elysée, en 2007. © Reuters
The story of the covert Libyan funding of Nicolas Sarkozy's 2007 election campaign started two years earlier with a meeting between Colonel Muammar Gaddafi and the then presidential hopeful Sarkozy himself, Mediapart can reveal. According to arms dealer Ziad Takieddine, who was in Tripoli at the time, Sarkozy directly asked Gaddafi for financial help during an official visit to the North African country in October 2005. A short time later Sarkozy's close political friend and ally Brice Hortefeux made a visit to Tripoli in which he had an off-diary meeting with Gadaffi's security chief Abdullah Senussi, a key figure in the corruption allegations involving Libya and France. Judges investigating the Libyan funding of Sarkozy's campaign are now painstakingly piecing together the background to the affair. Fabrice Arfi and Karl Laske report.
Forty French nationals have been evacuated by ship along with seven British nationals as battles rage between government forces and militias.
French government follows example of other nations as fighting sweeps across the North African country three years after overthrow of Gaddafi.