Ten suspects, including one or more Albanians, were arrested in various parts of Nice and another was detained in the western city of Nantes.
The Tunisian who on July 14th killed 84 people among crowds on Promenade des Anglais had carefully prepared attack says Paris public prosecutor.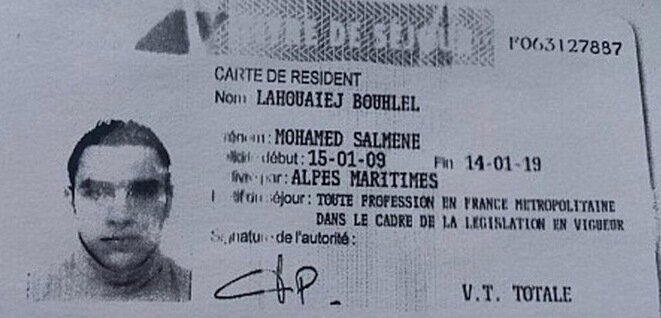 Mohamed Lahouaiej Bouhlel's residency permit. © DR
Three new arrests were made on Sunday as French investigators attempt to establish whether Mohamed Lahouaiej Bouhlel, the 31-year-old Tunisian who drove a heavy truck into Bastille Day crowds in Nice on Thursday, killing 84 people, received help from accomplices in preparing the massacre. Fresh evidence emerged this weekend suggesting he had carefully planned the attack, including CCTV footage of him reconnoitring the scene earlier last week. But despite a claim by the Islamic State group that Bouhlel was a "soldier" for the jihadist group, his motive remained unclear. Meanwhile, French health minister Marisol Touraine said on Sunday that "about 85 people" were still hospitalised after the carnage on July 14th, of which 18, including a child, were in a life-threatening condition. Graham Tearse reports.
French public prosecutor François Molins confirmed late Friday that 84 people, including ten children and teenagers, were killed when a man drove a 19-tonne truck into seafront crowds attending a firework display during Bastille Day celebrations in the Riviera city of Nice on Thursday evening. The truck attack was carried out by a lone perpetrator, 31-year-old Mohamed Lahouaiej Bouhlel, a Tunisian national who had been living in Nice for several years. Molins said a total of 202 people were injured in the attack, and 52 of them were on Friday in a critical condition. The attack is the subject of an investigation into three counts of terrorist acts, while doubts emerged late Friday over the true motive for the attack. Graham Tearse reports.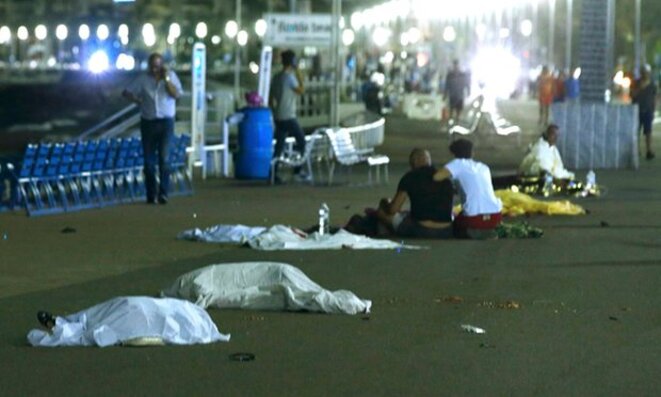 Bodies of victims on the Promenade des Anglais in Nice. © Reuters
French officials say at least 80 people  died after a heavy truck drove into crowds attending a traditional Bastille Day fireworks celebration in the Riviera city of Nice at around 10.30 p.m. local time. The driver of the truck, who was reportedly later shot dead by police, then began firing shots into the crowd according to several media reports. Local media said the driver was a 31-year-old Nice resident of joint French-Tunisian nationality. French President François Hollande announced in the early hours of Friday that the state of emergency powers introduced after the November 13th terrorist attacks in Paris last year, and due to end later this month, will be extended for a further three months. Graham Tearse reports.
A fire in the load of a truck shut down tunnel services on Saturday, but reduced services at least were expected to restart Sunday.