Related keywords
Paris says it will appeal to EU Commission in September for an end to negotiations for the TTIP free trade agreement with the United States.
The French government was initially enthusiastic about the free trade agreement being negotiated between the European Union and the United States. However in recent months Paris, and in particular overseas trade minister Matthias Fekl, has taken a tougher line on the so-called TAFTA deal. Talks on the agreement resume in New York on Monday April 25th, while the day before President Barack Obama will raise the issue with German chancellor Angela Merkel in Berlin. But as Ludovic Lamant reports, the chances of a deal being struck before the end of Obama's term of office look increasingly remote.
Trade minister said option to end negotiations on proposed Transatlantic Trade and Investment Partnership (TTIP) was 'still on the table'.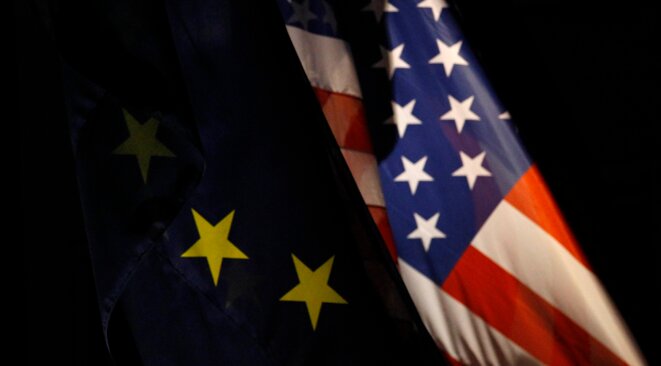 © Reuters
The free trade treaty currently being hammered out between the European Union and the United States is a major issue in this week's elections of members of the European Parliament, which in France will be held on Sunday. For this year also sees the departure of EU Commission president José Manuel Barroso, and for the first time the new head of this key EU body will be appointed from the political grouping that does best in this week's continent-wide elections. Here, Mediapart's Brussels correspondent Ludovic Lamant questions all of the parties' declared candidates for the post of Commission president - Martin Schulz, Guy Verhofstadt, Alexis Tsipras, José Bové and Jean-Claude Juncker – and hears their conflicting views on the transatlantic free trade deal.
As the campaigning heats up for the European elections to be held later this month, critics of the European Commission's handling of discussions over the future landmark European Union-United States free trade treaty have been making their voices heard. Of all the different concerns, the most controversial political issue now emerging is the intended inclusion in the deal of a provision whereby foreign corporations can sue governments before arbitration tribunals for damages in the event that their investments are undermined by future changes in laws, such as those concerning the environment or public health. Mediapart's Brussels correspondent Ludovic Lamant reports.
During his recent visit to Washington French president François Hollande surprised many observers by calling for a speeding up of the negotiations for a EU-US free trade agreement, the biggest deal of its kind in the world. The president's demands are in sharp contrast with France's earlier caution over the free trade zone, an issue which has provoked concern and opposition across Europe. For some, it also seems a curious stance to adopt just weeks before important European elections at which the proposed deal is set to be a controversial issue. Ludovic Lamant reports.