Related keywords
French president is in Tunisia for two days to boost close partnership between France and its former colony, which is struggling economically.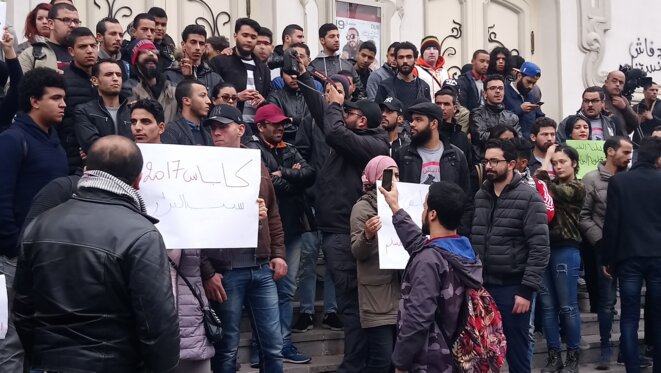 Demonstrators in Tunis earlier this month demanding an end to new austerity measures. © L. B.
Austerity measures imposed in Tunisia at the start of the year in a new public finance law, and which follow a multi-billion-dollar loan from the International Monetary Fund, sparked demonstrations across the country earlier this month that were marked by violence. The protests were mostly mounted by the younger population, particularly affected by rising living costs and unemployment. The unrest has rocked the government, whose authoritarian reaction has prompted some observers to draw parallels with the events that led to the downfall in 2011 of Tunisia's former dictator, Zine al-Abidine Ben Ali. Lilia Blaise reports from the capital Tunis.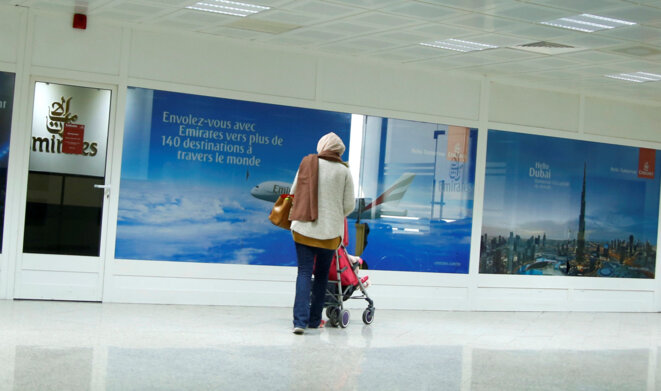 Grounded: Tunis-Carthage International Airport, December 25th. © Reuters
The United Arab Emirates (UAE) last Friday announced a ban on all women and girls travelling with Tunisian passports to the Gulf state on its national airline Emirates and sister carrier Etihad, citing fears of a terrorist attack. While the ban was lifted after just hours, following outrage in Tunisia and from passengers stranded worldwide, the Tunisian government responded at the weekend with a ban of all UAE flights to and from Tunis. But the events are far from an anecdotal spat, for behind the row is the far deeper conflict of a power battle in the Middle East. Lilia Blaise reports.
The recent decision to end the ban on Tunisian women marrying non-Muslims has been broadly welcomed by progressives in the North African country. But that move followed a controversial law to pardon corrupt civil servants, judges, minsters and ambassadors who served under the regime of ousted strongman Zine El Abidine Ben Ali. Meanwhile the current president Béji Caid Essebsi is publicly debating the need to change the country's 2014 Constitution to increase "stability". Lilia Blaise reports.
Facebook has become one of the foremost media in Tunisia, an alternative to controlled official information; it played an important a role in the 2010 uprising that led to the Arab Spring. But while it remains a tool for mobilising people, it is also now used for the more mundane and trivial, including trolling, rumours and rants. More disturbingly, Facebook has also been be turned against human rights activists, who are sometimes treated by the authorities in the same way as apologists for terrorism. Lilia Blaise reports.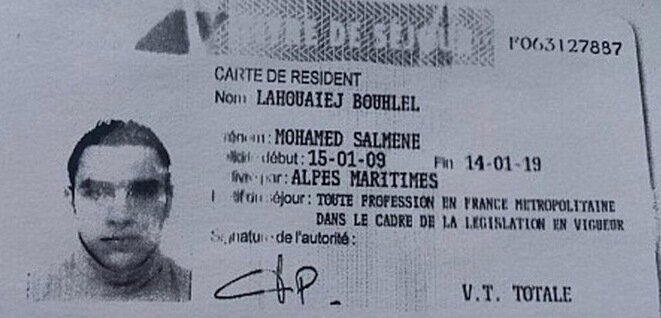 Mohamed Lahouaiej Bouhlel's residency permit. © DR
Three new arrests were made on Sunday as French investigators attempt to establish whether Mohamed Lahouaiej Bouhlel, the 31-year-old Tunisian who drove a heavy truck into Bastille Day crowds in Nice on Thursday, killing 84 people, received help from accomplices in preparing the massacre. Fresh evidence emerged this weekend suggesting he had carefully planned the attack, including CCTV footage of him reconnoitring the scene earlier last week. But despite a claim by the Islamic State group that Bouhlel was a "soldier" for the jihadist group, his motive remained unclear. Meanwhile, French health minister Marisol Touraine said on Sunday that "about 85 people" were still hospitalised after the carnage on July 14th, of which 18, including a child, were in a life-threatening condition. Graham Tearse reports.
French President François Hollande pledged five-year aid package when meeting with Tunisian Prime Minister Habib Essid in Paris.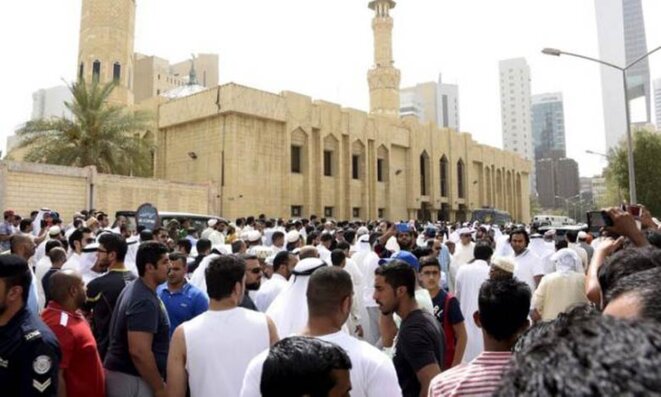 la mosquée Imam al Sadek dans le quartier de Sawaber dans la partie orientale de Koweït City. 'attentat à la bombe commis vendredi contre une mosquée chiite et qui a fait 27 morts dans la capitale de l'émirat © Reuters.
Four terror attacks on Friday that left scores dead across four countries on three different continents raised speculation that Islamic State had launched a concerted offensive from its Syrian and Iraqi stronghold to mark the first anniversary of its Caliphate. However, an expert on jihadist movements, Wassim Nasr, dismisses the idea that the outrages in France, Tunisia, Kuwait and Somalia were part of a coordinated campaign, and says the West still does not understand Islamic State's real strategy. In a wide-ranging interview with Mediapart, the specialist contends that Western states, including France, have themselves created the breeding ground for jihadist groups by backing dictatorships over democratically-elected popular movements. Pierre Puchot reports.
France's François Hollande and Tunisian counterpart Beji Caid Essebsi issued statement after bloody terror attacks in their two countries.
The Tunisian head of state was in Paris for the first time since his election in December, signifying an improvement in strained bilateral relations.
News of further death after museum attack came as President Hollande prepared to join march in memory of the victims in Tunis on Sunday.
Les forces de police tunisiennes devant le Parlement. Tunis, 18 mars 2015 © Reuters
The authorities in Tunisia have announced that 21 people, including 20 foreign tourists, were killed by three gunmen in their attack on the Bardo museum in the capital Tunis on Wednesday, for which Islamic State has claimed responsibility. The shootings happened just as the nearby Tunisian parliament was debating proposed new anti-terrorism legislation, and there is speculation that the assembly was the gunmen's initial target. Islamist groups have blighted the small North African country's fragile transition to democracy since the 2011 revolution that toppled the iron-fisted regime of President Zine El Abidine Ben Ali, mounting political assassinations and attacks on the military. But, as Mediapart's Arab affairs correspondent Pierre Puchot reports, Islamist terror groups have been active in Tunisia for decades, during the dictatorial regimes of both Ben Ali and his predecessor Habib Bourgiba, and the challenge now for the fledgling democracy is to find effective means to combat them without returning to the liberticidal practices of the past.  
The French victims were among a reported 20 foreign tourists and three Tunisians shot dead by gunmen who attacked the Bardo museum.
Veillée en hommage à Yoav Hattab, Tunis, samedi 17 janvier. © Reuters
One of the victims of the kosher supermarket shootings during the Paris attacks in January was Yoav Hattab, a 21-year-old Jew from Tunisia. His family are part of a Jewish community whose roots in the North African country go back many centuries but which has seen its numbers fall dramatically over the last 50 years. The dead man's elder brother, Avishay Hattab, has spoken at length to Mediapart's Pierre Puchot about how the family learnt of Yoav's death, at their dismay at the lack of official Tunisian government recognition of his murder, and of the difficulties in belonging to one of the last Jewish communities in the Arab world. Meanwhile an association that supports local minorities talks about the need to combat the "hatred" aimed at Jews in Tunisia. But Avishay Hattab says he is "proud" of being Tunisian and insists he has no intention of leaving a country his family has lived in for countless generations.