Related keywords
France sees Ankara as an obstacle to securing a cease-fire in the conflict-torn country.
French government will summon Turkish envoy in Paris for talks after Turkey's president accused Emmanuel Macron of suffering 'brain death'.
France joined Germany in announcing this weekend a suspension of weapons sales to Turkey for as long as Ankara continues with its military invasion of a neighbouring part of northern Syria, a ban which the French defence minister said concerned 'war materials that could be used in the context of this offensive'.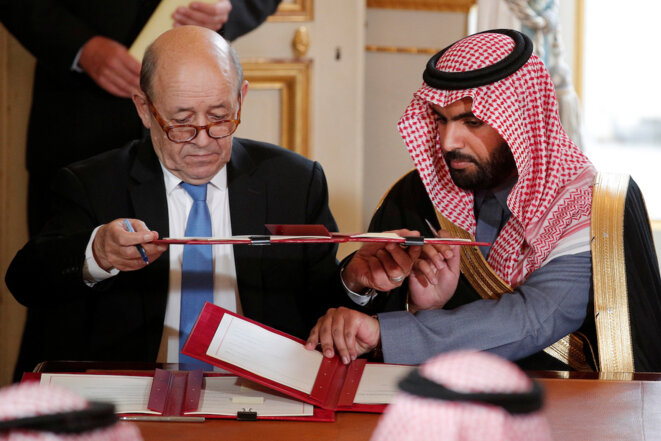 Yves Le Drian and Crown Prince Mohammed bin Salman in April 2018. © Reuters
On November 12th, 2018, Jean-Yves Le Drian insisted on French television that he was not aware of evidence supplied by Turkey regarding the murder of journalist Jamal Khashoggi by Saudi killers. Yet no fewer than seven French diplomats and intelligence agents have contradicted this claim by France's foreign minister. Thomas Cantaloube, Lucie Delaporte, René Backmann, Nicolas Cheviron, Matthieu Suc and Rachida El Azzouzi investigate.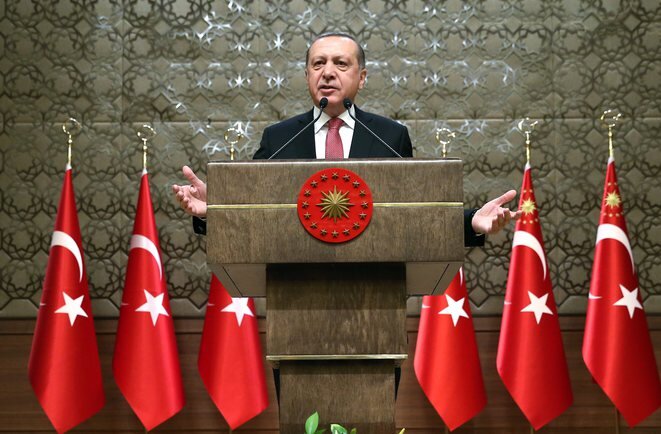 Strongman: Turkish President Recep Tayyip Erdogan. © Reuters
Since the re-election in June of Turkey's president Recep Erdogan, the country has adopted a constitutional system that hands new and vast executive and legislative powers to the authoritarian head of state. Mediapart's correspondent in Istanbul Nicolas Cheviron reports on the essential changes that spearhead the construction of Erdogan's 'New Turkey'.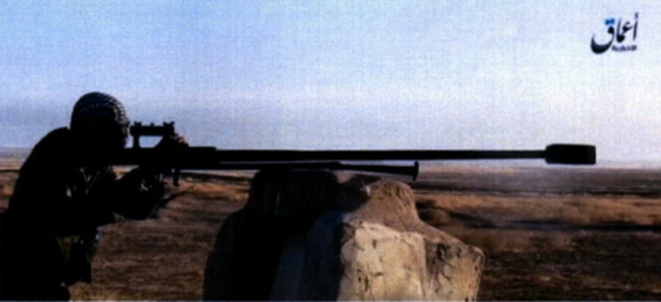 An Islamic State propaganda photo of one of its sharpshooters. © DR
In the wake of the military defeats of the Islamic State group in the Middle East, a total of about 100 French nationals, including jihadist fighters, women and children, are now detained in Iraq and in Kurd-controlled territory in Syria. Their situation represents a dilemma for the French government, which is tempted to leave them in the hands of their captors and their justice systems, but which is under pressure from lawyers acting for their families who argue that to do so is unlawful and inhumane. Michel Deléan and Matthieu Suc report on the debate, and hear the arguments, which include security concerns, for and against their return.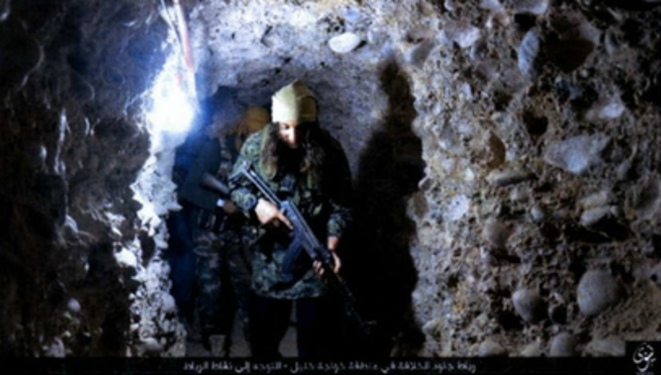 A jihadist in a tunnel underneath the former Islamic State-held city of Mosul.
The Islamic State terrorist organisation has been quietly preparing for the loss of its self-styled Caliphate for several months. France's security services now fear that its fighters might be moved to other areas of jihadist conflict or into Europe. In particular they have have raised concerns over the role of the terrorist's mysterious 'Emigration and Logistics Committee' based in Turkey, the Lebanon and Jordan, amid fears it may be used to send French and other European jihadists back to their country of origin. Matthieu Suc reports.
Loup Bureau, 27, who was arrested while crossing into Turkey from Iraq in July and detained for suspected terrorist activity after Turkish authorities discovered in his equipment pictures he had taken with members of a Kurdish militia in Syria, finally arrived back in Paris on Sunday after a high-profile campaign for his release, including intervention by President Emmnual Macron.
Loup Bureau, 27, who has been detained for almost two months in Turkey since he was arrested on the Iraqi-Turkish when he was found in posession of pictures and interviews with members of a Kurdish militia, is due to be deported back to France this weekend.
French President Emmanuel Macron has held a phone conversation with his Turkish counterpart Recep Tayyip Erdogan and 'expressed his concern about the case of Loup Bureau, a journalism student detained in Turkey, and his desire to see our compatriot return to France as soon as possible' said a statement by the Elysée Palace.
Man, who had photographs of and interviews with Kurdish militia fighters on him, has appeared in court on suspicion of aiding a terrorist group.
Press photographer Mathias Depardon, 37, was expected back in France late Friday after a month in detention in south-east Turkey where he was arrested on suspicion of taking part in 'terrorist propoganda' while on an assignement for National Geographic magazine photographing the Tigris and Euphrates rivers.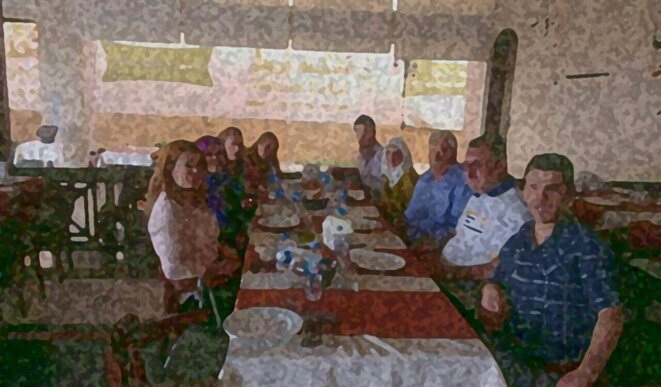 The family at the Grand Station restaurant in Aleppo before the war: the photo has been altered to protect their identity.
Many Syrian refugees living in Turkey have gone to the French Consulate in Istanbul in the hope of obtaining a visa that will allow them to travel to France in safety. But only a small number ever get granted this precious document. Mediapart's Carine Fouteau tells the story of one Kurdish family from Syria who were twice forced to flee the fighting and who are now desperately waiting for a visa from the French authorities that would restore hope to their shattered lives.
Conservative and far-right presidential candidates sharply criticised the socialist government for allowing Turkey's foreign minister to attend a meeting in France to rally support for proposed changes to his country's constitution which will strengthen the powers of Turkish President Recep Tayyip Erdogan.