Related keywords
The Grey Wolves, an international organisation, is seen as allied to Turkish President Recep Tayyip Erdogan.
Turkish state media have announced that the country's prosecution services have opened an investigation after the publication of a cartoon in this week's edition of satirical French magazine Charlie Hebdo magazine depicting Turkey's President Recep Tayyip Erdogan holding a beer can and lifting a veiled woman's dress with the caption, 'In private he's very funny'.
In contrast to other EU and Nato allies, France has strongly backed Greece in its burgeoning showdown with Turkey over hydrocarbon resources and naval influence in the waters off their coasts.
Emmanuel Macron and German Chancellor Angela Merkel also discussed growing tensions in the eastern Mediterranean and the coup in Mali, during talks at the French president's retreat in the south of France.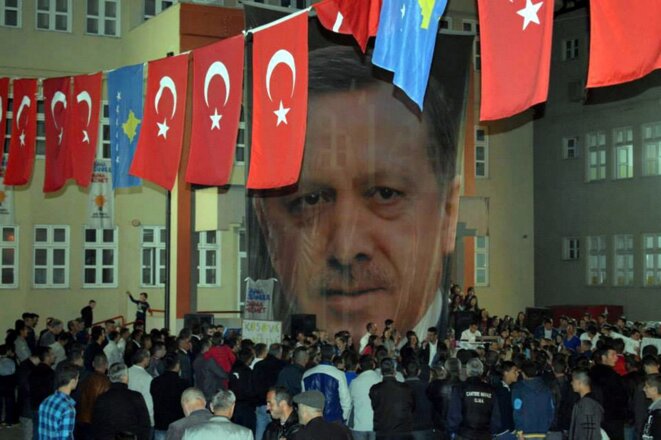 Turks from the Balkans gather at Pristina in Kosovo in March 2014. © Mamusa Municipality/Anadolu Agency/AFP
The recent decision by France to bolster its naval presence in the eastern Mediterranean because of controversial Turkish oil and gas exploration in disputed waters is a reminder of how Ankara has been starting to flex its muscles outside its borders. Meanwhile Turkey has been quietly extending its economic influence in the Balkans, an area it once controlled under the Ottoman Empire but where it lost power after wars in 1912 and 1913 and then World War I. Jean-Arnault Dérens looks at Turkey's growing influence in the region a century after the end of its empire.

Move comes as President Emmanuel Macron called on Turkey to halt oil and gas exploration in disputed waters that has heightened tensions with Greece. 
Weeks after an incident in which France accused Turkish warships of intimidating one of its frigates, the French defence ministry has announced it is suspending its role in Nato's Mediterranean operation Sea Guardian, accusing Turkey of violating an arms embargo against Libya.
France sees Ankara as an obstacle to securing a cease-fire in the conflict-torn country.
French government will summon Turkish envoy in Paris for talks after Turkey's president accused Emmanuel Macron of suffering 'brain death'.
France joined Germany in announcing this weekend a suspension of weapons sales to Turkey for as long as Ankara continues with its military invasion of a neighbouring part of northern Syria, a ban which the French defence minister said concerned 'war materials that could be used in the context of this offensive'.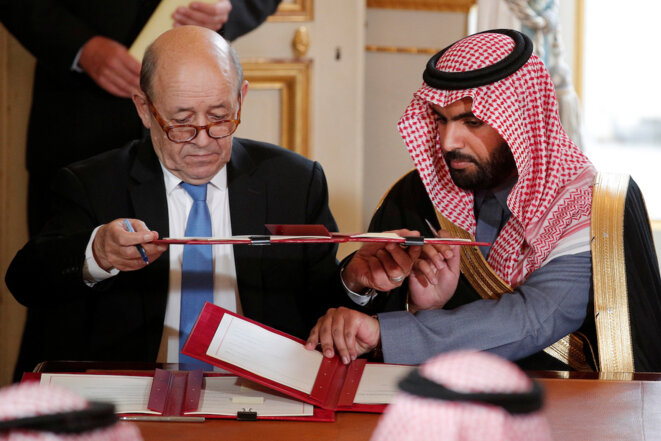 Yves Le Drian and Crown Prince Mohammed bin Salman in April 2018. © Reuters
On November 12th, 2018, Jean-Yves Le Drian insisted on French television that he was not aware of evidence supplied by Turkey regarding the murder of journalist Jamal Khashoggi by Saudi killers. Yet no fewer than seven French diplomats and intelligence agents have contradicted this claim by France's foreign minister. Thomas Cantaloube, Lucie Delaporte, René Backmann, Nicolas Cheviron, Matthieu Suc and Rachida El Azzouzi investigate.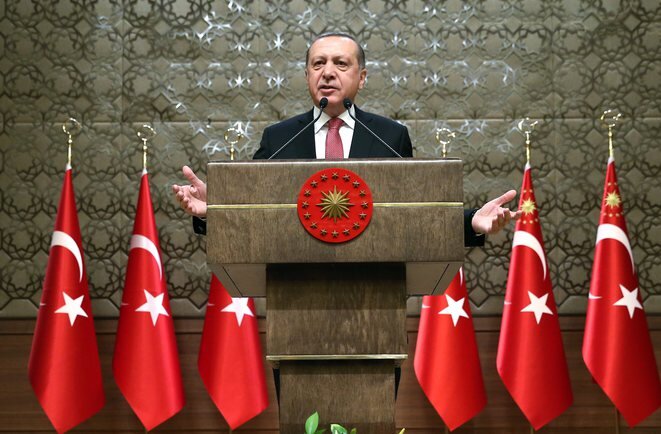 Strongman: Turkish President Recep Tayyip Erdogan. © Reuters
Since the re-election in June of Turkey's president Recep Erdogan, the country has adopted a constitutional system that hands new and vast executive and legislative powers to the authoritarian head of state. Mediapart's correspondent in Istanbul Nicolas Cheviron reports on the essential changes that spearhead the construction of Erdogan's 'New Turkey'.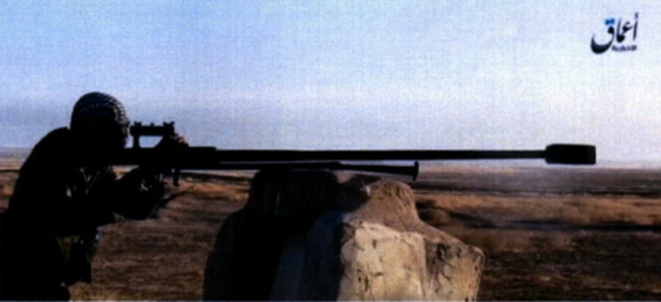 An Islamic State propaganda photo of one of its sharpshooters. © DR
In the wake of the military defeats of the Islamic State group in the Middle East, a total of about 100 French nationals, including jihadist fighters, women and children, are now detained in Iraq and in Kurd-controlled territory in Syria. Their situation represents a dilemma for the French government, which is tempted to leave them in the hands of their captors and their justice systems, but which is under pressure from lawyers acting for their families who argue that to do so is unlawful and inhumane. Michel Deléan and Matthieu Suc report on the debate, and hear the arguments, which include security concerns, for and against their return.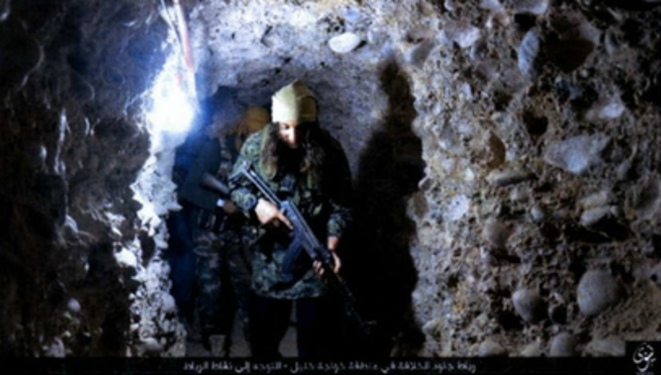 A jihadist in a tunnel underneath the former Islamic State-held city of Mosul.
The Islamic State terrorist organisation has been quietly preparing for the loss of its self-styled Caliphate for several months. France's security services now fear that its fighters might be moved to other areas of jihadist conflict or into Europe. In particular they have have raised concerns over the role of the terrorist's mysterious 'Emigration and Logistics Committee' based in Turkey, the Lebanon and Jordan, amid fears it may be used to send French and other European jihadists back to their country of origin. Matthieu Suc reports.