Related keywords
US transport company Uber has said it will invest 20 million euros over the next five years in a Paris-based laboratory, in cooperation with the prestigious Ecole Polytechnique engineering school, for the development of sky taxis, which it hopes will be operational by 2023.
Tourists look over the city from the Saint-Jacques tower in Paris. © Philippe Wojazer / REUTERS
Being a tour guide in the most visited country in the world should be a pretty good job, buoyed by demand at France's numerous tourist attractions. But, after years of losing professional status, guides are now confronting the 'gig economy'. Online tourism platforms impose freelance instead of salaried work. And in the latest innovation, so-called 'free' tours, the tour guide is not even paid. Cécile Andrzejewski reports.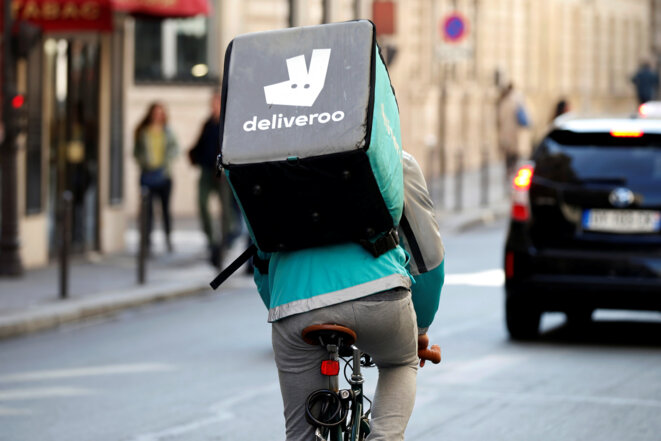 A Deliveroo courier in Paris, April 2017. © Reuters/Charles Platiau
The meal delivery company Deliveroo, which uses 7,500 couriers across France, is ending its system of paying its riders by the hour. This has led to protests from many of the food couriers who say they will end up earning hundreds of euros a month less. As Dan Israel reports, the move also shines a light on the precarious livelihoods of those working in this and other sections of the 'gig' economy.
The US company told Europe's top court that it was a digital service and thus not subject to a 2014 French law on taxis.
The man from the south-east Riviera region, who is reportedly claiming 45 million euros in damages, alleges a bug in the Uber mobile application allowed his wife to track his movements on her mobile phone after he used it on one occasion to book a ride.
The UberPop service, which no longer operates in France, connected clients via a smartphone app with non-professional drivers using their own cars.
Transport minister said he hoped fund would guarantee that retiring drivers recover same amount it cost to buy the licences, plus inflation.
Taxi drivers and air traffic controllers set to join a strike on Tuesday called by three unions representing France's 5 million civil servants.
Firm had challenged new French law that banned its UberPOP service and updated rules on how taxi companies and chauffeured cars compete.
Ride-hailing company pulls plug on service declared illegal months ago, just days after top executives were arrested and sent for trial.
Bosses of ride-hailing firm face court accused of 'misleading commercial practices' and complicity in 'illegal exercise of the taxi profession'.
Two men are being questioned in connection with investigation into alleged 'illicit activity' linked to ride-hailing company's app.
President Hollande described the anti-Uber demonstrations as 'unacceptable' but said the app-based chauffeur system should be dismantled.
Cars are burned and tyres slashed as angry French taxi drivers block transport hubs in protest against the mobile-based service.