France has threatened to block UK fishing boats disembarking catches in French ports and to also impose systematic sanitary checks on British exports to the continent via French ports unless London relents on the limited number of post-Brexit licences accorded to French fishing vessels operating in UK waters.
A French government minister has threatened the disruption of energy supplies to the UK, as well as cross-Channel traffic, following London's decision to severely limit licenses accorded to French fishermen, adding that France would urge reprisals at an EU level, including the proposition of limiting access for UK students to the  bloc's educational institutions. 
French government spokesman Gabriel Attal warned that Paris could seek 'retaliatory measures' through the EU amid renewed tensions over limited post-Brexit fishing rights now granted by the UK to French trawlers.
The French president's office said on Friday that UK Prime Minister Boris Johnson called Emmanuel Macron to express his hopes of resuming cooperation between their two countries on defence and climate change, following a bitter diplomatic dispute over Australia's decision to cancel a 56-billion-euro order for French submarines.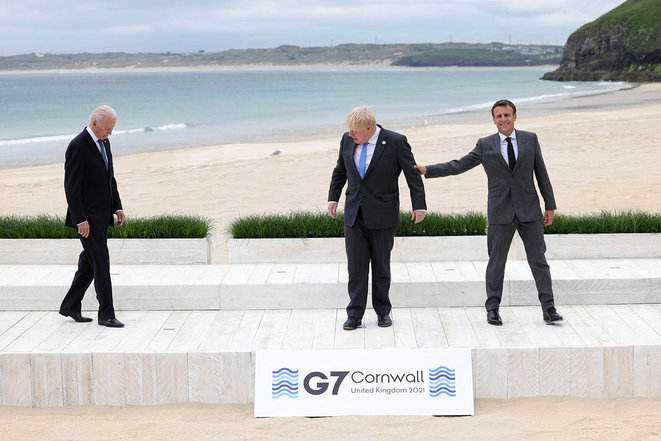 Joe Biden, Boris Johnson and Emmanuel Macron at the G7 leaders' meeting hosted by the UK, June 11th 2021. © Photo Andrew Parsons / 10 Downing Str / Agence Anadolu / AFP
After a phone conversation on Wednesday, US President Joe Biden and his French counterpart Emmanuel Macron appeared to have at least partly defused tensions over the new military pact between Australia, the UK and the US which entailed the cancellation of Australia's purchase of 12 French submarines worth 56 billion euros. In this op-ed article, Mediapart's international affairs specialist François Bougon argues that the diplomatic crisis of recent days should prompt a re-think of France's global role and an end to the notion of its grandeur and exceptionalism, a heritage handed down from Charles de Gaulle.
Paris has called off a meeting due in London this week between France's armed forces minister and her British counterpart amid a heightening row  over Australia's decision to abandon a deal to buy 12 French diesel-electric submarines in favour of a pact with the US and UK.
A 23-year-old French woman who has been living in Britain over the past year, and who has applied for residency status as required of EU citizens by post-Brexit regulations, was detained for more than eight hours when she re-entered the country at London's Gatwick airport last month.  
France intends to impose a mandatory quarantine on visitors from Britain to prevent the spread of a worrying virus variant first detected in India.
In an unusally strong statement posted on Twitter, the European Union's transport commissioner, Adina Valean, commenting on the massive logjam of trucks around the English port of Dover following border restrictions introduced by France after a new contagious strain of the coronavirus was found in the UK, said 'I deplore that France went against our recommendations'.
France has reopened its borders with the Britain – which were closed at the weekend due to fears over the spread of infections by a new coronavirus strain identified in England – on condition that travellers carry proof of testing negative for the virus, but the huge backlog of trucks that have been piling up around the normally busy port of Dover is expected to take days to clear.
France on Sunday joined a growing number of EU countries closing their borders to British travellers following the rapid spread in England of a reportedly more infectious variant of the coronavirus that causes Covid-19.
The British government on Friday said that travellers arriving from France would not be exempt from a two-week quarantine measure over the Covid-19 virus pandemic, insisting that there had been a misunderstanding about a statement a week ago that said there was no requirement 'at this stage'.
New quarantine measures on people arriving in the UK, who are now required to confine themselves over a 14-day period as a precaution against them otherwise transmitting the Covid-19 virus, will not apply to arrivals from France in a decision announced after British Prime Minister Boris Johnson discussed the issue by phone with French President Emmanuel Macron.
A party of seven men and three women of several nationalities who arrived from Britain in a chartered jet at Marseille-Provence airport, where helicopters were waiting to fly them on to a luxury villa in the Rivierra resort of Cannes, were told by airport police they were breaching regulations to contain the Cofid-19 virus epidemic and ordered to return to the UK.