Related keywords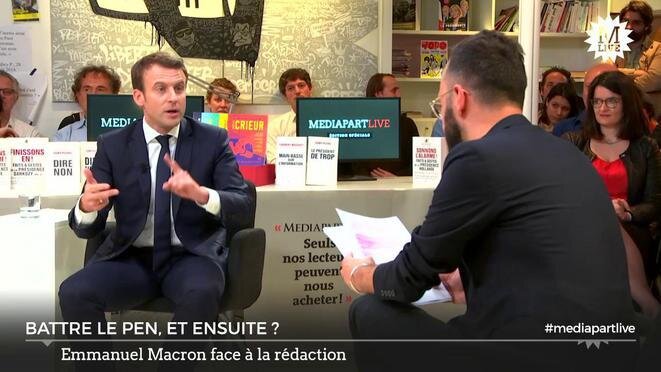 © Mediapart
Emmanuel Macron, who was elected as France's new president on Sunday, gave his last interview before his landslide victory to Mediapart, in which he detailed the measures and policies he would adopt over his five-year term of office. During the two-hour interview on Friday evening, he detailed his approach to a number of foreign policy issues - which were little mentioned during his campaign - including French military intervention abroad, his views on Donald Trump and Vladimir Putin, the Israeli-Palestinian conflict, the Greek debt crisis, and US reluctance to implement the Paris COP 21 measures to combat climate change.
Ukranian authorities said the unnamed 25-year-old had a large arsenal of weapons and explosives to be used against Muslim and Jewish targets.
The French president said recent 'progress' in the ceasefire in the Ukraine left few obstacles to lifting EU and US sanctions against Moscow.
Senior Kremlin official says 'everything has been decided' over how much France will pay Russia for non-delivery of two Mistral warships.
The Russian compensation claim for the French-built helicopter carriers, blocked over Ukraine crisis, is well below France's offer of 785m euros.
Ruling by Cour de Cassation paves way for Mukhtar Ablyazov to be sent to Russia or Ukraine over claims he embezzled €6bn from BTA Bank.
The French president and German Chancellor warned of further sanctions against Russia if Ukraine ceasefire continues to be violated.
The French president, who helped broker the peace agreement reached in Minsk between Russia and Ukraine, said it was still at a fragile stage.
The French, German and Russian leaders will be joined by Ukrainian President Petro Poroshenko for negotiations for a ceasefire in east Ukraine.
The surprise peace initiative was announced by President Hollande as he held a key-note press conference in Paris.
Hollande, who was in Moscow on way back from trip to Kazakhstan, is most senior Western leader to visit Russia since it annexed Crimea.
Jean-Yves Le Drian's comments came days after President Hollande said France would postpone handover of first ship because of Ukraine crisis.
France says conditions are 'not right' for delivery of first of two Mistral navy assault ships, blaming Moscow's recent actions in Ukraine.
Around 400 Russian sailors are in France for training on warship that France is selling to Russia despite US concern over Ukraine crisis.