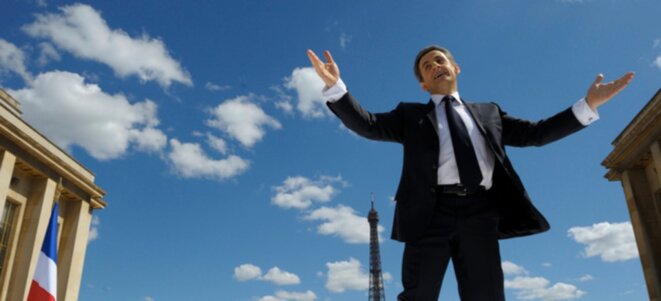 Facing trial? Former president Nicolas Sarkozy will learn his fate soon.
The French prosecution authorities say the former president should face court proceedings over his role in the "illegal" funding of his failed 2012 presidential election campaign which spent more than double the legal spending limit. It is now for the investigating judges to have the final say as to whether Sarkzoy and others should finally face trial or not. If he is sent for trial it will be a potential blow to the ex-president's political hopes ahead of the 2017 presidential election in which he hopes to be a candidate. But, crucially, any such trial would not be scheduled before next May's election – and if Sarkozy is elected president it would be postponed until 2022 at the earliest. Mathilde Mathieu reports.
Judges placed the former president under investigation - one step short of being charged - for 'suspected illegal financing' of his 2012 campaign.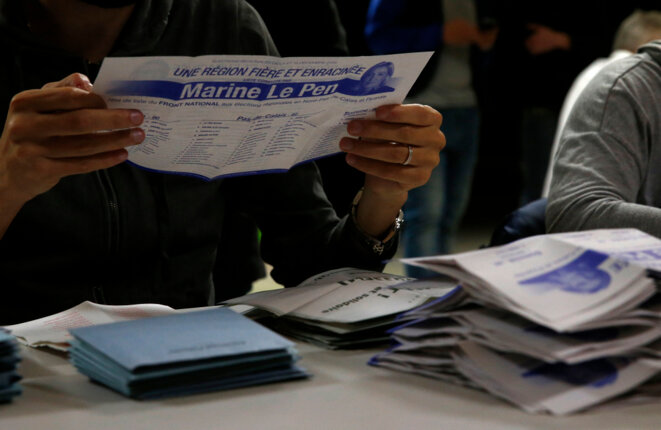 Vote counting in the Nord-Pas-de-Calais-Picardie region. © Reuters
Among all the political casualties of the first round of France's regional elections last weekend, when the far-right Front National party achieved a landslide share of votes cast, none was left in poorer shape than Nicolas Sarkozy, leader of the recently-renamed conservative opposition party, Les Républicains.  The success of the Front National, and the retreat of support for the conservatives, is widely forecast to be sealed in next Sunday's final round of voting. Mediapart editor François Bonnet and political correspondent Ellen Salvi analyse why the former president, since his return to active politics 18 months ago, has failed to reconstruct the mainstream Right, and how, by perpetually mimicking the far-right, he has handed them victory.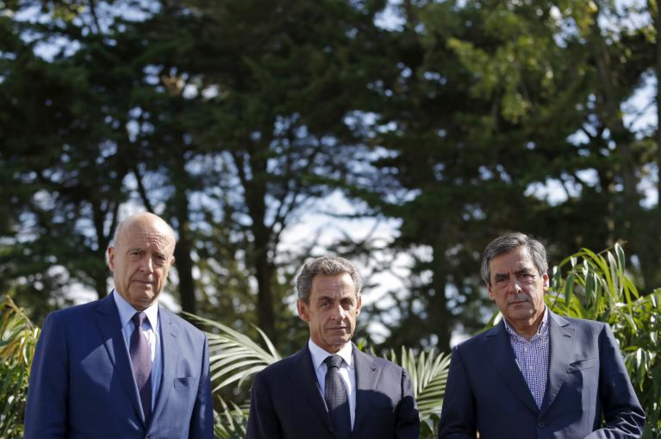 © Reuters
Nicolas Sarkozy's official return to politics last year, when he was elected head of his conservative opposition party, was, his supporters believed, the start of a relatively easy march back to power in elections due in 2017. But the wily former French president, once considered a masterful political tactician, appears to have lost his grip, unable to offer policy initiatives and mired in infighting and scandal. Ellen Salvi hears from party insiders in this analysis of where it has all gone wrong for the man who, a former aide admits, "wants to regain power for the sake of regaining power".
It was their secret. Every Christmas from 2003 to 2014, the venerable senators belonging to former French President Nicolas Sarkozy's UMP party, recently renamed Les Républicains, received a hand-out of around 8,000 euros per person on the quiet, on top of their ample salaries and expenses. It was described by the senators themselves as their annual tip or 'Christmas box'. Now the new chairman of their Senate group has decided to put an end to the practice. Mathilde Mathieu reports on yet another example of the Senate gravy-train, which emerges amid a continuing judicial investigation into suspected money laundering and misuse of public funds by the UMP Senate group.
Members of the scandal-hit right-wing party overwhelmingly voted in favour of renaming their political movement 'Les Républicains'.
The New Yorker considers the reasoning behind the move by Nicolas Sarkozy's right-wing party to brand itself Les Républicains.
Choice of name has sparked furious criticism from French Left who accuse ex-president of staging a hostile takeover of national heritage.
UMP mayor Robert Chardon tweeted Muslim religion 'must be banned in France' and those pacticing it 'immediately escorted to the border'.
Some opponents fighting plans to bulldoze the new title through a party conference at the end of May claim the name is 'too American'.
In the French Senate, it appears that crossing a courtyard can be a lucrative affair. Mediapart has learnt how the secretary general of the upper house's conservative UMP party group of senators was given 173,000 euros, paid out of publicly-provided funds, as an indemnity payment for losing his job, and just weeks before taking up another post with the Senate's president, UMP party member Gérard Larcher. Mathilde Mathieu reports on the latest example of the gravy-train lifestyle enjoyed at the Senate, whose UMP party group is at the centre of an ongoing judicial investigation into suspected money laundering and misuse of public funds.    
Sarkozy declared to be 'témoin assisté' in case, half-way between standard witness and being placed under formal investigation.
Investigation centres on claims UMP party should not have paid Sarkozy's fine after former president's 2012 campaign broke election spending limits.
Though ruling socialists lost heavily in Sunday's polls, Hollande says priorities are supporting investment and 'social justice by promoting work'.