Related keywords
France's jobless rate fell in the last quarter of 2018 to 8.8 percent of the active population, down from 9.1 percent in the previous quarter, the country's national statistics office INSEE announced on Thursday. 
During an open-day to the public to visit the grounds of the French presidential office, the Élysée Palace, Emmanuel Macron met with visitors who included a jobless man complaining about his difficulties in obtaining work as a gardener, to which the president replied he should simply choose an undermanned sector like the construction or catering industries.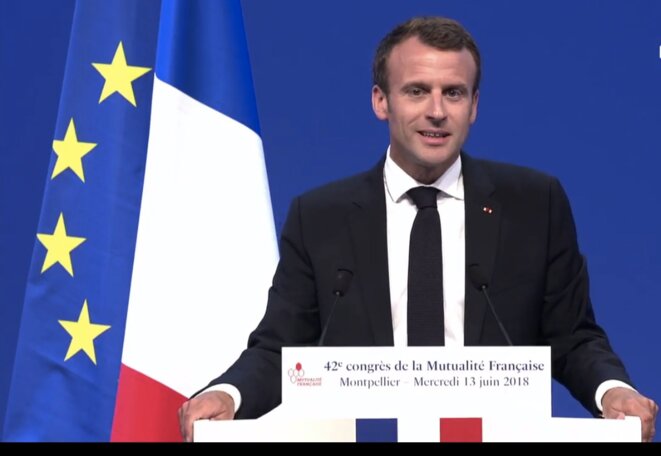 Emmanuel Macron speaking in Montpellier, June 13th 2018. © DR
French President Emmanuel Macron this week presented a broad outline of a future reform of the country's welfare system, in a speech to a congress of health insurance companies. Beyond an announcement of measures to facilitate access to certain types of healthcare and boost the prevention of illness, Macron said the current welfare system, which he described as "moth-eaten", was a failed model, but insisted the solutions to its problems "cannot be budgetary". Attacking poverty, he said, can only succeed by making people "responsible" for their lives. Manuel Jardinaud analyses the president's speech and concludes that behind the catchphrases and carefully avoided issues emerges Macron's strategy for the dismantling of France's cherished social protection system.
French unemployment rate edged up to 9.2% in the first quarter of the year, up from 9% in the last quarter of 2017, with analysts pointing to a possible economic slowdown setting in across Europe.
The French unemployment rate has seen the steepest fall since the financial crisis began, dropping to 8.9 percent in the last quarter of 2017, down from 9.6 percent in the third quarter, the first time it has been recorded at below 9 percent since 2008, according to official figures from the INSEE national statistics office. 
The number of unemployed in France fell by 0.8 percent in November to total 3.45 million according to official data released Wednesday, while President Emmanuel Macron said in an interview with Spanish daily El Mundo that he expects 'major results within 18-24 months'.
With elections afoot in both their countries, French President Emmanuel Macron and British Prime Minister Theresa May each claim to lead the world's fifth-largest economic power, and the plain facts demonstrate that the two economies have very similar performance in a number of areas.   
Unemployment in France fell overall during the first quarter of 2017 to 9.6%, down from 10% in the fourth quarter 2016, with a 1.4% drop in the jobless rate among 15-24-year-olds to 22.3%.
Just hours after naming the conservative Edouard Philippe as his prime minister on Monday, France's new president Emmanuel Macron flew off to pay a visit to German Chancellor Angela Merkel. She, like European Commission president Jean-Claude Juncker, has hailed the election of pro-EU Macron, and notably his announced structural reforms of France's economy, which are at the heart of his political programme. Macron considers they represent a panacea for the ills in French society, but are they really appropriate to the country's economic situation? Romaric Godin weighs up the widely different views on the mantra that there is no alternative to "structural reforms".  
Figures have dealt a blow to President Hollande's hopes of turning around the jobs market in the approach to next year's presidential election.
The unemployment rate in France dropped below 10% during the second quarter of this year, and for the first time since 2012, according to figures released on Thursday by the French National Institute of Statistics and Economic Studies (INSEE). The news appears to pave the way for President François Hollande to announce his re-election bid in next year's presidential elections but, as Martine Orange reports in this analysis of the figures, the slight fall in official jobless numbers cannot mask the grim reality of France's endemic unemployment.
Second quarter figures show jobless rate in mainland France and overseas territories fell to 9.9%, down for all categories and most notably the young.
The official number of jobless rose month-on-month by 0.2% in June, to reach a total of 3,525,700 registered unemployed, down 0.7% over 12 months.
The number out of work in France fell by 19,900 in April, giving a boost to President Hollande in his fight to bring down unemployment.