The strikes crippling French transport systems appeared set to continue through the end-of-year holiday period after talks between government and unions to find a compromise over President Emmanuel Macron's reforms to the pension system failed to reach a conclusion on Thursday.
Official estimates said estimated 150,000 homes, as well as businesses, suffered power cuts during Tuesday's union-led national strikes and protests called against President emmanuel Macron's proposed pensions reform, a strategy that the leader of one of the largest unions defended on Wednesday because 'spitting on the public service can make some of us angry', adding that 'we may amplify these kinds of methods'.
With more strikes called for Tuesday by unions opposing his planned reform of France's pension system, President Emmanuel Macron met with ministers on Sunday to discuss details of the draft legislation to be unveiled by his prime minister on Wednesday.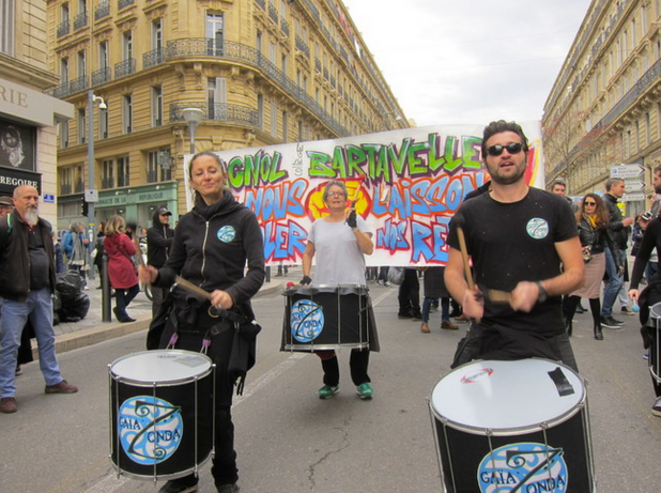 Demonstrators march in Marseille against planned pension reforms, December 5th. © LF
President Emmanuel Macron's planned reform of the French pension system has run into massive union-led opposition, with a crippling general strike of mostly public sector workers last Thursday, when transport systems were paralysed and an estimated one million people demonstrated nationwide. While some sectors, notably the railways, remained affected this weekend, another national day of action is called for Tuesday. Union officials have declared that nothing less than a total withdrawal of the reform plans can end the dispute, raising the possibility of rolling strikes throughout December. The showdown will depend in part on what support unions can maintain in the key sectors of transport, schools, energy and healthcare.
Demonstrations accompanying rolling strikes against pension reforms that began Thursday and the latest 'Yellow Vest' protests against social inequalities were held over the weekend across France, upping pressure on the government ahead of more walkouts and protests called for next week.
Delays and cancellations were announced on Monday to Eurostar services at the Paris Gare du Nord terminal as French customs officers went on strike over what they said was poor planning for the demands of post-Brexit operations, a movement which also affected several airports around the country. 
French interior minister Gérard Collomb has ignited a fierce row after accusing union organisers of recent nationwide street marches against government policy, during which there have been violent attacks by extremist anti-capitalist groups on shops, banks and vehicles, of being 'accomplices' to the events by not preventing them.
Despite unrest from students, rail and airline workers, union are staging separate rallies in France to mark International Workers Day.
Turnout in nationwide street protests in France on Thursday against the government's programme of economic reforms, notably in the public sector and of the state-run railway system in particular, was significantly lower than a similar day of demonstrations in March, with police estimating around 110,000 people took part, while unions claimed the figure was 300,000.   
Thousands of French rail workers will go on strike for two out of every five days until the end of June, crippling train traffic for 36 days.
Hours after French government unveiled details of its far-reaching rail reforms, rail union leaders said they were stepping up strike plans.
Officials estimated the crowds at 132,000 across France, just over half the number who took part last week in similar union street protests.
Truck drivers fear changes will affect small firms that make up 75-80% of profession by creating 'unfair competition' and reducing job security.
The way president handles planned labour reforms will set tone for coming years, including a revamp of jobless benefits and retirement systems.