Related keywords
President Macron warned that the decision would penalise everyone, including US, and made his views clear to President Trump in phone call.
The company said  it will end work on major South Pars 11 gas field  project it began in July 2017 unless it is exempted.
Email shows that France's Syrian envoy thought it 'legitimate' to approach US over cement plant in area controlled at the time by Islamic State.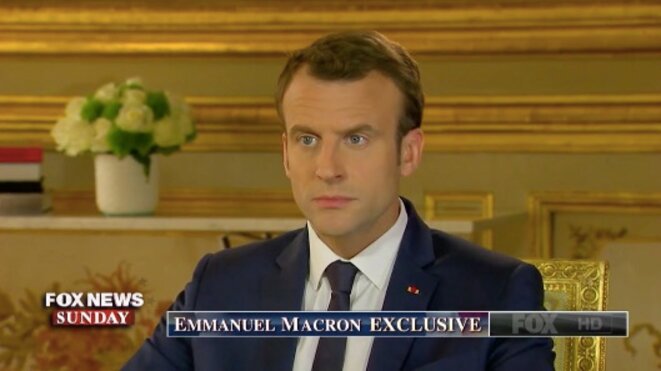 Emmanuel Macron interviewed by Fox News. © Fox News
French President Emmanuel Macron arrived in the United States on Monday for a three-day state visit, the first of its kind by a foreign head-of-state since the election of Donald Trump as president. Mediapart's US correspondent Mathieu Magnaudeix analyses American perceptions of the French president as a bulwark against the advance of populist politics and an antidote to Trump, who one US media commentator even ventured to describe as "a beacon for progressives hoping to find their way back to the halls of power across the democratic world".  
The 33-year-old daughter of a gendarme is 'being held in a Kurdish camp and has been 'interrogated and tortured' says her mother.
The US has said it is to withdraw its membership of the United Nations Educational, Scientific and Cultural Organization based in Paris, effective in December 2018, in protest at what it called 'anti-Israeli bias', the announcement coming just days before the body elects a new secretary general, with Qatar's Hamad bin Abdulaziz al-Kawari tipped as favourite to win the vote.
French foreign minister Jean-Marc Ayrault called the escalation of the US military role in Syria a 'warning' to a 'criminal regime'.
Centrist presidential candidate calls on those alarmed by Donald Trump's rhetoric to relocate to the 'new land of innovation'.
French foreign minister speaks out in Tehran as relations between Iran and Trump administration are strained by new US immigration orders.
Far-right Front National leader urged pact to fight Islamist fundamentalism as she took aim at her chief domestic rival, François Fillon.
Donald Trump's victory in the US presidential elections largely caught political experts, commentators, opinion poll agencies and the media by surprise. But, argues Mediapart editor François Bonnet in this op-ed article, Trump's accession to the White House is a "political 9/11" and the most spectacular manifestation of a worldwide cycle that has seen the inexorable rise of strongman leaders, warmongering, nationalism and xenophobia, together with the arrival of extremists at the heart of the ideological landscape.
The perceived threat of the 'Anglo-Saxon model' is the upcome of distinct communities based on ethnic identity, while France, said PM Manuel Valls, 'does not see itself as a juxtaposition of communities, each with their autonomous path'.
Paris says it will appeal to EU Commission in September for an end to negotiations for the TTIP free trade agreement with the United States.
The French government was initially enthusiastic about the free trade agreement being negotiated between the European Union and the United States. However in recent months Paris, and in particular overseas trade minister Matthias Fekl, has taken a tougher line on the so-called TAFTA deal. Talks on the agreement resume in New York on Monday April 25th, while the day before President Barack Obama will raise the issue with German chancellor Angela Merkel in Berlin. But as Ludovic Lamant reports, the chances of a deal being struck before the end of Obama's term of office look increasingly remote.