Related keywords
French economy and finance minister Bruno Le Maire said plans to introduce a national tax on digital tech firms, including Google, Facebook and Amazon 'will be unchanged' unless an international agreement on the subject is reached by the end of 2020, despite US threats of slapping retaliatory tariffs on French products like wine, cheese and luxury goods.
This week has been marked by numerous demonstrations, both in the US and across the globe, in protest at police violence following the killing of George Floyd, the 46-year-old Afro-American who was suffocated to death by an officer in Minneapolis. In this op-ed article, Mediapart publishing editor Edwy Plenel argues why, when the police is gangrened by racism, it is because the powers in place, a ruling class and its elites, hold a silent hate of democracy, the people and equality – and that this applies as much to France as it does to the United States.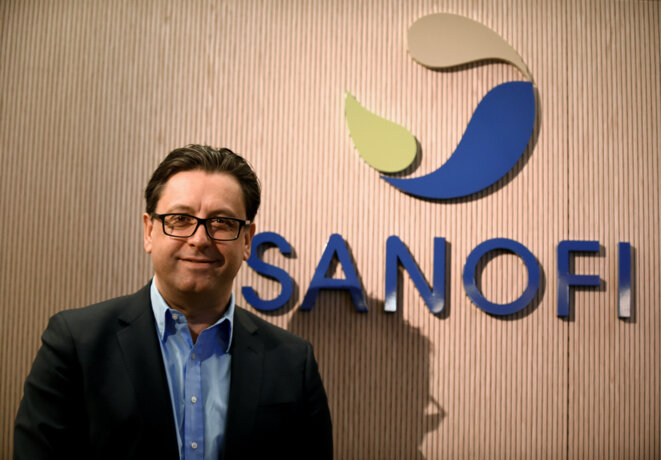 Sanofi CEO Paul Hudson. © ERIC PIERMONT / AFP
The chief executive of French pharma giant Sanofi sparked outrage this week when he declared that the US would be first in line for a vaccine his group was developing against the Covid-19 virus. In this op-ed article, Martine Orange argues the move by Sanofi reveals the immoral reality of the pharma business which, instead of serving the common good, has embarked on a profit-seeking commercial war over the coronavirus.
The Covid-19 coronavirus is now spreading in the US, where if you have wealth or a salary, and enough space at home, you might be able to pull off the absurd trick of isolating yourself for a few months, writes Columbia Law School professor and essayist Jedediah Britton-Purdy, but for half the population with no savings, living paycheck to paycheck, which has to hustle every day to find work, this is simply impossible.
The dispute which began last year with France's planned levy of up to three percent on revenues earned by US tech companies in France, and which Washington  threatened to retaliate against with higher tariffs on imports of French goods, de-escalated this week with both sides agreeing on negotiations that may continue throughoiut the year.
The US is targeting tariffs at European aircraft and aerospace parts, as well a range of industries including food, wine, tractors and luxury goods,   in the first stage of a two-way battle with the European Union over subsidies received by aircraft manufacturers Airbus and Boeing.
France's economy minister said his government would 'work closely with our American friends on a universal tax on digital activities' ahead of a G7 summit in Biarritz in late August, adding that French President Emmanuel Macron had held a lengthy conversation with his US counterpart Donald Trump after the latter had slammed Macron's 'foolishness' over the tax and threatened retaliatory tariffs on French wine imports.
France has moved independently from the European Union with the approval by its parliament on Thursday of a 3 percent tax on sales of more than 25 million euros generated in the country by technology companies, which would notably include US giants such as Google and Facebook, and which the White House said it was investigating as it could amount to an unfair trade practice.
France's economy minister Bruno Le Maire has said he hoped the European Union would step in to compensate companies from among its member states who are targeted by sanctions which US president Donald Trump intends to introduce against firms doing business with Iran.
The French government has reacted angrily to US President Donald Trump's decision, after withdrawing from the 2015 nuclear accord with Iran, to re-impose sanctions on companies that do business with Tehran and which include Airbus, French carmakers Renault and PSA, and oil giant Total.
French foreign minister Jean-Yves Le Drian said that despite US President Donald Trump's decision to withdraw from the 2015 agreement with Iran limiting its nuclear development programme in exchange for a lifting of economic sanctions France would stick to the deal, while economy minister Bruno Le Maire said the US must not consider itself as the world's 'economic policeman'.
France has joined the US and Britain in attacks overnight Friday against sites in Syria identified as production plants for chemical weapons, in response to a suspected chemical attack on the Syrian rebel-held town of Douma last week.
French President Emmanuel Macron is to announce on Monday evening the names of winners of so-called 'Make Our Planet Great Again' grants offered to US-based climate scientists to relocate to France to work on projects of three to five years, and which were created to counter US President Donald Trump's pullout from the 2015 UN-led global accord in Paris on measures to reduce climate change.  
French President Emmanuel Macron, British Prime Minister Theresa May and her German counterpart Angela Merkel have issued a joint statement in support of the 2015 agreement with Iran limiting its use of nuclear technology which US President Donald Trump said on Friday he would not recertify, while Macron phoned Iranian President Hassan Rouhani to assure him in person of France's committment to the deal.