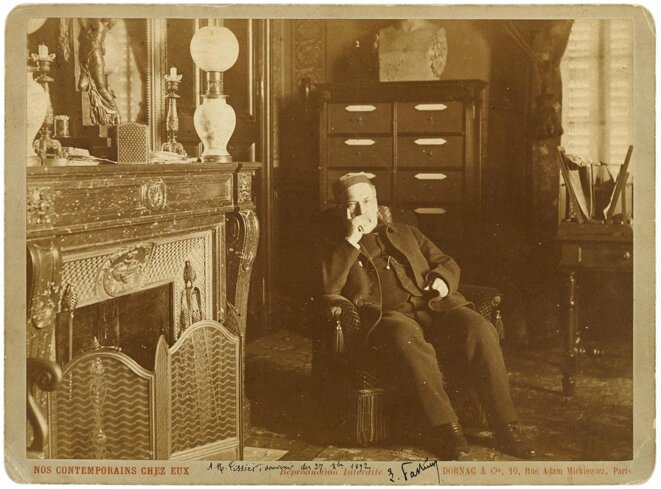 Louis Pasteur in his office, in about 1890. © Photo Dornac et Cie / Wikimedia commons
When in 1885 French scientist Louis Pasteur successfully treated a nine-year-old boy called Joseph Meister who had been bitten by a rabid dog it marked a turning point in the development of vaccines. But the medical breakthrough was also the launchpad for a global expansion of institutes bearing their founder's name which became a spearhead for French influence around the world. As part of a summer series on the history of vaccines, Nicolas Chevassus-au-Louis looks at the pioneering work of France's Louis Pasteur and his nationalistic rivalry with Germany's Robert Koch.
French President Emmanuel Macron has launched a lawsuit over a billboard poster campaign in the town of Toulon, southern France, in which he appears as Adolf Hitler with an accompanying caption that reads 'Obey. Get vaccinated'.
The new app will be tested on flights to Corsica this week.
French president said that in the coming weeks production of COVID-19 vaccines in France will start and there would eventually be four different production centres.
New Covid-19 infections are on average increasing by more than 18,000 a day, figures show.
Past medical scandals involving big pharma and public officials have made many suspicious of vaccines.
Marseille mayorsaid seven to eight people had tested positive for the new variant in the city, while tests were underway on 30 others who may also have been exposed to it.
The French parliament will later this year debate a health ministry proposal to make compulsory the vaccination of young children against 11 different ingectious diseases, only three of which are currently mandatory, but the move divides public opinion of which, opinion surveys show, a large minority consider vaccines unsafe.
Couple object to additives that go into the diphtheria, tetanus and polio jabs, which are compulsory under French law.