Related keywords
Amid a surge of infections of the Delta variant of the coronavirus, France now allows people to receive a second dose of Covid vaccine anywhere in the country in an effort to encourage holidaymakers not to delay the final jab until after the summer vacations.
The French government has succeeded with its target of ensuring that 20 million doses of the Covid-19 vaccine were administered by mid-May,  with the next stage being the administration of a total 30 million doses by mid-June.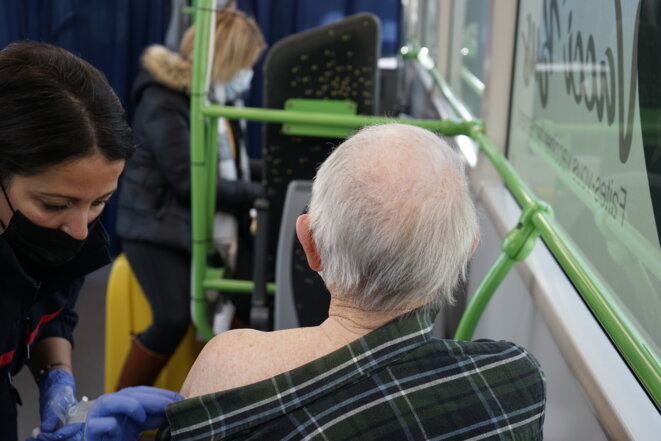 Robert, aged 86, and nurse Naura Touaimia on board the Vacci'bus in a village near Reims. © CA
If you cannot come to the vaccine, then the vaccine will come to you. That is the idea behind the 'Vacci'bus' which is visiting parts of rural France at the moment to vaccinate older people in isolated villages against Covid-19. Mediapart went on board a bus servicing the area around Reims where the idea first began, and met some of the residents of these remote communities north-east of Paris. The elderly inhabitants were delighted to be on the bus and receiving their vaccination. But they also revealed what they have been enduring in their village homes during the long months of the epidemic. "We're alone, afraid and we don't see anyone," one woman said. Cécile Andrzejewski reports.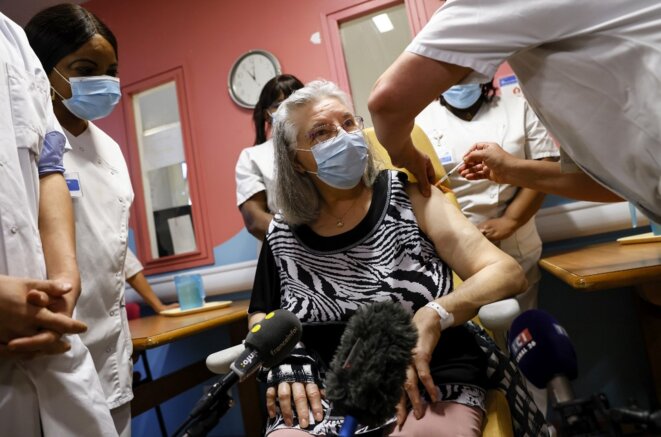 Mauricette M., aged 78, becomes the first French person to get a vaccine on December 27th 2020 at the René-Muret hospital at Sevran near Paris. © Thomas Samson / AFP
In his New Year's Eve address to the nation President Emmanuel Macron made clear his intention to speed up France's Covid vaccination programme, apparently stung by the country's slow performance compared with many others. Privately he is said to be angry at its "unwarranted slowness" and as a result the country is expected to step up its campaign this week. So far the number of vaccinations in France measures in the low hundreds compared with tens or hundreds of thousands - or even millions - in some other countries. Caroline Coq-Chodorge reports on the public mistrust that lies behind France's sluggish start in vaccinating its population.
French prime minister Édouard Philippe said it was 'unacceptable' that children are 'still dying of measles' in the country.