French president started his trip Saturday night in Tahiti with a visit to a hospital and an appeal to get vaccinated against the virus. 
At a news conference with South African President Cyril Ramaphosa in Pretoria, the French head of state said Africa made up around 20% of the world's need for vaccines but only 1% of vaccine production.
Speaking from the Portuguese city of Porto on the sidelines of an EU 'social summit', French President Emmanuel Macron on Friday accused what he called 'the Anglo-Saxons', an apparent reference to both the US and the UK, of blocking exports of anti-Covid-19 vaccines and their raw materials.
The French donation of an initial 100,000 doses of AstraZeneca's COVID vaccine this month, announced on Wednesday, is a boost for the international COVAX scheme.
French president said the EU had been late in ramping up vaccine production and jabs, but was catching up and would become the world's biggest producer of vaccines this summer.
French president says Europe's sluggish rollout of vaccines againt Covid 'should be a lesson for all of us'.
Comments by French health minister Olivier Véran came the day after Rome invoked European Union powers to block the export of 250,000 Covid-19 AstraZeneca vaccine doses to Australia.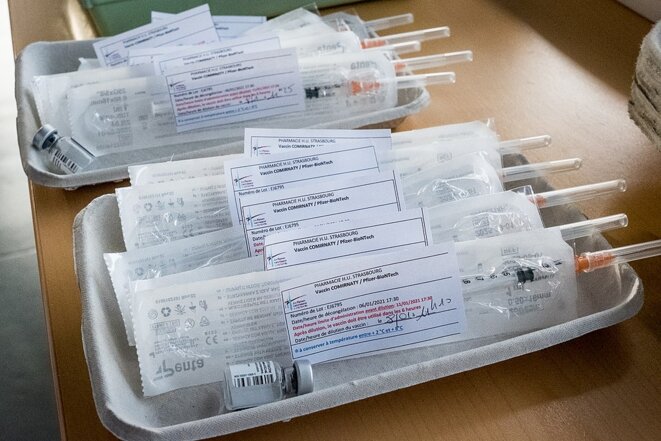 Syringes for the Pfizer-BioNTech Covid-19 vaccine are readied for the first phase of vaccinations at a teaching hospital in Strasbourg, north-east France, January 8th. © Claude Truong-Ngoc / Wikimedia Commons / cc-by-sa-4.0
The messenger RNA (mRNA) vaccines against Covid-19 infection are apparently highly effective, but they are also in too short supply to meet current demand. In France, doctors have found that vials of the mRNA vaccines from Pfizer and Moderna contain more than the indicated number of doses. By collecting the dregs of the bottles, there is the potential of producing millions more doses from existing supplies. But the French health authorities are refusing to authorise the practice. Joseph Confavreux and Caroline Coq-Chodorge report.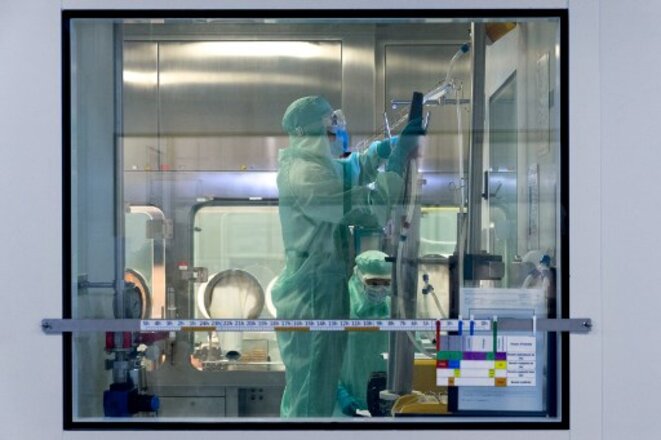 A Sanofi distribution centre at Val-de-Reuil in Normandy. © Joel Saget/ AFP
The French pharmaceuticals firm Sanofi has been in the headlines recently because of its setbacks in producing a vaccine against Covid-19, which will not now be ready until the end of 2021 at the earliest. Yet the group has nonetheless decided to go ahead with its restructuring plans and will be trimming back on its research while also moving many of its production plants into a separate company to be sold off. France is now paying the price for having abandoned its industrial and research strategies over the last thirty years. Martine Orange investigates.
French PM Jean Castex says that COVID-19 vaccines will go to the homes' residents first when doses become available in France, which is not expected before the end of the month.
Study of up to 66,000 people across 67 countries asked whether they see vaccines as important, safe, effective and compatible with their beliefs.
Veterinarians and other meat industry workers are suspected of selling for human consumption meat from horses used for medical research.