Keyword: Valérie Trierweiler
Film based on former First Lady's scathing memoir about her stormy relationship with president will be produced by a close friend.
The 17-year-old sons of former president and ex-partner of current president insult each other in what has been dubbed 'le tweetclash'.
Conference on Iraq may be welcome break from domestic woes ahead of high-profile press conference and parliamentary confidence vote.
The opinion poll also shows that almost a quarter of socialist voters want hapless president to go as economic news remains grim.
In magazine interview beleaguered French president hits back at former partner's claim he mocked the poor, calling it a 'lie that hurts me'.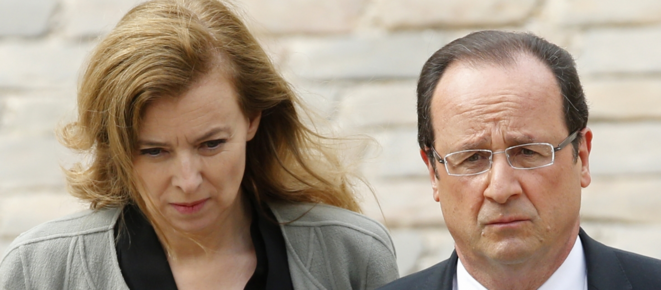 François Hollande et Valérie Trierweiler. © Reuters
The publication of former 'First Lady' Valérie Trierweiler's book about her relationship with President François Hollande and their bitter break-up has provoked a media storm in France. Ordinarily, says Mediapart's editor François Bonnet, one would not be interested in the "bourgeois vaudeville" on show in 'Merci pour ce moment'. Except for the fact that its description of the president's failings – his insincerity, political calculations and even lies – chime exactly with the recent statements of a string of politicians and former ministers who have worked closely with Hollande in government. In this respect, argues François Bonnet, the book provides the missing link in the story of François Hollande's "descent into hell", leads to some important political questions and helps highlight how France has now become, in effect, a neoliberal monarchy.
Signs go up in some bookshop windows explaining why the stores will not stock the tell-all book, as sales in France continue to soar.
Beleaguered president says he was 'elected for five years by the French people' and that serving the poor is the 'reason for my existence'.
After less than a fortnight in his new job, France's overseas trade minister Thomas Thévenoud has dramatically and abruptly quit over problems with his tax returns. According to Mediapart's sources, the new minister had not filled in his tax returns for several years. In a statement Thévenoud admitted to "delays" in his declaration and payment of tax owed, though stressed that the matter has now been sorted out. Nonetheless the sudden loss of another minister in this manner will come as a blow to the new government formed by prime minister Manuel Valls on August 26th, which saw the enforced departure of heavyweight economy minister Arnaud Montebourg. It also comes against a backdrop of poor economic results and plummeting opinion polls for Valls and, above all, President François Hollande. Mathilde Mathieu and Lénaïg Bredoux report.
Valérie Trierweiler's claim that in private François Hollande jokingly refers to poor as 'the toothless' set to damage socialist leader.
Publication of Valérie Trierweiler's 'truthful' account of her break-up with François Hollande is unlikely to improve president's image.
Author reveals the boredom, frustration and the feeling of being sidelined that has been endured by Premières Dames in recent decades.
Former first lady steps into high-profile custody battle involving senior Mexican politician as French president tries to mend ties between countries.
Political watchers and brand analysts say 46-year-old singer and former model Carla Bruni is still the perfect foil to the ex-president.