Keyword: Valeurs actuelles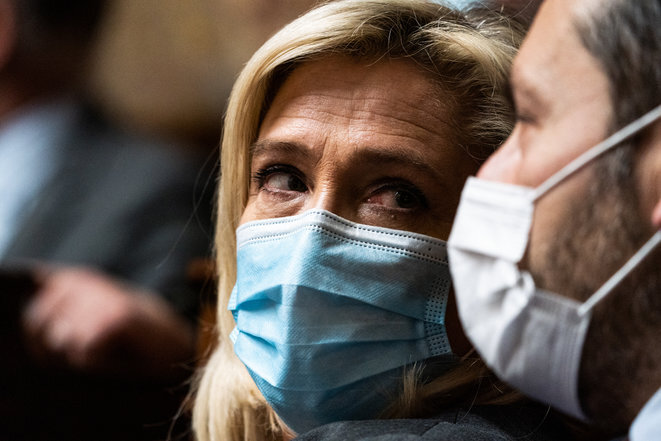 Marine Le Pen in March 2021. © Xose Bouzas / Hans Lucas via AFP
A letter signed by 23 retired French generals, who warn that the military might have to "intervene" in a "civil war" because of a failure by the French state to crack down on "Islamists", has caused a political row. Defence minister Florence Parly has warned of "consequences" for any active soldiers on the list of signatories, which includes scores of other senior ranks. Meanwhile Marine Le Pen, the president of the far-right Rassemblement National (RN) party, has given the retired generals her support. As Lucie Delaporte reports, her backing for such views is a stark reminder of what the RN really stands for, after a decade in which Le Pen has sought to soften the party's image.
Defence minister said there would be 'consequences' over the letter to right-wing magazine Valeurs Actuelles onApril 21st - the 60th anniversary of a failed putsch over Algerian independence.
The text, backed by far-right leader Marine Le Pen, was dismissed by Macron's government as a diatribe from a bunch of military pensioners who "only represent themselves".
French far-right weekly Valeurs Actuelles published a cartoon depicting black radical-left Member of Parliament Danièle Obono as a slave with a chain around her neck, prompting widespread outrage across the political spectrum at the vile racist jibe.
Socialist Party accuses right-wing weekly magazine Valeurs Actuelles of inciting violence over its latest edition, saying it conveys 'sickening values'.