A report published by NGO Oxfam says its interviews with migrant children trying to cross from Italy to France on the Riviera border found complaints of being 'physically and verbally abused, and detained overnight in cells without food, water or blankets and with no access to an official guardian', and also claims that some children had the soles of their shoes cut off before being sent back to Italy.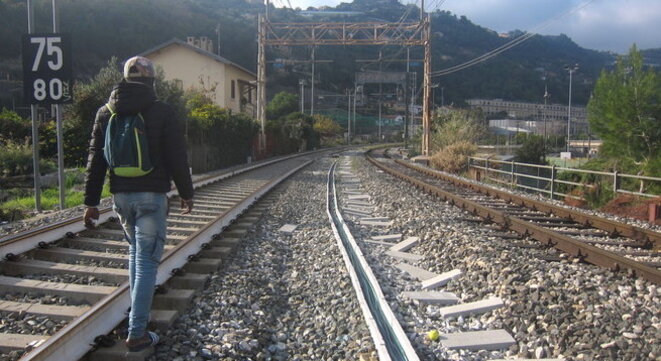 A migrant heading to France from Italy along railway tracks out of Ventimiglia. © LF
The Riviera coastal area in south-east France surrounding the border with Italy has become a major crossing point for migrants from Africa and the Middle East trying to reach northern Europe.  Despite a crackdown on the clandestine crossings by French and Italian police, many migrants continue to attempt the journey, either by by train or the perilous route of railway tracks, despite a series of fatal and serious accidents. French rail employees are increasingly under pressure from both their company and the police to help with the hunt for the migrants. Louise Fessard met with railwaymen who refuse to collaborate with operations that one described as resembling scenes from the WWII German occupation.
Italian town of Ventimiglia, where a camp of around 50 people remained, was a flashpoint at start of Europe's migrant crisis earlier this year.
French interior minister Bernard Cazeneuve and his British counterpart Theresa May met in Calais on Thursday to announce new joint security measures to prevent thousands of migrants in the Channel port from reaching England. While the desperate situation in Calais has become the focus of headlines, the similar, less-reported plight of growing numbers of migrants blocked at France's south-eastern border with Italy now threatens to erupt into a major crisis. Louise Fessard reports from the Italian border town of Ventimiglia.
In return for help in making the Channel Tunnel and the port at Calais more "secure", France has agreed to monitor Britain's borders on its behalf. On the Italian frontier, meanwhile, French police are searching for migrants who have crossed the Mediterranean. As Carine Fouteau reports, interior minister Bernard Cazeneuve has taken on the mantle of Europe's new gatekeeper, at the risk of breaching European law.

At joint press conference with French president, Italian premier Matteo Renzi denied tensions over migrants at frontier town of Ventimiglia.
While about 100 migrants continued their sit-in at the Riviera border at Ventimiglia, Italy's PM slammed French refusals to allow them passage.