Hubert Caouissin, 50, who admitted murdering his brother- and sister-in-law and the couple's two children in Brittany in 2017 over a dispute in which he believed they were hiding a stash of Nazi gold, has been given a 30-year jail sentence, while his wife, found guilty of helping to dispose of their bodies, was sentenced to three years in prison, one suspended.
A Paris court on Wednesday handed down suspended prison sentences of between four and six months to 11 out of 13 people who stood trial last month for online harassment and death threats against a teenage girl, known publicly only by her first name, Mila, after she posted an anti-Islam rant on her Instagram account.
Georges Tron, a conservative former minister and mayor of Draveil, a southern Paris suburb, has been handed a sentence of five years in jail, two suspended, after he was found guilty of raping and sexually assaulting a female member of his townhall staff.
French wheeler-dealer tycoon Bernard Tapie,76, who built his fortune from buying and asset-stripping businesses before selling them on, and who was once jailed for match fixing when he owned football club Olympique de Marseille, has been acquitted by a Paris court, along with four other co-defendants including Orange CEO Stéphane Richard, of charges of fraud over a controversial state payout made to him in 2008 of more than 400 million euros.
Gilles Bertin, 57, once lead singer of punk band Camera Silens, and who with accomplices robbed the equivalent of 1.8 million euros from a banknote delivery depot in south-west France before living in secret exile abroad for 28 years, during which time the French authorities declared him dead, has been given a suspended jail term after turning himself in.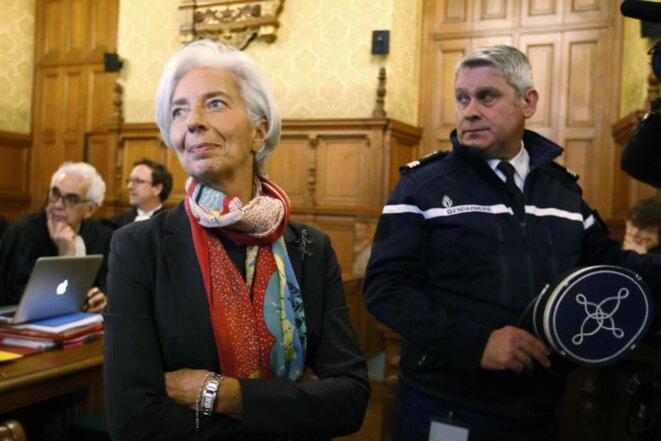 Christine Lagarde in court at the start of her trial on December 12th. © Reuters
Following a week-long trial, International Monetary Fund (IMF) chief Christine Lagarde has been found guilty of negligence when French economy and finance minister for allowing an award of more than 400 million euros from public funds to controversial tycoon Bernard Tapie. But the Court of Justice of the Republic, a special French court dedicated to judging the misdeeds of ministers, decided to exempt her from any sentence. The IMF announced late Monday that it had "full confidence" in Lagarde. Michel Deléan reports.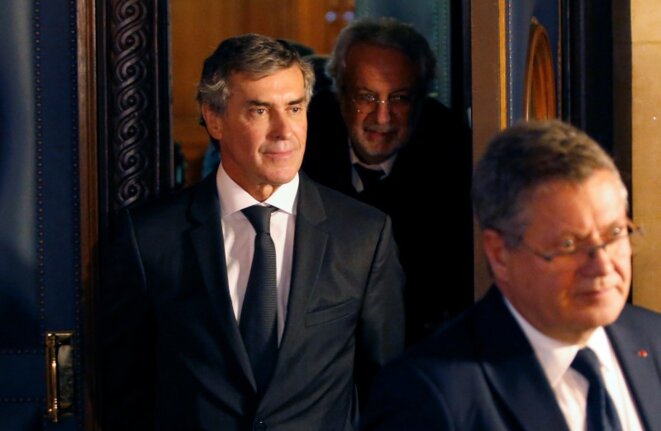 Jérôme Cahuzac (centre) at his trial in September. © Reuters
Former French budget minister Jérôme Cahuzac and his ex-wife Patricia were on Thursday found guilty by a Paris court of tax fraud and moneylaundering the proceeds of the tax fraud. The socialist politician was sentenced to three years in prison and banned from holding electoral office for five years, against which he immediately appealed. Patricia Cahuzac was handed a two-year prison sentence. The verdict was announced almost four years to the day since Mediapart published the first revelations about the secret foreign bank account belonging to Cahuzac, who was then in charge of a crackdown on tax evasion. Michel Deléan reports.
The long-time chief of staff to former president was also barred from public office for pocketing more than 200,000 euros from police funds.