In a speech to MPs, the president denied claims he governs for the rich as he promises changes to unemployment benefits, pensions and health system.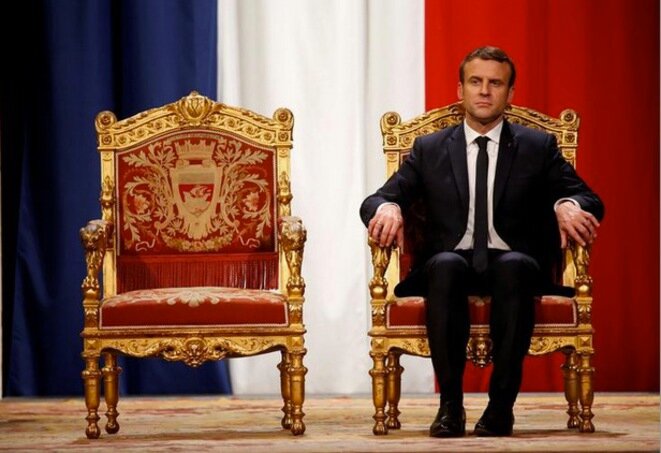 French President Emmanuel Macron. © Reuters
French President Emmanuel Macron has enjoyed a headline-grabbing week of appearances, from hosting international CEOs in the sumptuous surrounds of the Palace of Versailles, to being feted by the world elite at the Davos Economic Forum in Switzerland, before touching down in rural France to woo the country's agricultural sector. The packed agenda was the latest example of the young president's skill in occupying the media agenda and promoting double-pronged policies that have anesthetised public opinion, argues Mediapart editor François Bonnet, along with political and economic correspondents Romaric Godin, Manuel Jardinaud and Ellen Salvi, in this joint analysis of Macron's impressive mastership of the art of spin.
Saudi Arabia's Crown Prince Mohammed bin Salman, currently leading a purge presented as an anti-corruption drive with the arrests of members of the Saudi royal family and other top officials, has been revealed by The New York Times as the secret owner of a sprawling replica near Paris of the Versailles château, estimated by Forbes magazine to be the world's most expensive property.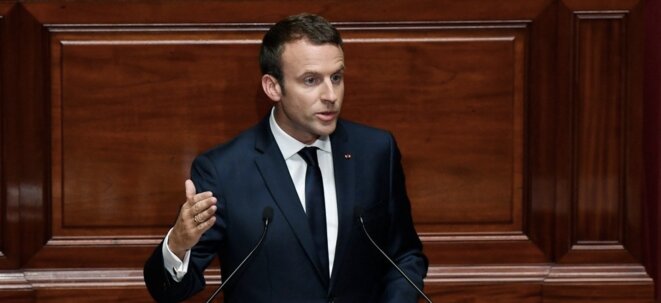 President Emmanuel Macron addressing the special Congress at Versailles, July 3rd, 2017. © Capture d'écran France 2
In a high-profile and highly-unusual speech before both chambers of the French Parliament in the sumptuous surroundings of Versailles on Monday July 3rd, President Emmanuel Macron claimed to be setting the "course" for his presidency. But, says Ellen Salvi, it turned out to be an hour-and-a-half of messages that had already been delivered during his election campaign and he announced little more than a promise of some institutional reforms.
French president used opulent palace to present a roadmap of his five-year presidency to lawmakers from both houses of parliament.
New French president faces criticism for choosing regal Versailles setting for rare address to both houses of parliament.
President Macron's speech to both houses of Parliament in Palace of Versailles next week is intended to set the tone of his presidency.
French president, who took office two weeks ago, has said that dialogue with Russia is vital in tackling a number of international disputes.
French President Emmanuel Macron and Russian counterpart Vladimir Putin will meet on May 29th at Versailles Palace, where an exhibition to mark Russian Tsar Peter the Great's visit to France exactly 300 years ago is to open.
Sex scenes in drama series Versailles whip up a storm among British conservatives and media, with one MP describing it as pornography. 
Château Louis XIV, set in a 23-hectare forested park between Versailles and Marly-Le-Roi, reportedly sold for more than €275 million.
After the Charlie Hebdo shootings in January this year President François Hollande's key focus was on pulling the nation together. Now, after the terror attacks that struck Paris on Friday November 13th, the French head of state has espoused the language of war to justify more air strikes by French jets in Syria and Iraq, stronger internal security measures, more police officers and, most notably, a change to the French constitution. In a rare address to French MPs and senators Hollande said on Monday: "France is at war." As Lénaïg Bredoux and Martine Orange report, the mood in the French presidency is for tough talk and tough measures to combat jihadists – and also to stop the French Right from seizing the political initiative.
Élisabeth Louise Vigée Le Brun's painting of Marie-Antoinette is centrepiece of first exhibition in France, at Grand Palais in Paris.
Series of sentences, some anti-Semitic, were painted on artist Anish Kapoor's 60-metre steel and rock 'Dirty Corner' sculpture.