French animal defence group L214 have released a video showing a centre in northern France where cows are kept with large holes bored into their rumen, the animals' first stomach, in experiments to study their digestion and which involve staff poking their arms into the innards of the cattle.
Lawyers acting for Carlos Ghosn, the former Renault-Nissan boss arrested over allegations of financial misconduct five months ago after landing in Tokyo in his private jet, and who was re-arrested last week on further suspicion of financial corruption, have released a video in which the former high-flying executive, 65, denies the accusations against him and denounces a 'very dirty game' of corporate intrigue.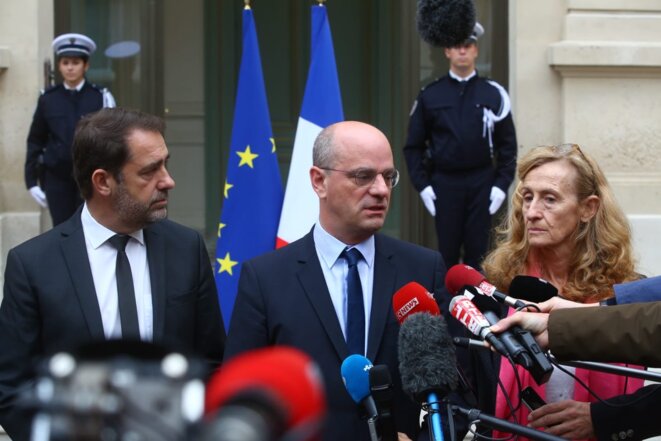 Interior minister Christophe Castaner, left, education minister Jean-Michel Blanquer and justice minister Nicole Belloubet. © @Twitter @jmblanquer
A recent video showing a pupil pointing a pistol – later discovered to be fake - at his teacher in a school in France went viral. The government called an urgent meeting of senior ministers to work out a plan of action to tackle violence in France's schools, amid talk that the police might be asked to patrol in some establishments. Detailed policies are expected to be announced soon. But as Manuel Jardinaud and Faïza Zerouala report, this tough rhetoric, which recalls the days of Nicolas Sarkozy's presidency, has not gone down well with many teachers.
Police in France have opened an investigation after video images were published on Snapchat and Twitter apparently showing a young woman being raped near a nightclub in the south-west city of Toulouse, and which were blocked after the authorities were alerted by users of the social media.
Footage shows 89-year-old priest ordering the infant he is holding at a baptism to 'be quiet' before sharply slapping his cheek.
A brief video circulating on social media shows French President Emmanuel Macron talking about welfare spending to his aides within the Elysée Palace, telling them that 'we put too much dosh' into benefits and yet those 'born poor stay poor', arguing that people must be 'made responsible', and that healthcare policy should be more active in preventing the causes of the need for treatment.
An amateur video recording has emerged of police officers shooting at a car driven by an allegedly armed man, who was later found dead, after he refused a summons to step out of his vehicle on a housing estate near the town of Montargis, south of Paris, and who sped off after ramming a police vehicle.
The prank video shows cloaked individuals stabbing a kneeling woman on the Cern premises, home to the Large Hadron Collider on the Franco-Swiss border.
The channel M6 broadcast footage of the moment Ibrahim Abdeslam blew himself up at the Comptoir Voltaire café in Paris on November 13th.
Public channel France 3 was slammed over video of home chaos and abandoned domestic chores because women became presenters. 
The images, filmed by one of three US men who overpowered the gunman, shows him trussed inside the carriage and his bundle of weapons.
Chelsea supporter Richard Barklie was travelling to an away match when filmed preventing a black man from mounting a Métro train.
Father of a victim of the Toulouse gunman, who shot dead seven people in 2012, says the videos show him confessing work for spy services.
Campaigners battling to stop medics switching off 38-year-old's life support system post a video of him supposedly responding to mother's voice.