Related keywords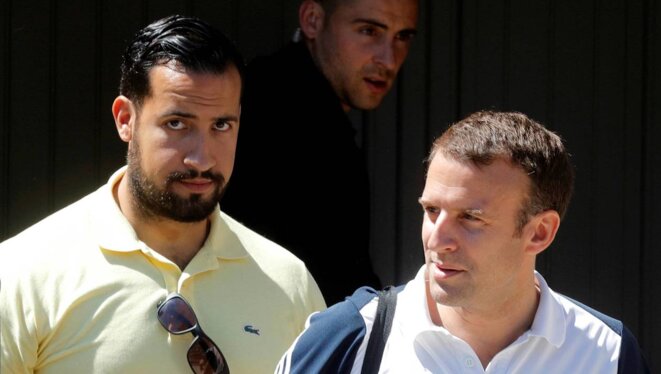 Alexandre Benalla and President Emmanuel Macron. © Reuters
Without Emmanuel Macron there would have been no Alexandre Benalla at the Élysée; for the man who dressed with police insignia and assaulted demonstrators owes everything to the president. But, equally, there would be no Benalla scandal without the support given by the president of the Republic to his trusted aide. Mediapart publishing editor Edwy Plenel says that it is this protection, even lying, that makes this scandal an affair of state.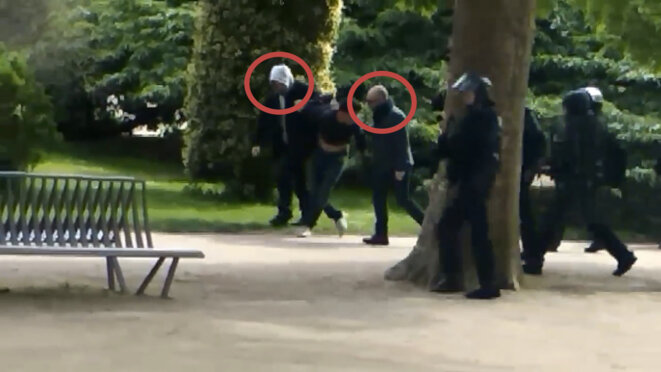 Alexandre Benalla (circled, with white hood) and Vincent Crase (circled right) during the arrest of a man in the Jardin des plantes on May 1st.
French President Emmanuel Macron's security aide Alexandre Benalla, together with an employee of Macron's ruling LREM party, Vincent Crase, were involved on May 1st in other incidents before they assaulted a man among May Day crowds at a square in the Latin Quarter of Paris. In a new video obtained by Mediapart, the two men, officially present alongside police as civilian "observers" of crowd-control operations that day, can be seen heavy-handedly joining in the arrest of a man at a public park. The new evidence of their violent and illegal behaviour that day further deepens the scandal of a suspected cover-up of their actions by the presidential office and senior police hierarchy.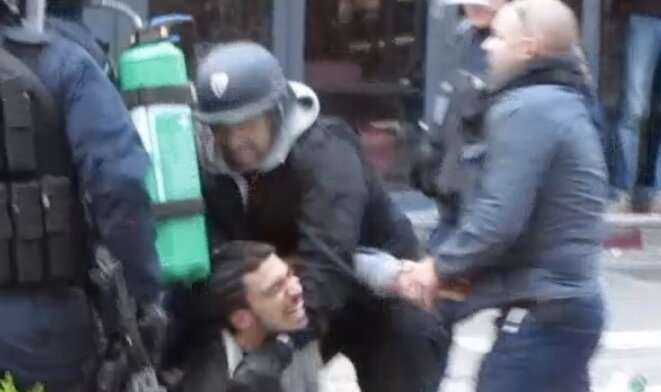 Alexandre Benalla (centre) and his associate Vincent Crase attack a demonstrator on May 1st in the presence of police. © DR
President Emmanuel Macron was this weekend mired the gravest crisis since he came to office little more than a year ago, after further revelations about the events when his personal security advisor physically assaulted May Day demonstrators while dressed as a police officer, and growing evidence that his extraordinary behaviour was covered up by the Élysée Palace and the interior ministry. Both Macron and his interior minister Gérard Collomb were reportedly made aware more than two months ago of the thuggish behaviour of the president's personal security advisor Alexandre Benalla, who was only finally dismissed from his post on Friday when he was taken into police custody two days after the scandal was first revealed by the media.