Emmanuel Macron on a walkabout in Valence, south-east France, after he was slapped by a man in the neighbouring town of Tain L'Hermitage, June 8th 2021. © Nicolas Guyonnet / Hans Lucas via AFP
After he was slapped earlier this week in a town in south-east France by a man shouting a medieval royalist battle cry, President Emmanuel Macron described the assault as an "incident" that should be "relativised", and that "all is well". On the contrary, writes Mediapart publishing editor Edwy Plenel in this opinion article, all is going badly, and the slap illustrates the far-right violence that has been set loose by the cynicism and irresponsibility of the Macron presidency.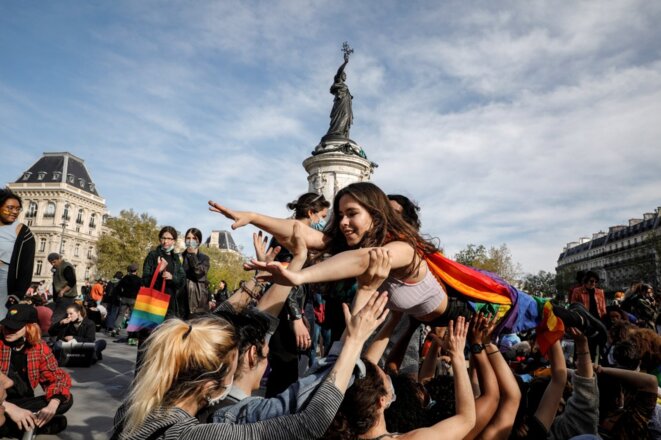 A 'lesbian march' rally at the Place de la République in central Paris calling for access for all women to assisted reproductive technology (ART), April 25th 2021. © GEOFFROY VAN DER HASSELT / AFP
A series of studies in France suggest that lesbians and bisexual women are far more exposed to sexual violence than heterosexual women, as a result of sexist and lesphobic behaviour in both their domestic and societal environments. Rozenn Le Carboulec analyses the available data.
Amid widespread outrage in Ferance over video images of an apparently racist and fierce assault by Paris police of black music producer Michel Zecler last weekend, President Emmanuel Macron released a statement on Facebook describing the attack as 'shameful', adding that 'those who apply the law must respect the law'.
A French police brigade based in the Seine-Saint-Denis département (county) that rings north-east Paris has been disolved after four of its officers were placed under investigation on Thursday for alleged extorsion, theft, and posession of drugs, and three of them for violence, while further investigations are underway into other accusations against members of the unit.
The French town of Dijon has been the scene of four days of hightening violence between groups of Chechen and North African origin, apparently sparked by an attack on a youth by drug dealers.
Police officers have mounted protests in Paris and other major French cities over a growing debate about violent behaviour and systemic racism in the force - and which has led to a ban on applying chokeholds during arrests - with symbolic displays of throwing their handcuffs to the ground outside police stations.
Following the traditonal Bastille Day military parade on the Champs-Elysées in Paris, the avenue briefly the scene of violent clashes between riot police and several dozen masked men who set fire to bins and tried to block nearby streets with metal security barriers.
French Prime Minister Edouard Philippe, reacting to sharp criticism of policing during Saturday's 'yellow vest' anti-government demonstrations in Paris which saw buildings, stores, restaurants and newsstands torched in the capital's centre, announced on Monday that the Paris police chief  has been sacked, that future rallies in established trouble spots around the country may be banned, while he also approved wider use by police of the controversial LBD rubber bullet weapons which have left more than two hundred injured, many of them seriously, during the three months of rolling protests.
An 18th weekend of action in so-called 'yellow vest' protests against falling standards of living for low- and middle-income earners left about 60 people, including police officers, injured in Paris where stores, restaurants, banks and vehicles were set ablaze and more than 190 arrests were made.
Former professional boxer Christophe Dettinger, 37, who was filmed on January 5th throwing punches and kicking riot police officers during a 'yellow vest' protest in Paris against falling standards of living, has been sentenced to 30 months in jail, with 18 months suspended, in a court ruling that angered police unions.
Human rights commissioner Dunja Mijatovic expressed worry about injuries from rubber ball launchers and other police anti-riot methods.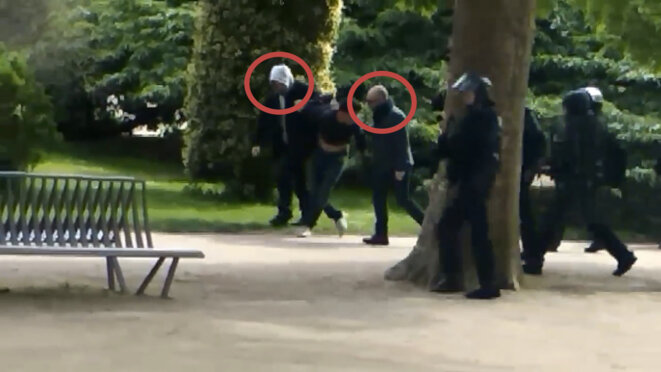 Alexandre Benalla (circled, with white hood) and Vincent Crase (circled right) during the arrest of a man in the Jardin des plantes on May 1st.
French President Emmanuel Macron's security aide Alexandre Benalla, together with an employee of Macron's ruling LREM party, Vincent Crase, were involved on May 1st in other incidents before they assaulted a man among May Day crowds at a square in the Latin Quarter of Paris. In a new video obtained by Mediapart, the two men, officially present alongside police as civilian "observers" of crowd-control operations that day, can be seen heavy-handedly joining in the arrest of a man at a public park. The new evidence of their violent and illegal behaviour that day further deepens the scandal of a suspected cover-up of their actions by the presidential office and senior police hierarchy.
French President Emmanuel Macron's personal security aide Alexandre Benalla, who was revealed this week to have assaulted May Day demonstrators while wearing a police helmet and armband ID during what was supposed to be a mission of observation of crowd control police, has been fired and taken into custody for questioning as the scandal spread to allegations of a cover up involving France's interior minister and senior presidential staff. 
French interior minister Gérard Collomb has ignited a fierce row after accusing union organisers of recent nationwide street marches against government policy, during which there have been violent attacks by extremist anti-capitalist groups on shops, banks and vehicles, of being 'accomplices' to the events by not preventing them.