Hospitals in Paris and Marseille have begun delaying operations to free up space for the fast-rising numbers of patients arriving with Covid-19 infections.
Health minister Olivier Véran said measures would be announced for Lyon and Nice by Saturday, after curbs on public gatherings were imposed this week in Bordeaux and Marseille.
The French health ministry also reported that 772 clusters were being investigated, an increase of 86 in the past 24 hours.
Announcement by governemnt makes France one of relatively few countries in the world that's universally requiring workers to wear masks on the job.
If people did not act collectively the country faced a heightened risk that any rebound in epidemic becomes 'hard to control' Jean Castex said.
The French scientific committee set up to monitor and advise on the Covid-19 virus epidemic in the country has warned that the current spread of the virus could 'at any moment' spin out of control and concluded that it was 'highly likely that we will experience a second epidemic wave this autumn or winter'.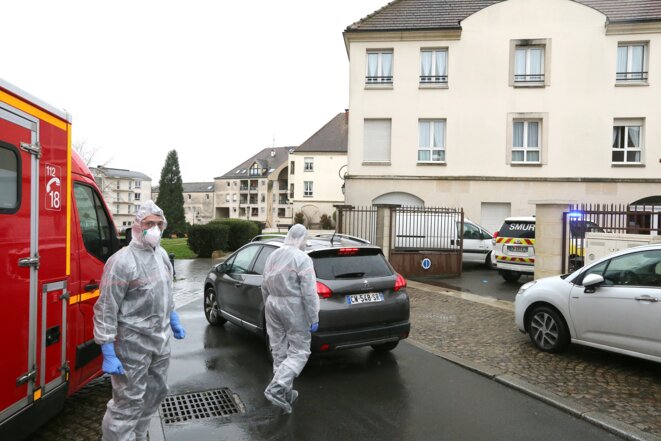 Emergency services attend to a suspected case of Covid-19 infection at a carehome in Crépy-en-Valois on March 2nd. © FRANCOIS NASCIMBENI / AFP
In France, as in other European countries emerging from the worst of the Covid-19 pandemic, the past management of the now subsiding crisis is under scrutiny, and many questions are being asked as to how the terrible toll of the virus might have been lessened by more appropriate action early on. In this report, Caroline Coq-Chodorge and Lise Barnéoud trace the chronology of events, interview those doctors involved on the frontline and reveal confidential documents from the French healthcare administration that show how the spread of the epidemic in France was out of control as of March 1st.
The French aircarft carrier Charles de Gaulle is returning early from duty in the Atlantic Ocean to its Mediterranean base of Toulon after 50 of its crew tested positive to infection by the Covid-19 coronavirus, three of whom were evacuated from the ship by air.
Health minister says woman was not pregnant and is recovering well after contracting virus from her partner who had visited Brazil.
The 65-year-old, who had been travelling in Dubai, died from the Sars-like virus in hospital on Tuesday, according to the French health ministry.
Authorities say a Frenchman diagnosed with a new, deadly SARS-like virus known as coronavirus may have infected two other people.
The person concerned had recently returned from the United Arab Emirates and has been placed in isolation in an intensive care ward.