Related keywords
In a joint press conference in St Petersburg ahead of an annual economic forum on Friday, the Russian and French leaders reiterated their support for the Iran nuclear programme limitation deal after the recent US decision to withdraw from it, and that despite US President Donald Trump's decision to pull back from planned talks with North Korean leader Kim Jong-un negotiations over the latter's proposed denuclearisation of the peninsula should continue.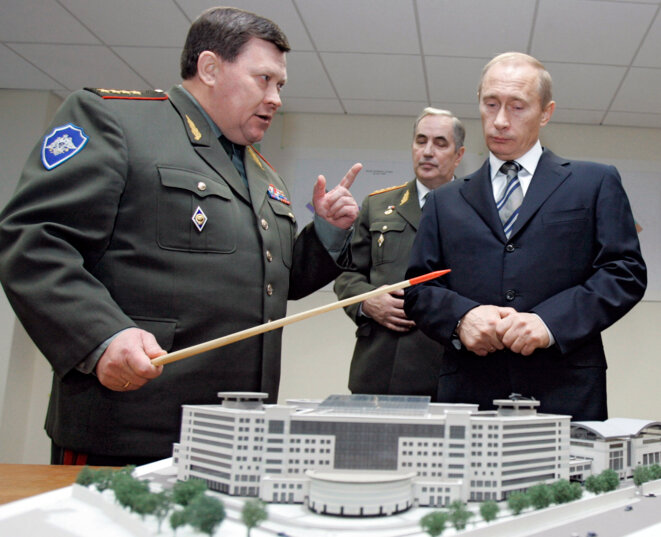 Vladimir Putin, himself a former KGB officer, listening to officials from the Russian foreign military intelligence agency the GRU in 2006. © Reuters/Itar-Tass/Service de presse présidentiel russe
Russian spies in France are trying to recruit business people, diplomats and military personnel, using resources and methods similar to those used at the height of the Cold War. French counter-intelligence officials are meanwhile working hard to unmask the Russian agents. Though Russia and France are co-operating over antiterrorism issues, their respective intelligence agents are engaged in a parallel, largely hidden struggle, with French soil as the battleground. Matthieu Suc and Jacques Massey report.
French President Emmanuel Macron's office said he spoke by phone on Monday with newly re-elected President Vladimir Putin, when he voiced his hopes for a modernisation of Russia 'on the political, democratic, economic and social fronts', while also discussing Syria and calling for clarity over the nerve agent attack on a former Russian double agent in Britain.
The head of France's cyber security agency says that the hack behind the massive leak of emails from Emmanuel Macron's campaign team on the eve of his election as president on May 7th was of such "simplicity" that it could have been carried out by "anyone". It is therefore impossible, says Guillaume Poupard, to say whether Russian hacking groups with ties to the government in Moscow were implicated. However, as Agathe Duparc and Anastasia Kirilenko report, investigations by two independent websites in Moscow do indeed point to Russian involvement.
The two men discussed 'disagreements' but French president said he wanted to work with Russia over Syria in fight against terrorism.
French president, who took office two weeks ago, has said that dialogue with Russia is vital in tackling a number of international disputes.
French President Emmanuel Macron and Russian counterpart Vladimir Putin will meet on May 29th at Versailles Palace, where an exhibition to mark Russian Tsar Peter the Great's visit to France exactly 300 years ago is to open.
Russian President Vladimir Putin on Monday congratulated France's newly-elected president Emmanuel Macron, whose campaign staff  previously accused Russia of orchestrating a dirty tricks campaign against him, adding that it was "especially important to overcome mutual mistrust and unite efforts to ensure international stability and security".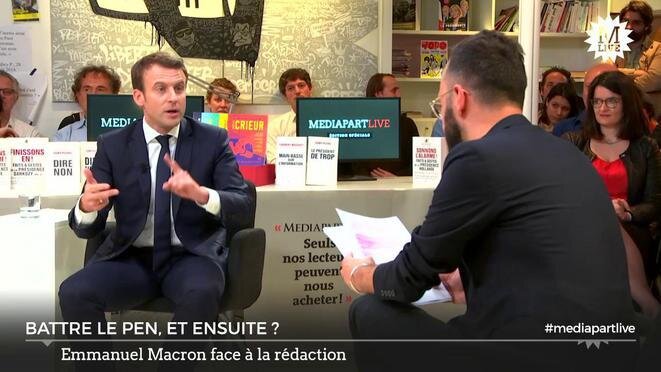 © Mediapart
Emmanuel Macron, who was elected as France's new president on Sunday, gave his last interview before his landslide victory to Mediapart, in which he detailed the measures and policies he would adopt over his five-year term of office. During the two-hour interview on Friday evening, he detailed his approach to a number of foreign policy issues - which were little mentioned during his campaign - including French military intervention abroad, his views on Donald Trump and Vladimir Putin, the Israeli-Palestinian conflict, the Greek debt crisis, and US reluctance to implement the Paris COP 21 measures to combat climate change.
The French far-right leader and presidential candidate Marine Le Pen met with Russian President Vladimir Putin on Friday, when she also spoke to Russia's lower house, the Duma, when she called for international sanctions against the country to be lifted.
A Kremlin spokesman said revelations that French conservative presidential candidate François Fillon received, via his consultency firm, 50,000 dollars to introduce a Lebanese pipeline construction tycoon to Russian President Vladimir Putin 'is what in English we call fake news'.
The end of the battle for Syria's second city and the plight of its civilians have drawn different responses from across France's political spectrum. On the Right the line taken by conservative presidential candidate François Fillon has been close to that of the far-right Front National, with his defence of the Assad regime and Vladimir Putin. The ruling Socialist Party and the Greens have emphasised their support for Syria's opposition, while the radical left presidential candidate Jean-Luc Mélenchon has adopted an anti-imperialist stance, with the United States as his main target. Lénaïg Bredoux, Lucie Delaporte and Christophe Gueugneau report.
For the first time since the end of the Cold War, argues Foreign Affairs magazine, Russia is a hot topic in the French presidential campaign.
The Russian president was due to visit the French capital on October 19th when he planned to open a Russian religious and cultural centre, but cancelled the trip amid a developing row with France which accuses Russia of war crimes in Syria.