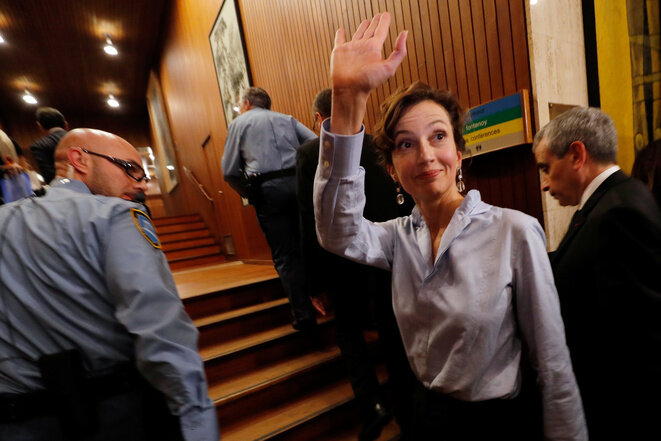 Audrey Azouley at UNESCO's Paris headquarters, October 13th 2017. © Reuters
Former French culture minister Audrey Azoulay was elected as the new director general of UNESCO on Friday, in a narrow victory over her Qatari rival Hamad bin Abdulaziz al-Kawari. Azoulay's election to the top post at the UN science, education and culture agency was the result of a profound divide among its Arab member states, and served a severe blow to Qatar's ambitions of influence on the world stage. René Backmann witnessed first-hand the tensions during the six rounds of voting, which at one point almost ended in a fist fight, and in this report of the events he analyses the tough tasks ahead for Azoulay amid the decision by the US and Israel to quit the organisation.
The French lower house, the National Assembly, on Wednesday approved a bill of law containing measures aimed at introducing greater probity in public office by 412 votes to 74, sealing a troubled passage of legislation promised by President Emmanuel Macron during his election campaign.
The fourth extension of state of emergency, first introduced after the November 13th terrorist attacks in Paris, prolongs the wide-ranging powers until January.
If adopted definitively, the bill will enshrine state of emergency into France's constitution and strip French nationality from convicted terrorists.
At the end of four days of debates, French MPs on Wednesday voted in favour of the socialist government's package of proposed amendments to the country's constitution, which include stripping French nationality from convicted terrorists and giving temporary state of emergency powers a permanent legal basis. The measures are highly controversial and have opened deep divisions both on the Left and Right, yet when the crucial voting of the reforms began on Monday, just 136 MPs out of a total 577 were present. Mediapart political affairs commentator Hubert Huertas argues here that the decried absenteeism reveals above all an inherent weakness of the French parliamentary system.
French lower house approves by a margin of 14 votes the measure to be written into the constitution and which has divided ruling socialist camp.
As MPs debate joining attacks on Islamic State group in Syria, France regards a 'yes' vote as being of high military and diplomatic importance. 
The National Assembly approved by 438 votes to 86 a bill giving the state wide-ranging spying powers, strongly decried by rights' groups.
A near-total majority of French MPs voted in favour of continuing the country's air strikes against Islamic State forces in Iraq and Syria.
Vote does not affect France's diplomatic stance but is part of growing effort from Europe to find new ways to push for peace in Middle East.
The non-binding but highly symbolic vote in French parliament on December 2nd follows similar resolutions passed British and Spanish MPs.
President Hollande leads celebrations, joined by new Paris mayor Anne Hidalgo, but warns more needs to be done to ensure full equality.
French voters turned out for the decisive round of municipal elections on Sunday, with the ruling socialists braced for further losses.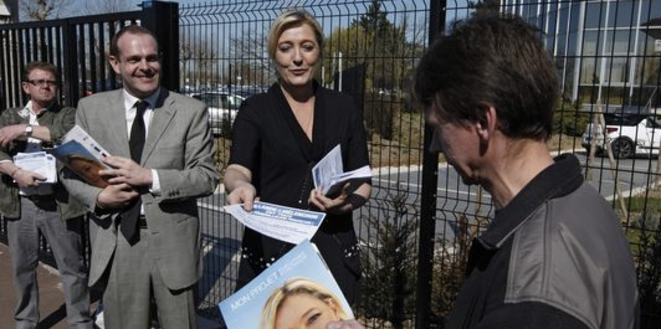 Marine Le Pen et Steeve Briois à l'entrée d'une usine à Douvrin (Pas-de-Calais), le 26 mars 2012. © Reuters
France is gearing up for municipal elections later this month when, political observers and opinion poll surveys forecast, the far-right Front National party is set to make significant gains. Its leader, Marine Le Pen, lays claim strong support among blue-collar workers, as illustrated by the vote the party attracted among a significant number of former left-wing heartlands during the 2012 presidential and legislative elections. This relatively recent development is often interpreted as a swing of allegiance on the part of a disillusioned electorate of the Left. But that perception is a myth according to the results of detailed studies by sociologists Nonna Mayer and Florent Gougou. They presented their research at a Paris conference on voting patterns for the far-right, where Marine Turchi recorded their sometimes surprising findings.