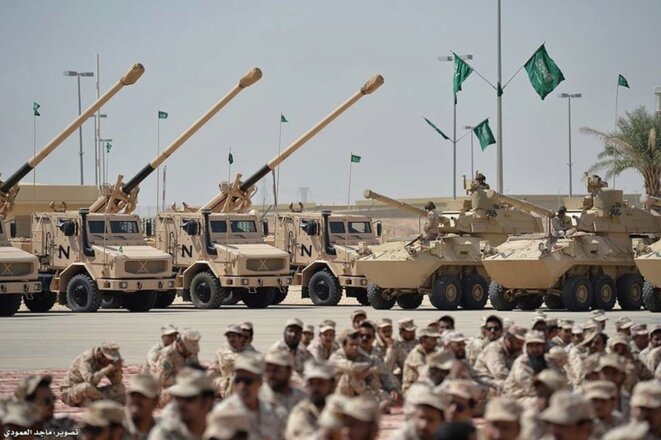 A Saudi army display of French-made CAESAR howitzers (left), one of the most lethal artillery weapons in existence. © DR
Two journalists from the French online collective Disclose, dedicated to investigative reporting, have been summoned for questioning this month by France's internal intelligence agency, the DGSI, following their revelations of the massive use of French-made weapons in the devastating war in Yemen. Together with a journalist from state broadcaster Radio France, they are officially suspected of "compromising national defence secrecy", an offence that can carry a five-year jail term. In reality, the journalists exercised their professional duty to inform the public of a confidential military report that demonstrates how the government has concealed the truth of the deployment of French-made arms in Yemen by a Saudi-led coalition accused of war crimes.

French president took credit for solving political crisis in Lebanon last year and stated that Saudi Arabia had held PM Saad al-Hariri for weeks. 
Around 50 small boats arrived in the French port to commemorate Operation Dynamo in which 338,000 troops were rescued from Nazi forces.
An agent in the Special Operations Executive in World War 2, Maloubier was tasked with sabotage and spying on Nazi forces in France.
Quartier de Chajaya, Gaza, septembre 2014 © Pierre Puchot
The International Committee of the Red Cross calls it "a major problem", while the United Nations says it has no idea of the numbers involved. The one thing that is certain is that at least hundreds of families in Gaza are still looking for relatives who have disappeared without trace following the 50-day Israeli offensive that began in July. For some, the answer may lie beneath the rubble of destroyed buildings that still litter the land. But there is also speculation that other missing Palestinians may be detained in Israel, or have met death as they fled by sea to Europe. Mediapart's Middle East and North Africa affairs correspondent Pierre Puchot reports from Gaza on an enduring mystery that has become something of a taboo.
Around 150 Spanish fruit-laden trucks stopped by officials as French growers complain of unfair 'dumping' of produce in their home market.
A top-secret telegram shows Churchill considered France might declare war on UK in 1940 in retaliation for Royal Navy's sinking of its fleet. 
The United States and France – though no longer Britain, it seems- are poised to intervene militarily in Syria. While helping to remove the Assad regime is an urgent priority, the expected campaign of air strikes seems like a headlong rush without legal basis. And one which is a form of camouflage for past errors and acts of cowardice, the opportunistic management of public opinion and a possible trigger for a regional cataclysm with incalculable consequences. Yet, argues Mediapart editor François Bonnet, there are alternatives.
France says that it will not start negotiations on transatlantic trade talks if cultural industries are not excluded from the start.
Islamist rebels launched attack on the northern town of Gao, liberated from their control in January, but were repelled after two hours of fighting.
French president does not name 'terrorist leaders' killed in recent fighting in Mali, where a fourth member of French forces died on Wednesday.
Berlin favors a stronger euro, but France's president says the single currency's heady rise on the foreign exchanges needs to be brought under control.
President Hollande has enjoyed acclaim for his handling of the French-led war in Mali, but a sterner challenge awaits, argues The Economist.