Related keywords
A lawyer for Jérôme Rodrigues, a high-profile militant with the 'yellow vest' protest movement who was struck in the right eye when police fired weapons at demonstrators during disturbances in central Paris on Saturday, said his client has been left permanently disabled by a police rubber bullet, in the latest case of dozens of life-changing injuries recorded among demonstrators in recent weeks.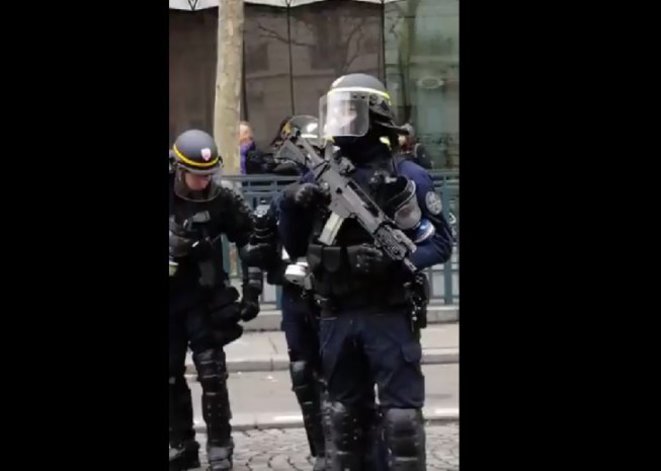 CRS riot police with HKG36 assault rifles in central Paris on January 12th. © DR
A document obtained by Mediapart reveals that the national director of France's CRS riot police ordered the deployment of Heckler & Koch G36 assault rifles during nationwide demonstrations on January 12th by the 'yellow vest' movement. The militarisation of policing tactics during the recurrent demonstrations, in protest over falling living standards for low- and middle-income earners, includes an almost systematic use of rubber bullets and stun grenades that have caused numerous serious injuries. Karl Laske reports on the arsenal employed and the dramatic consequences of the escalating violence.
French defence minister Florence Parly said Tuesday that the country's armed forces are to begin using drones for combat missions for the first time, on top of current surveillance missions, ending debate about pilots operating at a great distance from the battle ground.
Group gives French authorities information on location of arms caches as part of promise to give up all remaining arms by Saturday April 8th.

DR
The terrorist attacks in Paris last year were back in the headlines this weekend after the arrest in Belgium of Salah Abdeslam, wanted for his part in the November 13th shooting and bombing massacres in the French capital. Those attacks, like the shootings carried out at Charlie Hebdo magazine and a Paris kosher store in January 2015 demonstrate the ease with which terrorists can acquire reactivated weapons, notably from Eastern Europe. In partnership with eight other European media organisations grouped in a collective project, European Investigative Collaborations, Mediapart exposes here how the European Union has turned a blind eye to the trafficking of improperly deactivated military weapons, as illustrated by the history of one such weapon used to murderous effect in Paris. Fabrice Arfi, Karl Laske and Matthieu Suc report.
The Saudi financing ended last month over Shia military group Hezbollah's support of Syrian President Bashar Assad and its actions inside Lebanon.
One of the key issues arising from the Paris terror attacks on Friday November 13th is the apparent ease with which the perpetrators and other terrorists got their hands on significant numbers of "decommissioned" military assault weapons. Belgium, where some of those who carried out the Paris attacks lived, is said by many to be the hub of the flourishing illegal firearms trade in Europe. Mediapart's Brussels correspondent Ludovic Lamant interviewed Belgian expert Cédric Poitevin on the issue.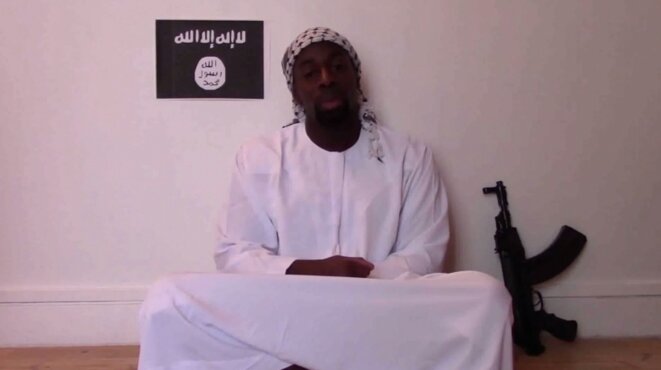 Vidéo posthume d'Amedy Coulibaly revendiquant son attaque. © DR
During the Paris terrorist attacks in January, four customers taken hostage in a kosher supermarket were shot dead, and four others seriously wounded, by a man claiming to have targeted the Jewish store in the name of Islamic State. The gunman, Amedy Coulibaly, was subsequently killed by police when they stormed the store. Mediapart can reveal that the automatic weapons found by his body were identified by Slovak police as having been bought late last year by a Lille-based dealer in decommissioned military arms, but who has astonishingly never been questioned about his eventual contact with Coulibaly. Karl Laske reports.
Helicopters, warships, combat and transport vehicles and missiles are part of the Saudi-funded French weapons which start arriving on Monday.
Statement from President Hollande's office says move is in response to the 'urgent need' expressed by the authorities in Kurdistan.
French foreign ministry says a binding U.N. Security Council resolution is needed to police Syria's promise to give up its chemical weapons.