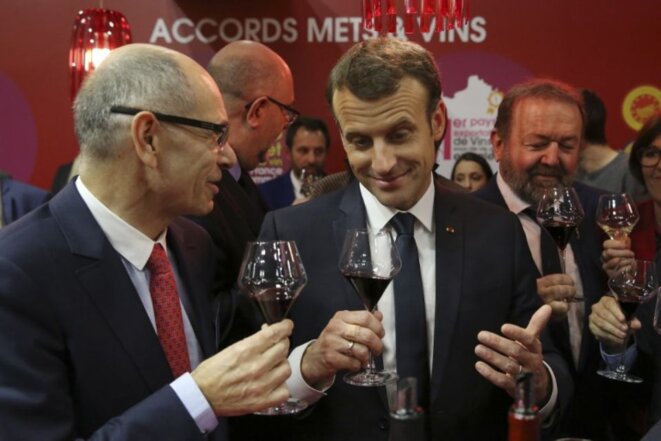 Sharing a glass: Emmanuel Macron at the Salon de l'Agriculture farming show in 2018. © Reuters
At the request of the French president's office, France's wine sector is preparing to publish a prevention plan against alcohol abuse. However, President Emmanuel Macron's advisor at the Élysée on the issue, Audrey Bourolleau, herself used to be a lobbyist for this powerful sector until last year. Yet despite this apparently glaring conflict of interest, the advisor has continued to be involved in the issue. Antton Rouget reports.
Isabelle Legeron, France's first female 'Master of Wine', has called for wine bottles to list the additives that some contain, including fish and animal extracts, in the same way that the ingredients of solid foods are detailed on packaging labels.  
The French agriculture ministry estimates that the country's total wine production this year will fall to about 36.9 million hectolitres, or 4.9 billion bottles, down by almost 20 percent on last year due essentially to spring frosts and summer storms, with the Bordeaux region worst-affected.
Dispute has seen independent wine producers pitted against imports from other European Union countries, and the businesses that deal in them.
Wine production to fall by 18% on 2016 after spring frosts ravaged vines, but the hot summer could deliver top vintages
Wine-makers in several regions, notably that of Bordeaux, are nervously anticipating the crucial June flowering phase, hoping that pollination will occur, after the most damaging frost in more than 25 years ravaged swathes of vinyards in April.
Thousands of litres poured down street of French town in suspected act of sabotage by 'wine terrorists' angry over foreign imports of the drink.
French wine dealers say the effects of Brexit and plummeting pound are being felt from Burgundy to Bordeaux.
Official figures also show that Spain has taken over as the world's top wine exporter - with France being its biggest customer.
Winemakers from Languedoc-Roussillon in south-west France want Bicicleta brand of Chilean wine removed as backer of three-week event.
Deal marking French automaker Peugeot's return to Iran anounced, as Iranian president's visit overcomes lunchtime wine menu disagreement.
Many Champagne producers are opponents of EU rule which should open up new French wine regions for first time in nearly a century.
Elysée Palace refuses Iranian President Hassan Rouhani's demand that no alcohol be present during dinner, and suggests breakfast instead.
Lack of rain and a heatwave led to just 1% increase in French production in 2015, meaning Italy regained top spot for amount of wine made.