Stocks of French wine unsold due to the consequences of the Covis-19 virus lockdown are to be sent to distilleries to make hand sanitizer liquid in a scheme to make room for the produce of the 2020 grape harvest and which is funded by the EU.
When American tech entrepreneur Michael Baum bought a prestigious winery in France's Burgundy region it caused a trans-Atlantic spat.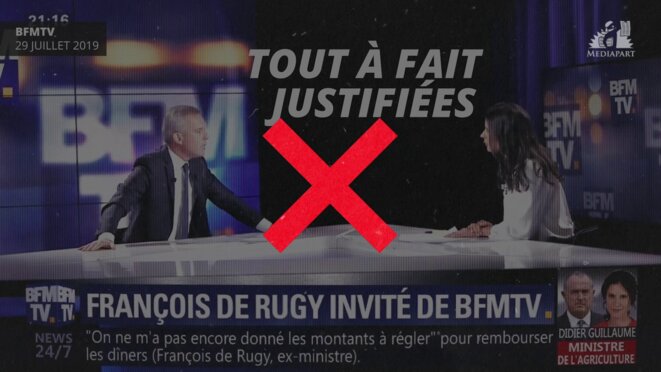 Ex-minister François de Rugy seeks to clear his name on BFM TV, July 29th 2019. © DR
A string of revelations from Mediapart about his lifestyle and use of public money led to the resignation of François de Rugy, environment minister and number two in the French government, on July 16th 2019. Since then the former minister has been on a PR offensive, helped by friends in the media, seeking to prove that his name has subsequently been "cleared" and that Mediapart's revelations had been "refuted". This is obviously untrue. Fabrice Arfi, Michaël Hajdenberg, Antton Rouget and Marine Turchi look back over the facts of the case.
Spring frosts followed by summer heatwaves have taken their toll on French vineyards.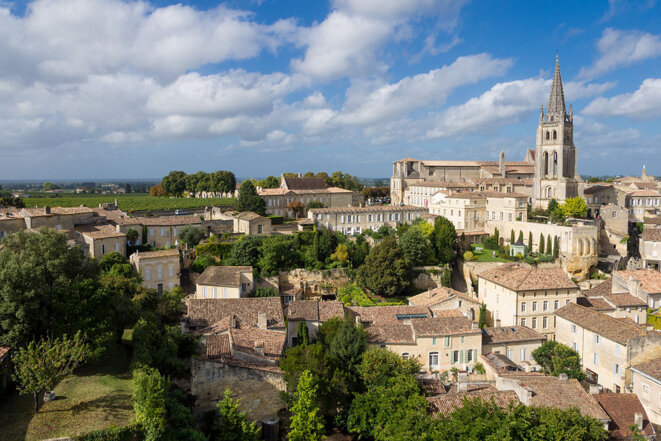 The medieval village of Saint-Émilion, one of the most prestigious wine areas in France.
French journalist and author Ixchel Delaporte spent a year investigating the wine industry in the Médoc region near Bordeaux in south-west France. It produces some of the most prestigious – and expensive – wines not just in France but anywhere in the world. Yet the journalist's book on her experiences and discoveries reveals a deep chasm between the impoverished local workers, many of them seasonal and occasional staff, and often suffering from poor health and living in substandard accommodation, and the glittering world of the small but powerful elite who control the major vineyards. Mediapart's Joseph Confavreux reports.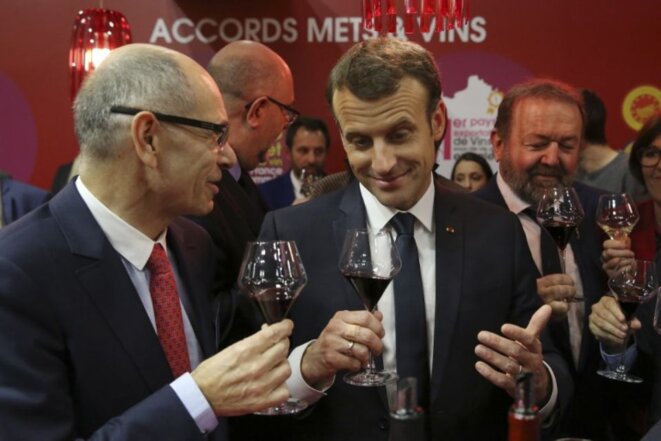 Sharing a glass: Emmanuel Macron at the Salon de l'Agriculture farming show in 2018. © Reuters
At the request of the French president's office, France's wine sector is preparing to publish a prevention plan against alcohol abuse. However, President Emmanuel Macron's advisor at the Élysée on the issue, Audrey Bourolleau, herself used to be a lobbyist for this powerful sector until last year. Yet despite this apparently glaring conflict of interest, the advisor has continued to be involved in the issue. Antton Rouget reports.
Isabelle Legeron, France's first female 'Master of Wine', has called for wine bottles to list the additives that some contain, including fish and animal extracts, in the same way that the ingredients of solid foods are detailed on packaging labels.  
The French agriculture ministry estimates that the country's total wine production this year will fall to about 36.9 million hectolitres, or 4.9 billion bottles, down by almost 20 percent on last year due essentially to spring frosts and summer storms, with the Bordeaux region worst-affected.
Dispute has seen independent wine producers pitted against imports from other European Union countries, and the businesses that deal in them.
Wine production to fall by 18% on 2016 after spring frosts ravaged vines, but the hot summer could deliver top vintages
Wine-makers in several regions, notably that of Bordeaux, are nervously anticipating the crucial June flowering phase, hoping that pollination will occur, after the most damaging frost in more than 25 years ravaged swathes of vinyards in April.
Thousands of litres poured down street of French town in suspected act of sabotage by 'wine terrorists' angry over foreign imports of the drink.
French wine dealers say the effects of Brexit and plummeting pound are being felt from Burgundy to Bordeaux.
Official figures also show that Spain has taken over as the world's top wine exporter - with France being its biggest customer.