Keyword: Wolfgang Schauble
Related keywords

A London taxi driver celebrates the Brexit victory. © Reuters
The British 'no' vote in the referendum on the European Union marks the victory of the extreme right, represented by the repugnant Nigel Farage and his UKIP party. In that sense it is a tragedy. But this 'no' vote also signs the death warrant of a European Union that has turned away from its citizens. Now the whole European project needs to be rebuilt and Mediapart's editor François Bonnet wonders whether that isn't good news...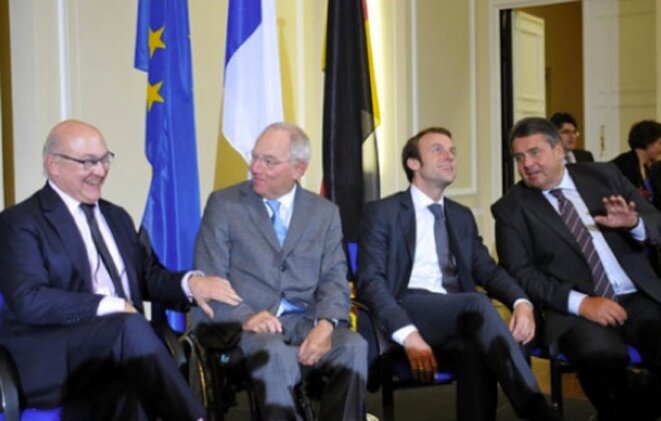 Crucial meeting? French and German finance and economy ministers meeting in Berlin, October 2014. © france-allemagne.fr
The French government's labour law reform bill, now being debated in the Senate, has prompted fierce opposition from several trades unions, massive demonstrations across the country, and a deep political and social crisis. Opinion polls show a majority of the population are opposed to the bill, which reduces current protection for employees with measures that include easing conditions for firing staff and placing a ceiling on compensation sums awarded by industrial tribunals. But the government is adamant it will not negotiate the bill's contents. Martine Orange investigates the reasons for its unusual intransigence, and discovers evidence that the most controversial texts of the bill were demanded by European Union economic liberals.