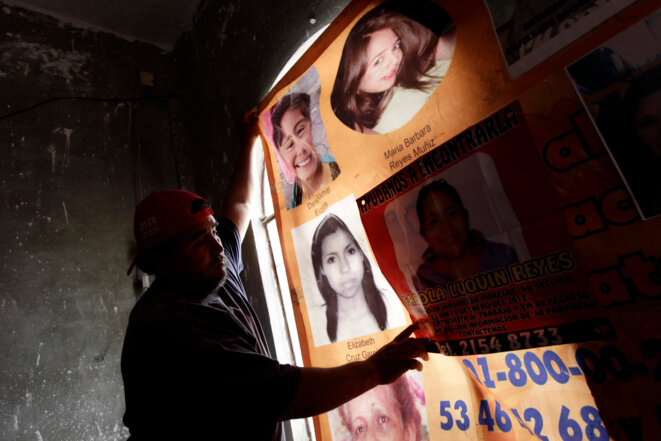 In April 2013 a man displays the photos of women who have died or disappeared in Ecatepec, Mexico. © Henry Romero (Reuters)
Figures show that in the month of January more than ten women a day were murdered in Mexico. In some areas of the country, say women's rights campaigners, women are disposed of like "a piece of garbage". Meanwhile to the dismay of local associations the new left-wing government in the country is not treating the issue as a priority. Marie Hibon reports on the appalling situation facing many women in Mexico.
All of all of the Cannes Film Festival's female jury members, including its leader Cate Blanchett, along with many women actors, directors and producers held a protest on the red-carpeted entrance to the festival's Palis des festivals on Saturday to call for gender parity in the cinema industry, underling that Cannes had since its beginnings awarded 71 male directors with the coveted Golden Palm prize, but has given the honour to just two female directors.
Men are still paid on average 9% more than women in France despite equal pay laws going back 45 years.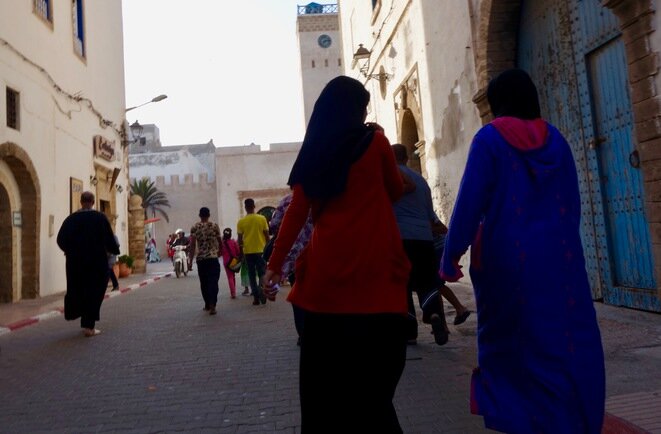 Tangiers in Morocco. © Rachida El Azzouzi
In the summer of 2017 two videos showing sexual assaults on women in Morocco, one in Tangiers, the other in Casablanca, caused outrage in the North African country. Yet though the government has for years been promising a law to protect women, progress has been slow. Academic Safaa Monqid explains to Rachida El Azzouzi how women are still excluded from public areas in Morocco and the Arab world in general.
More than half of the murders of women in France in 2015, excluding victims of terrorist attacks, were committed by members of their domestic entourage, and of these the majority were carried out by current or former husbands and partners. The startling figures emerge from a study by an official French statistics agency, which found that women most at risk from their domestic environment are aged between 15 and 35 and live in rural areas. Louise Fessard reports.
A feminist group urged French women to leave work at 4.34 p.m. on Monday to highlight the pay gap between men and women's average hourly wage which, at 15.1% in 2010, means a woman will work 38.2 days more than a man for the same salary.
Women now make up more than a third of French citizens travelling to Iraq and Syria to join IS, up from just 10 percent in 2010.
The explicit poster and social media campaign is part of a wider government-led crackdown this year on harassment of women in public places. 
Shop in Bordeaux has put up a sign stating male and female-only days for customers but owner says it is not 'compulsory'.
Government ministers agree to investigate after women's rights groups call on supermarkets to stop sexist pricing policies.
Future European Commission President Jean-Claude Juncker, due to take up his functions this autumn, already faces an immediate problem as he composes his list of 28 European commissioners. For out of the 23 nominations so far officialised, only four are women. That represents five less than the outgoing commission, whose female contingent have now co-signed an open letter to Juncker demanding he find at least ten women. As Mediapart's Brussels correspondent Ludavic Lamant reports, there is increasing uproar over the issue, notably among members of the European Parliament to who Juncker must submit his final list of commissioners for approval.
Female staff at Only Girls cater for women who complain of being sold short and charged long by male mechanics in traditional garages.
President Hollande leads celebrations, joined by new Paris mayor Anne Hidalgo, but warns more needs to be done to ensure full equality.
A collective of French female journalists have launched a campaign against what they call the "invisibility" of women in the media and the often sexist stereotypes of women presented by the media. Their manifesto, published earlier this week with signatures of support from more than 400 media professionals, calls for tough new measures to guarantee gender parity in the journalistic profession and among pundits invited by the media, as already required by law. Here, Mediapart political correspondent Lénaïg Bredoux, a member of the newly-formed collective, explains why she and her colleagues have had enough of the macho media.